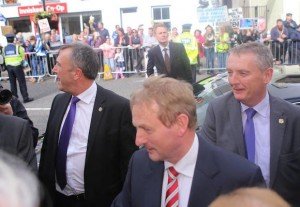 Sinn Féin's Justice Spokesperson, Deputy Pádraig Mac Lochlainn, has said that the Taoiseach's credibility is in tatters after the publication of the Fennelly Report.
According to a poll conducted on the Claire Byrne show last night, only 12% of viewers said they believed the Taoiseach's version of events which led to Garda Commissioner Martin Callinan's departure last year.
"The results from last night's poll are further proof that the Taoiseach's spin in claiming he was not responsible for Callinan's departure is just not credible," said the Donegal TD.
"The Taoiseach's selective reading of the Report's findings does not wash with the vast majority of people. For the Taoiseach to say that in sending the Secretary General of the Department of Justice on a late night visit to the former Commissioner's home was to ask for Callinan's response to the situation just doesn't add up. The Taoiseach's account is contradicted throughout the report, not least so by his own Secretary General, Martin Fraser.
"The fact remains that the Report does not vindicate the Taoiseach and his credibility is in tatters over his desperate attempt to distract from the real consequences of his actions that night. The Fennelly Report was very clear in pointing out that the visit by Mr Purcell to the Commissioner's home was the 'immediate catalyst' for the Commissioner's decision to retire. When this is read in the context of paragraph 8.14 of the Summary and Conclusions (below) it is clear that no amount of spin can cover the fact the Taoiseach's actions amounted to, in effect, the sacking of the Garda Commissioner."
Deputy Mac Lochlainn added: "I look forward to the Taoiseach coming before the Dáil to answer questions on this. While he may have been able to evade questioning following the underhanded way in which the report was published, he won't be able to do the same on the floor of the House."
Tags: