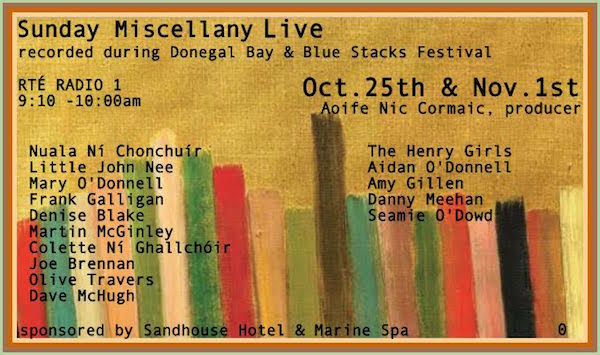 Sunday morning radio will bring the mix of voices and music recorded for RTE's Sunday Miscellany all the way from the Abbey Arts Centre, Ballyshannon.

Listeners are in for a miscellany of topics from Rory Gallagher and Patrick MacGill through to "No Pension Plan Blues" all blended with some of the best of Donegal musicians.
The event that was recorded during the Donegal Bay and Blue Stacks Festival will now be broadcast on Sunday Oct. 25th and Nov. 1st at 9:10 – 10:00 am RTE Radio 1 and available on Radio Player and podcast at http://www.rte.ie/radio1/sunday-miscellany/
Previous recordings from the Donegal Bay and Blue Stacks Festival have proven so popular that Aoife Nic Cormaic, the show's new producer, accepted an invitation to return from Traolach O'Fionnain, Donegal Arts Officer and Denise Blake, Literary Curator for the festival.
Recent figures for Sunday Miscellany were over 221,000 listeners which shows the unique opportunity it is for the recordings to be made in County Donegal. Sponsorship by The Sandhouse Hotel and Marine Spa, Rossnowlagh added to this wonderful Donegal showcase.
The writers for the event were : Nuala Ní Chonchúir, Dave McHugh, Colette Ní Ghallchóir, Denise Blake , Frank Galligan, Little John Nee, Joe Brennan, Olive Travers, Mary O'Donnell and Martin McGinley
Music was performed by : Any Gillen, Seamie O'Dowd, Aidan O'Donnell & Danny Meehan, The Henry Girls and Little John Nee with all recorded by Jimmy Breslin, sound engineer.
For over four decades RTÉ Radio's Sunday Miscellany has been at the heart of Sunday morning. This entertaining radio experience captures our ever-shifting moods, our obsessions and distractions, our dreams and fears and the intimate details of our lives.
Its distinctive mix of brand new short essays and poetry presented on air by their authors and interspersed with music. Tune into RTE Radio one or listen back on Radio Player to hear the terrific selection of writers and musicians hosted by the programmes's producer and editor, Afric Nic Cormaic.
Tags: