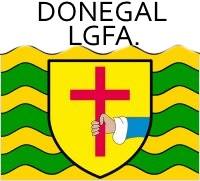 LADIES FOOTBALL NEWS: Trials for U14 and U16 girls take place tomorrow (Sunday) at the Centre of Excellence in Convoy.
Club coaches have already submitted players' details to county managers.
The schedule is as follows:
U14 Trials Schedule.
Registration 9.20am to 9.30am Sharp.
Warm up 9.45am
Trials start 10am
Trials finish 11.30am
Parents pick up girls at 11.45am
—————————————–
U16 Trials Schedule.
Registration 12.15pm to 12.30 Sharp.
Warm up 12.45pm
Trials start 1pm Sharp.
Trials finish 2.30pm
Parents pick up 2.45pm.
————————————–
Gumshields/mouthguards must be worn by all Girls Attending Trials.
Bring your own Water bottle. (Bring it home with you as well).
Meanwhile Donegal Ladies Gaelic Football Association is organising a number of  coaching and referee courses.
Details are below:
Level 1 coaching course which was posponed in September is now scheduled to take place in January. Date to be confirmed in the next few days from the LGFA at Croke Park.
Participants in this course must be over 18yrs and MUST have a FUNdamentals course for LGFA Completed and Accredited with Coaching Ireland to sit the course. This is a TWO DAY course and both days must be completed to get certification. Cost is €70 per person. 10 min and 20 Max Participants for this course.
__________________________________________
FUNdamentals LGFA Coaching is a one day 6 hour duration course. Participants for this course must be over 16yrs of age. Cost for this course is €30 per person. 20 Min. & 30 Max participants for this course.
———————————————————————-
Grab Your Whistle Level 1 Referee Course.
Participants must be must be 17yrs and over. Course is a Maximun 14 hours in duration. Course consists of Two 6 hour days and one 2 hour evening. Min 12 & Max 20 Participants for this course.
This course will be scheduled for February onwards if Clubs can get enough participants to take part.
———————————————————————-
Grab Your Whistle Level 2 . Referee Refresher Course.
This course is open to All ladies Referees and GAA Referee who refereed for more than 5 yrs. Participants must be over 17yrs to take part in this course.
This is a two and a half hour evening course. 12 Referees min to run this course. This course is required to be done on an annual basis by all referee who officiate at LGFA Competitions.
———————————————————————
Expressions of interest for the 4 Courses above can be emailed to Donegal LGFA Development Officer donalsharkey62@gmail.com
Tags: