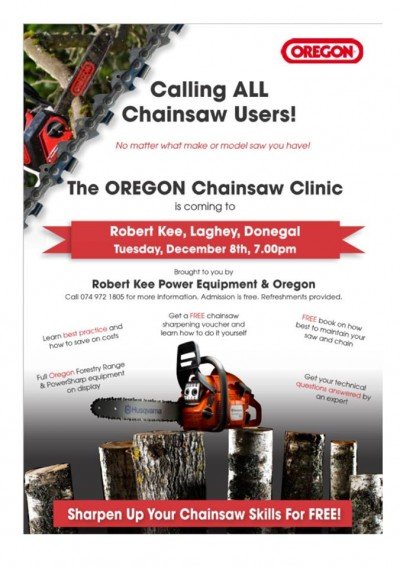 BUSINESS: Robert Kee are hosting a 'Chainsaw Clinic' tonight at their premises in Laghey, Donegal Town.
The successful business are hosting an informative event in association with Oregon Chainsaw Clinic.
A spokesman for Robert Kee told Donegal Daily, "Come along to our Oregon Chainsaw Information Evening on Tuesday 8th December at 7pm, a very informative evening for anyone using a chainsaw whether your an occassional or professional user.
A large crowd is expected to attend the clinic and those who use chainsaws on a regular basis are being encouraged to attend for safety reasons.
There has been an increase in chainsaw accidents in Ireland – and the clinic will deal with how to use your device properly and as safely as possible.
Tags: