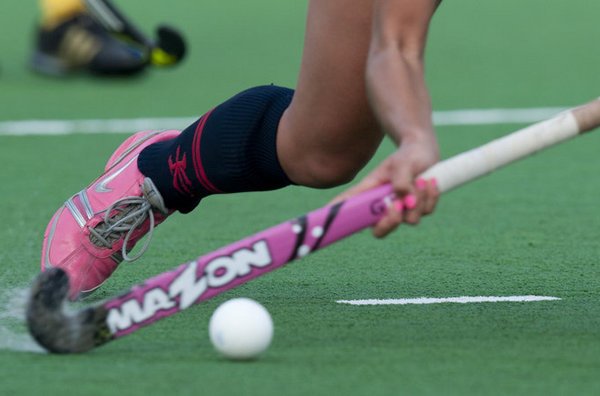 Raphoe 1st XI Ladies had home advantage today when they took on Larne at the Royal and Prior School.
Raphoe started off the better of the two teams at home. The girls worked well together and as a combined team, getting the ball out of the back right up to the front line efficiently, even switching play around the back to the other side of the pitch.
Larnes good play came mostly from their confident center back who throw many spectacular aireals, that took Raphoes front line straight out of play.
Raphoe broke the dead lock ten minutes into the first half, when Raphoes captain Rachel Buchanan made a run from midfield to receive a pass from Esther on the left of the field, who placed a direct pass into D, where Rachel controlled the ball brilliantly and rounded the keeper.
The away team didnt back down, keeping pressure on the home teams defence. They got awarded a long corner, that they switched to their left forward who passed it onto a running player, to pick it up on the penalty spot. This follwed with a scramble on the line where Denise Mc Elhinney, Raphoes keeper made a last minute dive to clear the ball with her foot where her sweeper Sabrina Barrnett cleared to Esther Hume to send Raphoe on a counter attach.
Although Raphoe where on top for most of the first half, they couldn't convert their chances into goals.
The 2nd half started with Larne coming out strong, forcing pressure on Raphoes defence, which resulted in them scoring in the first 10 min of the last half. The ball was played down the center,which drew in Raphoes defence. Larne smartly layed the ball out right and put a well placed pass across the D to a fellow team mate who netted it into the back post.
Raphoes coach Richard Tinney changed things up for the second half pressing high with a 4, 3, 3 formation Which opened the game up, truely making it entertaining. It was a great battle and contest between the both teams having their own chances.
Raphoe broke the dead lock again, with a swift move down the right where center half Victoria Wray found Rachel wide on the right to slip it onto Leanne Patterson, slicing larnes defence open with an exquisite pass to find Kimberly Porter. Who used all her experiences to calmly slot the pass through the Larnes keeper and into the net.
Raphoe kept their momentum hight that awarded them a one goal lead to Larne. It came from a side line balled played by Sarah Boal to pick out Leanne P in the center of the pitch that was switched to the outside of the D, where Sarah Patterson again found Kimberly P awaiting on the penalty spot to ping the ball into the back of the net.
Raphoe take on Rainy next Friday night the 19th.
Sabrina Barnett got player of the match.
Coach Richard Tinney.
Tags: