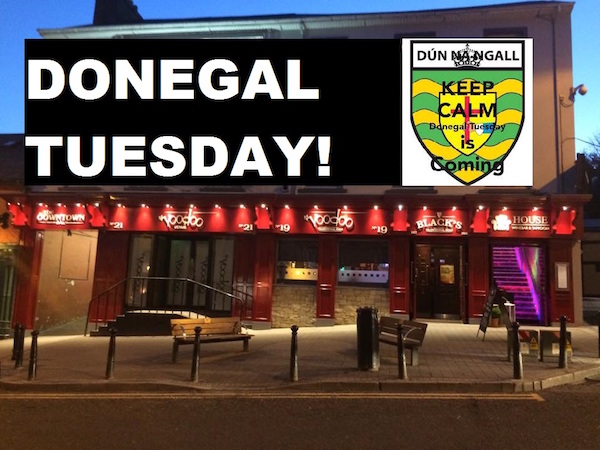 Donegal Tuesday is about to HIT VOODOO LOUNGE!!
It's official, with the huge numbers of Donegal students up in Galway it's only about time that Letterkenny gets their own moment of glory!
Tonight to kick off a week of catch-ups and endless amounts of stamps, Voodoo Lounge host our very own Donegal Tuesday.
One of the core traditions on this "Unofficial Ragweek" event, is to get donned up in the county colours and celebrate Daniel O Donnell, Jim Mc Guinness and the delicious Football special!!
Anyone that's ever experienced Rag Week in any college in Ireland will know that tonight the normal rules don't apply, so join us in Voodoo Lounge tonight at 10 bells and celebrate Ireland's BIGGEST student night!!!
Pints are ready and the shots are on standby…
€2 SHOTS – €3 PINTS – €3 LONG NECKS
Wear your Jersey for the drink promos!!
JUMP on our Glistrr list for Cheaper entry to continue the celebrations in Voodoo Club: glist.me/voodoo
Check out our Facebook Page for more information: https://www.facebook.com/VOOD00venueletterkenny
Tags: