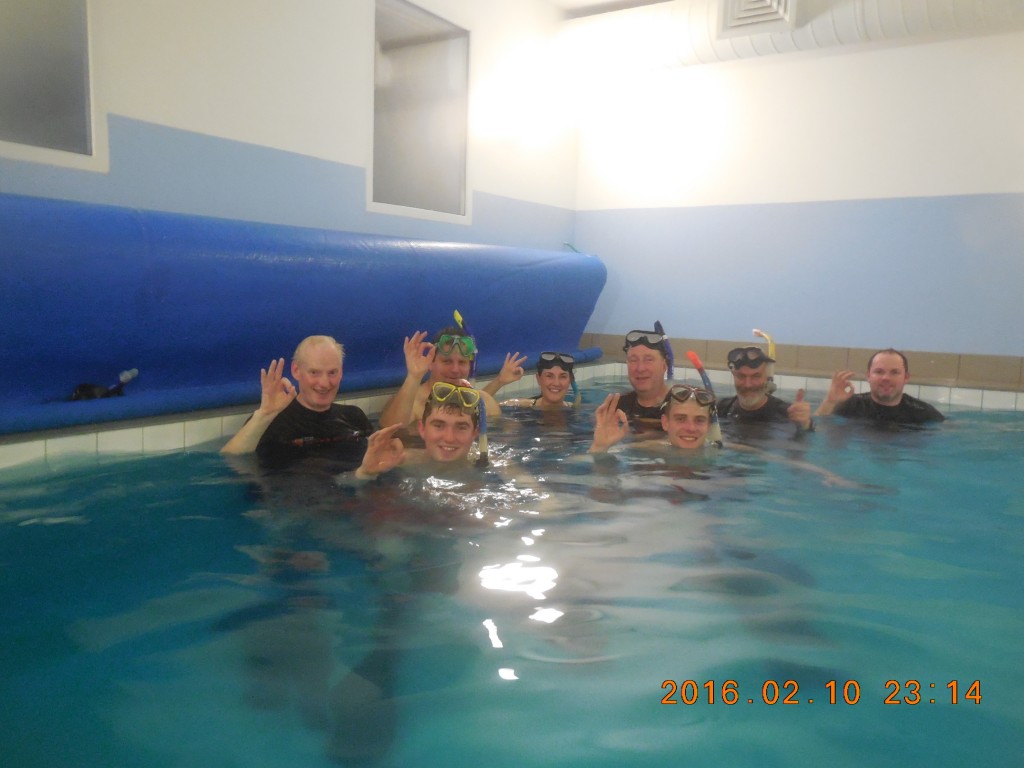 SHEEPHAVEN SUB AQUA CLUB NOTES.
14th February 2016.
The Sheephaven SAC Trainee Class of 2016 began their in-water training last Wednesday evening in the Mevagh Dive Centre dive pool.
Prior to the pool session the trainees completed another round of lectures at the clubhouse delivered by Anne Boyle, Sheephaven Training Officer and other club Instructors.
The pool session focused on the trainees establishing key snorkelling skills, which are an essential prerequisite to diving.
These skills include water entry technique, finning technique, mask clearing, free diving and casualty towing, all of which the trainees completed quite comfortably.
The next pool session will introduce the trainees to scuba gear, where they will get to use the full benefit of the 3m purpose built dive pool.
Saturday morning's dive was to Dunloan Rock, conducted in one stick thanks to Robin Law providing dry coxswain duties.
The dive was conducted on the high water of a spring tide, with the rock completely covered, making for a challenging commencement of a 40 minute dive.
Water temperature was 7 degrees Celsius, while horizontally in-water visibility was around 3 metres at a depth of 25 metres.
As always the power of the tide and the flora and fauna at this location make it a favourite site for Sheephaven divers and this Saturday it did not disappoint for those on board dive boat Bríd.
St Valentines brought Sheephaven divers some lovely weather and a perfect early Spring Sunday morning for a snorkel in PortnaBlagh harbour.
In-water conditions were fair with a rolling swell brought in on a north east wind, which had brought air temperature down to less than 5 degrees Celsius.
Water temperature felt cold, even though in was no lower that 7 degrees Celsius, while in-water visibility was poor at less than a metre horizontally.
Once again the breakfast in Dunfanaghy was so well attended with Sheephaven divers it filled the upper floor of Lizzies, a great morning in the water and as always great craic afterwards.
Sheephaven SAC are hosting the Northern Regional Dive Weekend on the 24th June from Downings.
The weekend is expected to attract dive clubs from around the region for a series of dives on some of the best sites around these coasts.
Sheephaven entertainments' committee have already commenced planning for the weekend and the club is now calling for volunteers to lead a number of other key functions.
With large number of divers taking to the water car parking at the piers will be at a premium, as will also be launching and recovering of boats.
With that in mind we are looking for volunteers to manage these operations, as well as filling a host of dive bottles, any club member that can lend a hand over the weekend should contact the Diving Officer at the earliest opportunity.
Finally An Taisce's Clean Coast Roadshow is coming to the Inishowen Maritime Museum in   Greencastle on the 20th February and to Maghery Resource Centre on the 27th February.
The Roadshow is running nationwide and it aims to bring together all those with an interest in protecting their local beaches, seas and marine life. These events will include talks on all things coastal and how to get involved in the Clean Coasts programme.
National Parks and Wildlife Rangers Emmet Johnston and Emer Magee will be delivering talks on Basking Sharks in Greencastle and Coastal Flora and Fauna at the Maghery Resource Centre respectively.
Clean Coasts promote and facilitate coastal clean-up initiatives and marine litter surveys which result in a tangible improvement in Irelands' coastal environment, by organising hundreds of coastal clean-ups each year. One of their initiatives is the 2 Minute Beach Clean, to find out more go to www.beachclean.net.
Tags: