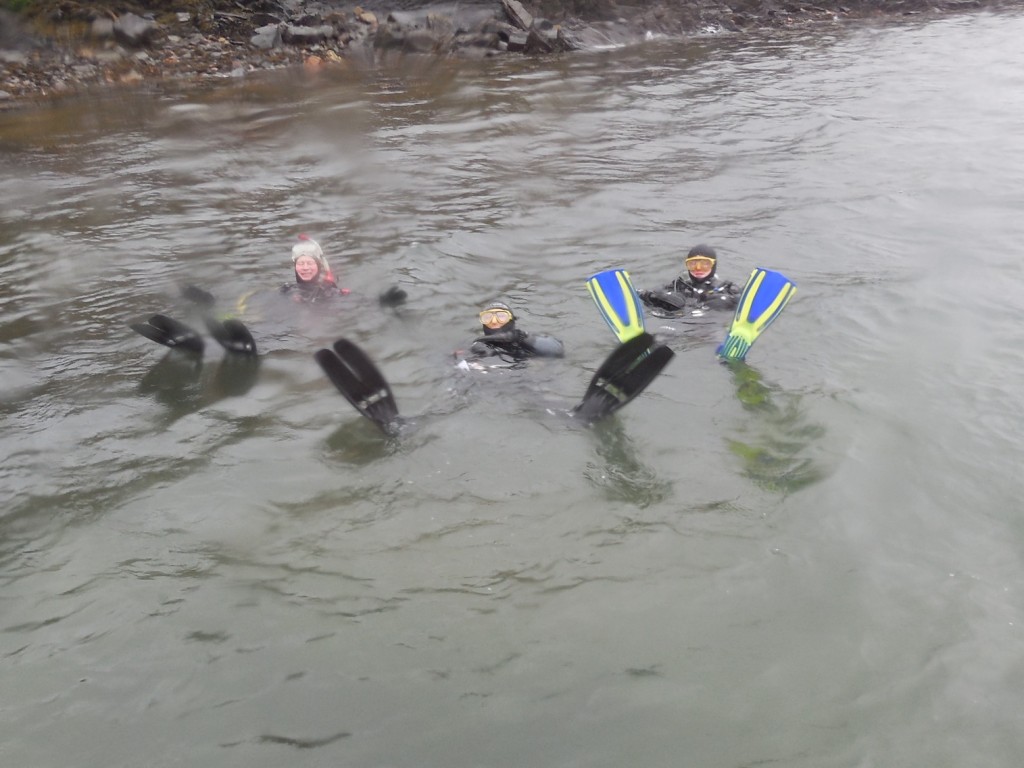 SHEEPHAVEN SUB AQUA CLUB NOTES.
21st February 2016.
Another morning of bad weather on Saturday morning sent Sheephaven divers on a shore dive and for a change they went in at Leatmore near to the Mulroy Bay Bridge.
The sea bed is mainly sandy at this location and has a vibrant and diverse ecosystem, with lugworm casings evident in the seabed, along with Tower Shells, Hermit Crabs, Whelks, Brown Crabs and a host of Harbour Crabs.
However the most interesting observation of the morning was quite tiny, an aggressive little beastie known as Common Bobtail Squid, which is no bigger than a person's thumbs. They have the scientific name of Sepiola atlantica and are closely related to cuttlefish, but they have a more rounded mantle and no cuttlebone.
Squid have a couple of curious traits, including a symbiotic relationship with bioluminescent bacteria, which allows the squid to react to light and hide its silhouette when viewed from above.
For the relationship to work the bacteria have to get something out of the process and in this case they feed of a sugar and amino acid solution excreted from the squids skin.
Another trait is to distract a predator with ink spots that it ejects when alarmed, the ink spots are nearly as big as the Common Bobtail Squid and very effective indeed.
Total dive time was 35 minutes in water temperature of 6 degrees Celsius to a maximum depth of 11 metres, in-water visibility was reasonable at around 3 metres horizontally.
There was a big swell rolling from the north into Portnablagh harbour on Sunday morning, which may have limited the range of Sheephaven snorkelers, but not their enthusiasm.
On occasions the swell was over 3m high and its effects could be felt at the pier where the rocks and gravel could be clearly heard rattling up and down the slipway.
With safety as the primary concern the snorkelers stayed well away from the big cresting rollers, which were regularly crashing into the Golf Course side of the harbour.
Despite the poor water conditions everyone in the water put in a big 30 minute workout swimming back and forward across the harbour.
A great morning to be in the water and it was followed by another full house afterwards in Lizzies for the post snorkel debrief.
Sheephaven SAC plans for the Northern Region Dive Rally on the 24th June 2016 move forward with accommodation offers from hotels in the area.
Downings Bay Hotel have a double twin Bed and Breakfast deal for €50 pp and a single room Bed and Breakfast for €65 pp, they can be contacted on info@downingsbayhotel.com for further information.
The Rosapenna Hotel has a B&B offer for visiting divers of €145 for a double/twin room and €100 for a single room, their contact details are www.rosapenna.ie .
For visiting divers to available of these special rates just let the hotels know they are involved in the Sheephaven Northern Region Dive Rally.
Finally with Spring hopefully just around the corner it is time to consider getting involved in a clean-up and for anyone who wants to get out a organise a community event Donegal County Council are sponsoring the #Big Donegal Clean Up '16.
Tags: