IT MAY be a male-dominated world but Donegal Army Officer Bridget Clarke has risen through the ranks of the military and believes other women can do the same.
Based at Finner Military Camp, the Carrigans woman was recently promoted to the rank of Captain and oversees more than four hundred personnel.
Capt. Clarke told Donegal Daily how she enlisted when she was eighteen-years-old "for the adventure and the money" and said she would do it all over again.
She is now celebrating 22 years as a member of the Defence Forces.
After excelling in her training, doing further military courses and serving overseas this determined woman went from raw recruit to Commissioned Officer. She is attached to 28th Infantry Battalion.
Speaking about the promotion, she says: "I was honoured and privileged on behalf of my Unit and my family. It really was a massive honour for me. I wouldn't be part of it if I didn't enjoy what I do. It really is a life less ordinary."
Among her many duties is the responsibility for discipline, ceremonial matters, contracts and HR for personnel at Finner Camp.
"It's a broad spectrum of work and then I am also assistant for the officer commanding," she says.
"You are his right-hand woman. I am employed in the Battalion Headquarters and then you would have a Company underneath that."
She was speaking following the announcement of a new Defence Forces recruitment campaign, Join Our Team, launched by Defence Minister Simon Coveney.
It plans to induct more than 600 general service personnel to the Permanent Defence Force in 2016 and a further 850 personnel in 2017.
The 2016 campaign is hoping to increase female recruitment while also reaching out to people from all backgrounds and ethnicity. Currently, just over 6% of personnel are women.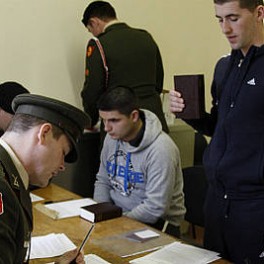 Privates in the Defence Forces earn around €36,000 a year and also receive foreign service allowances.
A former County and St Eunan's footballer, Capt. Clarke said her sporting background helped her prepare for the physical demands of life in the Army.
She says: "At that time, I was studying Electronics at Letterkenny I.T. I was a sporty person anyway and I thought this was something that I wanted to give a go. I thought about the adventure, getting away from home and earning some money.
"I played GAA and soccer and went on to play football for the Army. I also had a great family support network. I don't come from a military background so this was all new to me."
Throughout the training process and interviews, Bridget's mother Annie was beside her all the way.
The 40-year-old officer comes from a family of seven – three brothers and three sisters – and also has huge support from her husband, Dermot, a former member of the Defence Forces who is now studying for a PhD.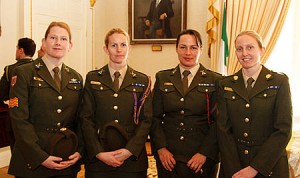 Asked why young women should consider a career in the Army, she says: "It is unbelievable the career prospects open for new recruits nowadays.
"You can keep up your sports, you have opportunities to study for civilian qualifications accredited by Carlow I.T. and you have a chance to serve overseas. A lot of entrants coming in are highly educated and you try to allow them to build on that.
"It isn't always easy. You're going into an organisation and it's challenging; the training is challenging and robust. But you do get great satisfaction when you complete the training.You get to meet people from all parts of the country and you make friends for life.
"You are making a commitment to the country that you are going to serve. There are times when you will be disappointed. You have to be prepared to get on with it. But the rewards are there."
Capt Clarke, who has served overseas on four different occasions, explains how women do make a difference .
"Women bring so much in many ways. They help to calm and engage with local population and in certain conflict situations can help to bring balance."
Recalling her first overseas deployment, Capt Clarke says: "That was a massive experience for me. Other than a school trip, that was my first trip abroad. It was fascinating and nothing will beat your first trip.
"There were six other females – we were six strangers in a room but there was great camaraderie and support. And you do make lifelong friends.
"When I first went overseas, there was no social media, mobile phones or internet. You had to wait on a letter and it was brilliant getting that letter. If I go overseas again I would still ask for a letter to be sent because there's something special about that.
"Two years ago I was back in Lebanon again. It was so different for me. The rank, the job and whatever it is about the Irish Army but we tend to win people over. It's a very different country now. It was a very rewarding experience."
Applications can be made online at www.military.ie Army applicants must be at least 18 years old, and under 25 years old. Closing date for applications is Sunday, May 22 – 23:59 hours.
Tags: