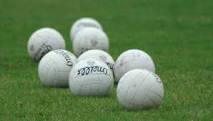 Malin 2-09 Sean MacCumhaill 1-09
Sean MacCumhaills's took the lead with Darren McGowan winning a kickout before playing a one-two with Andrew McCloskey and finishing off from a central area. Stephen O'Reilly ran through and scored shortly after. Brendan McLaughlin replied after good work from Anthony Kelly and Dan McDaid sent him on his way. McLaughlin then hit two goals and two points as the MacCumhaills's defence found the pacy forward too hard to handle. He cut in from the right and sped away from his marker before shooting low into the left corner for the first and two minutes later he flicked on Darren McLarkey's long ball in and ran onto the loose ball before shooting soccer style from the 21' past Patten. Brian Lafferty scored a free from the right to keep the twin towns men in contention but McLaughlin again beat his marker down the right before cutting in and slotting over. Dan McDaid extended the lead out to seven after turning quickly and shooting over after Anthony Kelly worked in a short free. Martin O'Reilly freed for the visitors shortly after but MacCumhaill's were then dealt a blow after Stephen O'Reilly was given a straight red card for what appeared to be a strike. Malin defence were caught in possesion by O'Reilly on the stroke of half time and as he advanced he was brought down for a penalty, which he himself made no mistake with shooting low into the right corner to give McLaughlin no chance to leave the halftime score Malin 2-04 Sean MacCumhaills 1-04. Stephen Mulligan open the scoring for the Ballybofey-Stranorlar side  with a free after Brian Lafferty was brought down. Brendan McLaughlin turned quickly and fired over in reply. Player manager Anthony Kelly hit two frees after he himself and Paul McLaughlin were brought down. McGowan and Martin O'Reilly hit two frees and an O'Leary score from the left kept MacCumhaills in touch. Anthony Kelly then scored a super point from play when jinking through a number of heavy tackles and powered over from out on the right  to leave a goal between them again. Kelly and O'Leary traded frees before Malin were reduced to 14 with the impressive Gary Farren dismissed for two yellows. There was late drama as Sean McGowan's shot was adjudged to have been footblocked and up stepped O'Reilly to try and salvage a draw. Darragh McLaughlin got down low to his left to deny O'Reilly, who had been kept quiet in the match by Declan Walsh, as Malin held on for a great victory.Malin team and scorers: Darragh McLaughlin, Michael McLaughlin, Conor Farren, Gary Farren, Thomas McLaughlin, Declan Walsh, Paul McLaughlin, Kieron McColgan, Anthony Kelly (0-04, 3 Frees),Darren McLarkey, Dan McDaid (0-01), Damien Harkin,Danny McCarron, Seamus Houghton and Brendan McLaughlin (2-04)
Sean MacCumhaill team and scorers: Chris Patten, Gerard Grindle, Joe Dunnion, Conor Griffin, Andrew McCloskey, Gary Dunnion, Gary McGirr, Stephen O'Reilly (0-01), Nathan Gavigan, Aaron Kelly, Martin O'Reilly (1-02), Darren McGowan (0-02, 1f), Stephen Mulligan (0-01), Darren O'Leary (0-02, 1f) and Brian Lafferty (0-01, 1f)Subs used: Sean McGowan for Aaron Kelly
Malin Reserves 1-05 Sean MacCuimhaill Reserves 1-08
Malin opened the scoring with a Noel McLaughlin free. Chris Gallen replied with a free before Conor Glackin set up Eoin Burke who blasted in past Aran McLaughlin from close range. Two more frees from Noel McLaughlin kept Malin in touch before Gallen hit another free and Michael Lynch scored out wide to leave the half time score Malin 0-03 Sean MacCuimhaill 1-03. Jonathan McLaughlin hit an excellent score from the right at the start of the second half. The visitors responded with a good score from the left by Gary O'Donnell and one from the left by substitute Carl Dunnion.  Chris Gallen extended the lead with a good shot on the turn and Michael Lynch scored to stretch it out to six. Tom Reynolds then scored from the left. Noel McLaughlin then rifled in a free from the 21 beating a number of men on the line to give Malin late hope. He added a free right after as Malin ran out of time to get an equalising goal. Malin team and scorers: Aran McLaughlin, AIdan Bambrick, James Gallagher, Conor Kelly, Tommy Byrne, Ryan Doherty, Connor McColgan, Peter Doherty, John Joe Doherty, Liam Gallagher, Noel McLaughlin (1-04)Jonathan McLaughlin (0-01), Seamus McLaughlin, Neil McGilloway and Jonathan McCarron. Lee McDaid for Liam Gallagher 35mins, Paco McLaughlin for Jonathan McCarron 45 mins and Paul Gallagher for Seamus McLaughlin 45 mins. Sean MacCuimhaill team and scorers: Eoin Gallen, Seamus McGinty, Ogilvie McGroarty, Douglas McDaid, Oliver McGroarty, Shane Duffy, Cormac Muldoon, Maurice Lafferty, Tom Reynolds (0-01)Gary O'Donnell (0-01), Michael Lynch (0-02), Eoin Burke (1-00), Mark O'Sullivan, Conor Glackin and Chris Gallen (0-03) Subs used Carl Dunnion (0-01), or Gary O'Donnell Ht, Paddy Hannigan for Conor Glackin Ht, Sean Friel for Eoin Burke 40mins.
Fixture: Malin V Glenfin in Connolly Park, Malinon Sunday 22nd of May at 3.00pm, reserves at 1.30pm, all support welcome.
Lotto
There was no winner of this weeks jackpot of €1750. The numbers drawn were 7-2-6-3-4-1-5 and the €50 winner was Chrissy McLaughlin, Ross Head, Glengad. Next weeks jackpot is €1800.
Sports Day
The annual sports day will be on Sunday the 5th of June.
Underage
The under 14's lost out in the Joe McGeady A- final against Naomh Padraig Muff on Sunday night on a scoreline of Naomh Padraig 3-09 Malin 2-07. The minors beat Naomh Ultan last week on a scoreline of Malin 5-15 Naomh Ultan 1-07 and are now through to the Minor Division 2 County Final agaisnt Cloughaneely next Wednesday in Killygordon at 7.00pm. The under 12boys followed up their previous victory over Buncrana when they beat Burt last Tuesday, they are away to Naomh Padraig this Tuesday. The under 8 boys and girls hosted Carndonagh on Thursday evening with both clubs fielding 3 boys teams and a girls team on the night. These young players gave a great exhibition of Gaelic football to the home and away fans. Under 8 boys  training continues every Wednesday from 6.00pm -7.15pm and every Saturday from 3.00pm to 4.15pm and all new players are welcome. The under 10 girls played Carndonagh on Monday, check Facebook for match result. The under 12 girls had their first win in the Inishowen C competition with a victory away to Urris, they have no match this week and training continues every Wedneday from 4.00pm to 5.00pm.
Tags: