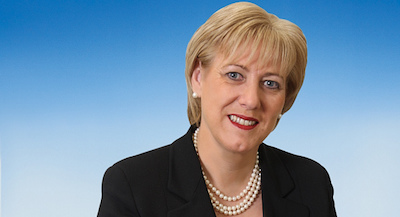 REGIONAL development minister Heather Humphreys says we probably whinge too much about rural Ireland – and we should be more positive about it.
She was speaking at the MacGill Summer School in Glenties yesterday.
Here is her speech is full. Read it. Agree with it. Disagree with it. Leave comments on social media or email us at info@donegaldaily.com.
The Minister's Speech:
Urban vs Rural
It is fitting that we are here, in rural Donegal, a county of spectacular beauty, at a Summer School celebrating one of rural Ireland's greatest ever playwrights, for a debate which is essentially asking whether investing in and prioritising rural Ireland is nothing more than an ill judged and vainglorious pursuit of governments in search of higher approval ratings.
Too often these conversations take place in the cosy confines of Dublin 2.
Donegal is a case in point of both the challenges and merits of investing in rural Ireland.
Ireland is a small country, but it is easy to feel isolated or forgotten when you live in an area which has often been overlooked in terms of investment, both domestic and foreign.
As someone who lives on a farm in rural Ireland just a few miles from the border, I know that feeling.
Today's discussion should not be about urban versus rural, or indeed rural versus regional.
Rather it should be about how we can create sustainable communities by focussing on the indigenous potential of both people and place.
The view that urban areas should be developed and promoted over the rural is missing one crucial factor:
People.
For it is the people of this small country which make it great.
And it is the people of rural Ireland which make it a place worth fighting for.
I do not believe it is feasible to simply promote the development of cities and large urban areas, while rural areas are left to decline.
It is easy to accuse politicians of tending towards the populist, the palatable.
Forget about the politicians – what about the people?
What would the people of North West Donegal think if the policy makers of the day told them they weren't going to be provided with public services, that transport links would cease, that the airport would close and the school buses would stop running, because there isn't a sufficient 'population cluster' to justify such supports?
Policy making shouldn't be just about cold hard statistics.
In my view, it is the job of the politician to combine policy with people.
To consider the impact of policy decisions on people's lives.
That does not have to lead to bad, short term decision making.
But it does mean that a balance has to be struck, between people and place.
Government Priorities
The new Partnership Government has placed a particular focus on the need to revitalise and rejuvenate rural Ireland.
When the new Government was being appointed, the Taoiseach announced that I would retain all of the existing responsibilities of the Department of Arts, Heritage and the Gaeltacht, with additional responsibilities for Rural Affairs and Regional Development.
Clearly, Enda thought I didn't have enough to do to keep myself out of trouble.
I was delighted to be retaining the responsibilities of my existing Department.
To name just two priorities, it meant I could see out the centenary celebrations, which so much work had been poured into, and I was also keen to continue my work on Culture 2025, the first ever national cultural strategy, which was published in draft form earlier this week.
But I was also delighted to be given the extra responsibility in relation to rural Ireland.
I am passionate about rural Ireland.
I believe it in.
I have lived all my life in rural Ireland – aside from a brief stint in Dublin in my twenties – and I quite honestly wouldn't want to live anywhere else.
When I think of rural Ireland, I think of communities incredibly proud of their local town or village.
I think of the GAA, the IFA and the ICA.
I think of small local drama groups putting on their own productions of Dancing at Lughnasa or Philadelphia Here I Come.
I think of people.
The Government wants to ensure that as the economy continues to recover, people living in rural areas are given a fair crack of the whip.
We want to build a more evenly spread recovery, which in turn will help build a fairer and more just society.
Much of the rhetoric bandied about in relation to rural Ireland is inaccurate and has a self perpetuating negativity.
Despite much talk of rural Ireland being in decline, we know that the official statistics show that the fastest jobs growth has been outside the capital.
Unemployment has fallen in every region since the crash.
This hasn't happened by accident.
The previous Fine Gael-led Government focussed on building an export-led recovery, based on growing indigenous businesses.
Now, the challenge is to future proof the regions to safeguard and sustain that economic growth.
Broadband
In my view, the single most important factor in the sustainability and continued rejuvenation of rural Ireland and the regions is the roll out of rural broadband.
High speed broadband has the potential to be a game changer for rural Ireland, and its development and investment opportunities.
It will quite literally plug rural communities into a world of opportunities which are currently out of reach.
Delivering the National Broadband Plan is a top priority for Government and the allocation of new responsibilities at Cabinet level also signals the Government's firm intention to address broadband and other telecoms challenges in rural Ireland.
I am working closely with my colleague, the Minster for Communications Denis Naughten, to deliver key elements of the National Broadband Plan and to accelerate and prioritise the rollout of the programme in rural areas.
The aim is to deliver high speed broadband to every home, school and business by 2020 through a combination of commercial investment and State intervention.
Essentially, the State will intervene where commercial providers are failing to reach.
The Department of Communications is continuing to manage the procurement process for the State contract, which is expected to be awarded in Summer 2017.
In the meantime, my new Department is working with local authorities to eliminate any roadblocks, so we can ensure that towns and villages and rural areas are broadband ready when the contract is signed.
It's about getting the runway ready now, so the plane can land smoothly next summer.
It is difficult to overestimate the challenge we are facing.
The broadband blackspots in need of State intervention account for 750,000 addresses, and cover 96% of our land mass.
We're talking about 100,000km of road network, traversing areas which are home to 1.8 million people.
Put simply; it's a very big job – it's akin to rural electrification.
But it will be worth the effort, and it will have a transformative effective on rural Ireland.
Sustainable Development
High quality Broadband is one of the many tools we can use to empower rural communities.
The revitalisation of rural Ireland must be based on sustainable development.
We must learn from the mistakes of the past.
We are all well versed on the mistakes of the construction bubble, when our young men were recruited and trained in their droves in an industry which was built on sand.
The old approach of 'an IDA factory for every town' didn't work either.
It is was false promise, and one that was generally never fulfilled.
Through the implementation of regional jobs plans, the Government is encouraging each region to focus on its strengths.
By supporting indigenous businesses and linking education with industry, we can give each region the best possible chance of success.
Take for example, a business in my own constituency of Cavan Monaghan.
Combilift is a home grown Monaghan success story – a jewel in the crown of Enterprise Ireland
Since it was first started by Martin Mc Vicar and Robert Moffett 18 years ago, the company has grown into a global leader in forklift manufacturing.
It now exports to over 75 countries.
Last year, Combilift announced major expansion plans and the creation of 200 new jobs.
Crucially, the company has teamed up with Cavan Monaghan Education and Training Board to develop a series of new apprenticeship programmes, to ensure those jobs can be filled by local graduates.
It's a formula that works, and one I want to see replicated nationwide.
Sustainable development should also mean that national decisions about rural Ireland are not taken in isolation.
The CEDRA report – published under the last Government – looked at how to revitalise rural Ireland.
One of its most important findings was the realisation that in order to fully support sustainable rural development there was a critical need for a more integrated approach across all Government Depts and Government Agencies.
This is not a new concept and indeed much of the relevant sectoral frameworks accept the need for this kind of approach.
This Government's increased commitment to supporting sustainable rural development in an integrated way has already been formalised through its commitments in the Charter for Rural Ireland published earlier this year and the creation of my portfolio.
And now I will be developing an Action Plan for Rural Ireland.
The Action Plan format, developed so successfully through the Action Plan for Jobs, takes a strategic approach based on implementation.
Government Departments are given key objectives which they must meet in the context of regional and local priorities.
A regular and structured reporting mechanism will be initiated and progress reports will be delivered to the Cabinet Committee on Regional and Rural Affairs chaired by an Taoiseach.
Included in this process will be the consideration of regional and rural issues in the design of the National Planning Framework.
This framework is the follow up to the National Spatial Strategy and its development will be lead by the Department of Housing, Planning, Community and Local Government.
The National Planning Framework (NPF) is a Long-term, 20-year National Plan outlining a high level spatial vision for Ireland.
It will be the overarching plan from which other regionally and locally based plans will emanate.
My Department will be working closely with the Department of Housing, Planning, Community and Local Government to ensure that the regional and rural perspective is fully considered as part of the planning framework design process.
The Government is determined to plan for the future and to deliver the best for both urban and rural Ireland.
Revitalising towns and villages
One of the many issues which will be addressed as part of the Action Plan for Rural Ireland is that of town and village renewal.
The best way to revitalise a town or village is to bring life to it.
One of the many mistakes of the Celtic Tiger years was to drive business and investment out of town centres, with the development of sprawling out of town retail spaces.
We cannot wipe out these developments, but we can look at ways to encourage people back into our towns and villages.
I am considering options to make it more attractive for young couples in particular to live in town centres.
If you look across Europe, people live not just in city centres, but also in town and village centres.
We have a plethora of heritage buildings which are wholly or partially vacant, and I believe there is a real opportunity there to both address our housing challenges and bring life and vitality back into our town centres.
Arts and Rural Affairs
I also believe there is a real opportunity for the arts and rural affairs sections of my brief to mutually benefit each other.
The success of the 2016 commemorations – which were rooted in arts and culture – was a testament to the vibrancy of rural Ireland.
The Ireland 2016 Centenary Programme – which I had the honour of heading up – flourished as a ground up initiative, embraced by local communities.
The tally of local community events held as part of the programme has now reached 3,500 – which is so far beyond anything that any of us could have imagined just a year ago.
Through arts and culture, local communities have interpreted and interrogated the events of 100 years ago, leading to an honest and complete examination of our history.
So many of our best loved artists and writers have been inspired by rural Ireland, and in turn I believe the arts can play a very valuable role in our rural recovery.
Supporting and investing in arts in the regions helps local communities to thrive and to showcase their own unique creativity.
Conclusion
When considering how to prioritise investment on a long term basis, we must ask ourselves what makes Ireland different from all the other small countries on this earth.
For a nation of 4.5 million people, what makes us stand out from the global crowd?
It is our people and our culture.
Our culture, gives us the edge.
Our landscape, our heritage, and our people make this country unique.
We are inextricably linked to the land that has shaped our culture over the centuries.
Much of the needs of rural communities are of course different to that of urban communities.
But I do not think that one should be pitted against the other.
To all of our people into large urban areas would destroy the fabric of the rural Ireland and eliminate so much of what makes this country distinctive.
Creating sustainable rural and regional communities, through long term planning, utilising the advantages provided by modern technology and helping towns and villages to play to their strengths will allow us to develop a broader based, fairer economy.
It cannot simply be a numbers game, where we say to ourselves that rural communities must be sacrificed for the sake of cheaper, more efficient living in urban spaces.
We must strive to build a society which values both people and place.
I'll finish by quoting a fellow Monaghan native, Patrick Kavanagh:
"Letting the facts speak for themselves is an immoral principle when we all know that facts and figures can be selected to prove anything."
Tags: