BABY STEPS WITH ÁINE: Hi everyone.I hope you're all well. This week I'm sharing some tips on getting your little one through their first cold.
Ava's first cold was a worrying time. It was difficult to see her suffer–especially since she couldn't tell us how she felt–and we often worried that she was having trouble breathing. We felt helpless, and unfortunately, I think this is a mutual feeling between parents when their little ones get sick. Usually, you just need to be patient and attentive while your baby gets better on their own. This is much easier said than done.
Below are some tips that helped us and will hopefully be of use to you.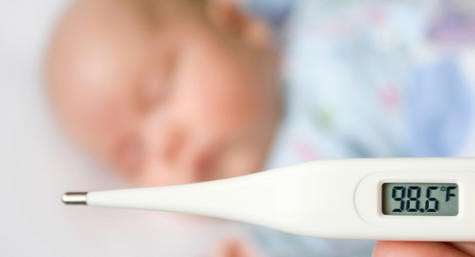 Stock up:
Be prepared well in advance. The last thing you want is to realise you have no calpol when your little one has a spiked temperature in the middle of the night.
Buy a reliable thermometer:
A good thermometer is definitely a wise investment. The first one we bought was an under the tongue/armpit thermometer. Despite it being a nightmare to keep Ava still long enough to get an accurate reading, I didn't trust it 100%.
I would recommend spending that little bit extra. We opted for a Braun ear thermometer in the end.
If your baby is not a fan of getting their temperature taken I have discovered a thermometer that might suit you. This 6-in-1 thermometer by Brother Max can measure your child's temperature without contact and projects the illuminated temperature reading onto the forehead. It can also be used for food, bath water, room temperature.  You'll definitely get your money's worth.
Brother Max 6-in-1 thermometer
Relieving the symptoms:
If only babies could tell us what their symptoms were. The obvious symptoms include nose stuffiness, coughing, temperature and crankiness. The not so obvious may be ear or throat pain which can be relieved with the appropriate dose of calpol dependent on your baby's age.
To relieve nose stuffiness we used some nasal saline spray along with a nasal aspirator which worked wonders. Although, I will mention that the nasal aspirator is one of the most bizarre baby items I have used so far.
At night time we also left some vapour rub on a tissue next to her cot to help her sleep better.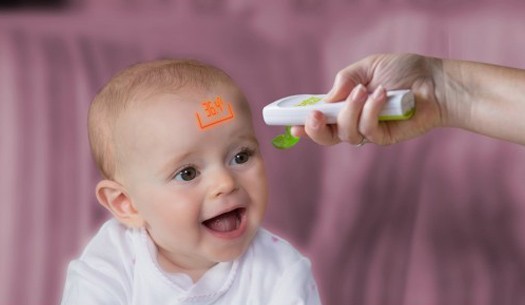 Hydrate:
This one can be tricky as you'll probably notice a change in your baby's appetite. Little and often is the best way of achieving this.
Give lots of cuddles:
Like grownups, babies need extra tlc and attention when they're under the weather. Reschedule your plans and just be there for them. As I said before, you'll probably feel helpless when your little one is sick so the cuddles will help you too!
Cuddles fix everything
Protect yourself:
If, like us, you live away from family this one is vital. Looking after a sick baby, without help, when both parents are also sick is not fun. It's hard to completely avoid it but try and minimise the possibility. Wash your hands often. Stock up on medicines for yourself so you're prepared and keep hydrated. If you do get sick, your friends will be more than happy to help out if you need it. You don't have to try and be super mum all the time.
Contact your GP:
Never hesitate to call your GP if you are worried. If they are having difficulty breathing, develop a rash or have an ongoing fever despite medication, call immediately. Sometimes all you might need is some advice and they will be more than happy to help. No question is ever too small!
Thanks for reading,
Áine x