Donegal's Ryan McHugh, Karl Lacey and Patrick McBrearty have all been named on the Hoganstand team of the week. 
Ryan McHugh is having an exceptional year, and kicked another three points on Saturday as Rory Gallagher's side overcame a plucky Cork team.
His teammate Patrick McBrearty probably had the one of his finest games ever in a Donegal jersey.
He was unplayable on Saturday and kicked eleven points (six from play) in an incredible performance.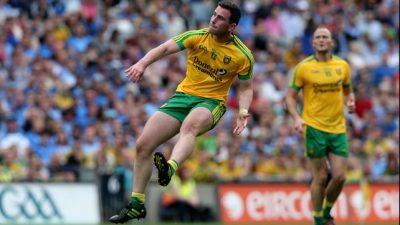 Dublin manager Jim Gavin was in attendance on Saturday, and with question marks over their full-back line – Gavin will know McBrearty will have to be watched, but who will be tasked with the responsibility of marking him?
The other Donegal player to be selected on the team was Karl Lacey who also enjoyed a fabulous display, his positioning and ability to know where to be is exemplary.
Lacey is a four-time All-Star and won the Player of the Year award when Donegal won the All-Ireland title in 2012 – and is still, four years later a crucial player for Rory Gallagher's side.
All three will have to firing on all cylinders again this weekend, if Donegal are to have any chance of overcoming Dublin.
Many pundits have already written them off, but that was the same in 2014, and we all know what happened that sunny August day!
Tags: