Sheephaven divers had a remarkable dive at Melmore Head on Saturday morning, where the marine life put a tremendous display that will make this dive one to remember for quite some time to come.
On the surface before the dive the club members were fortunate enough to encounter a Sunfish that was clearly not one bit concerned about the presence of the dive boat.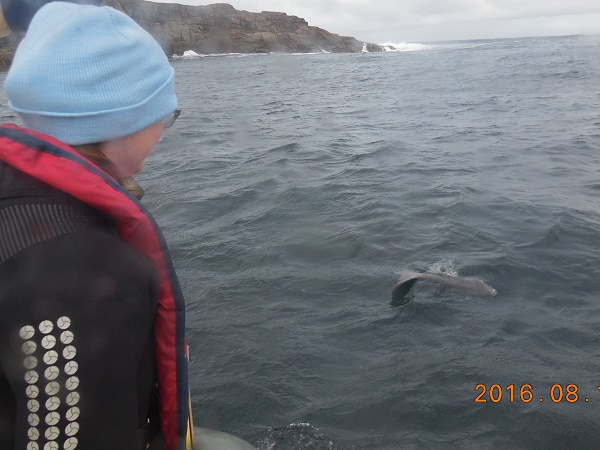 Then later it remarkably began to jump out of the water, four times in a series across the cove, looking like a large stone skipping across the surface.
Then as the divers descended into the Melmore Head cave and chimney another three Sunfish went past, following each other in a line at a depth of 24 metres, which was another sight rarely witnessed by divers.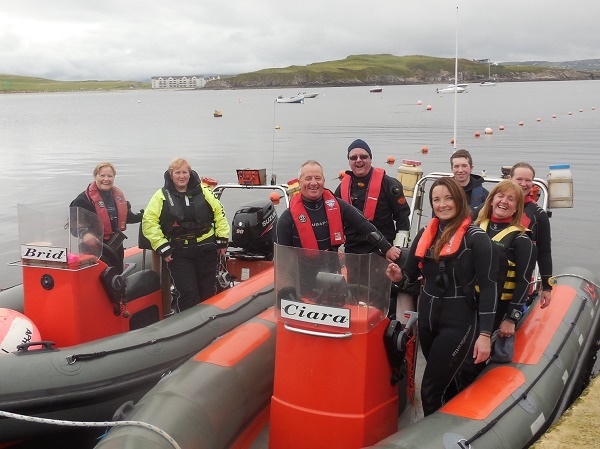 Elsewhere the entire dive site has been populated by large Pollock, Wrasse, shoals of juvenile Pollock, Bib and Cod.
Then they came across a Conger Eel clearly badly wounded but still alive, barely. Goodness knows how this poor creature was hurt in this way but unfortunately its future could not be good.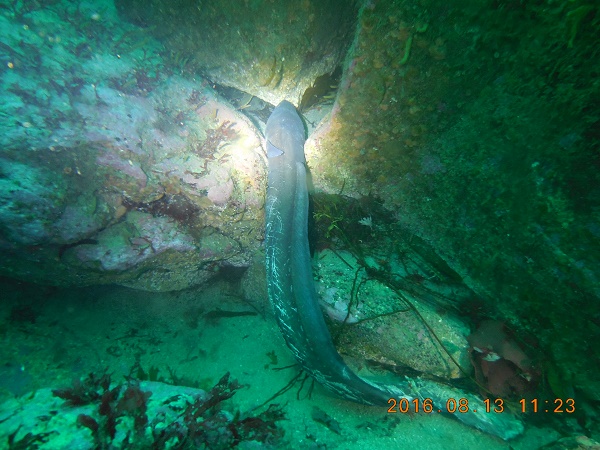 Finally as the divers prepared to begin their ascent from the Melmore wreck they came across two Lobsters squaring up to each for a fight, until one backed down and left the scene for its rival.
Water temperature was just below 15 degrees Celsius, while in-water visibility was well over 10 metres at a depth of 25 metres. Dive times of nearly 55 minutes were recorded before all divers were recovered and the run back to Mevagh was completed.
Sunday was all about club members achieving the deserved recognition of where their diving has got to, with four club members successfully completing their Club Diver Test, while elsewhere another diver got their first dive on the Laurentic.
The four new Sheephaven Club Divers are Bernie Gallagher, Maureen Gallagher, Caroline Mc Gee and Matthew Mc Gonagle.
For these divers in gaining their second star they get the recognition of the successful completion of a course that brought them from absolute beginners to accomplished divers and opens the door to further grades and courses in the future.
Training Officer Anne Boyle led the two boat dive party to Pat Mc Gee's where the Regional Dive Officer Gearoid Mc Carthy conducted the practical examination in two sticks.
Later back in the club house the candidates completed the theory element of the test and in doing so were able to demonstrate that they have been properly trained to a satisfactory level to be awarded the Club Diver grade.
The CFT Club Diver or 2 Star grades has an international reputation through the CMAS Federation that will allow qualified divers access to dive organisations across the world, but more importantly it provides a sense of achievement to the recipient that will never be forgotten.
Sheephaven SAC is indebted to Gearoid for taking on the examination of four candidates in one day, definitely a job well done.
As the club diver test was underway Kevin Boylan led a single boat dive party to the Laurentic, where for one diver it was their first opportunity to conduct such a deep dive at this site.
On the surface sea conditions were good, but on the wreck they were better still, with clear in-water visibility right across the width of the wreck and only the slightest of a tidal current.
The dive was conducted as a no-decompression dive on 21% air, allowing for a 12 minute bottom time, followed by a 10 minute ascent including 2 one minute pile stops at 25 and 15 metres and a further 3 minute safety stop at between 3 and 6 metres.
For both the first time Laurentic diver and the new Club Divers Sunday morning was a dive that demonstrated that they have achieved a very significant level of accomplishment and well done to all involved.
Tags: