IT'S WALSHY ON WEDNESDAY: With ten minutes gone at Turner's Cross on Monday night, those Finn Harps fans, players and anyone else interested would have, finally, been raising the toast confirming another season in the top flight. Dundalk's championship winning victory over Bohemians at Oriel Park the previous day did, of course, sow a seed of doubt.
Would Cork City turn up to play against Wexford Youths knowing that the title was now officially and mathematically out of their grasp?
Would they fear injuries in advance of their F.A.I. Cup Final against the Lilywhites on Sunday week and consequently take their collective feet of the
pedal?
But those brace of goals by City striker Chiedozie Ogbene in the opening nine minutes put paid to any doubts and when John Caulfield's men went in at half-time having added another couple, the Youths were marching towards the same play-off that had brought Harps up from the wilds of the First Division at the end of the 2015 campaign.
I still expected Ollie Horgan to suggest afterwards that his side weren't safe yet! But he did put his squad through their paces during training on Monday night in readiness for what might have been – a crucial fixture against Bohs this weekend.
Manager Horgan maintained that they hadn't kept in touch with events from Cork but I do find that hard to believe given what the prize was – another season in the Premier League.
I'm quite sure updates were filtering through to the players and that the smiles of relief were evident long before the session was finished.
The Harps boss had said all along that staying up would be an even greater achievement than getting there in the first place – and after that nine game run without a victory and eight matches without a goal when the clouds of relegation were storming over Finn Park, you'd have to agree.
It is difficult – as Harps have found on many an occasion – to climb out of the First Division but the upsurge in quality and competition in the Premier League does make it much tighter particularly for a side that is truly part-time.
And to ensure another season there is something special for this squad of players and one to be lauded by all Harps supporters and indeed by the soccer loving public of the county.
That goal-less draw in Wexford on Friday night – and what a performance by goalkeeper Ciaran Gallagher – was one of several key results during the season, not least a handful of vital victories in the opening months of the campaign.
Too early to look forward to next season but at least we can look forward to it. And in the short-term anticipate a tension free night by the Finn this Friday night and, hopefully, a performance to match the twenty minutes of outstanding football they put in the closing stages against St. Patrick's Athletic in their previous home outing.
Those supporters who have followed the club the length and breadth of the nation – including a healthy turn-out in Wexford last weekend –surely deserve it.
REIDING BETWEEN THE LINES – DONAL BOOKS A SLOT IN THE AUTOBIOGRAPHICAL WORLD
Confessions of a columnist. Some time ago, Donal Reid got in touch to ask me if I would run my eye (or even both of them) over the draft of
his new and then, yet to be published, book.
Yes, I promised. No problem. Send it on and I'll get cracking on it. And so the draft arrived courtesy of e-mail and while I had set it aside for a less busy period, I was keen to delve into it.
And eventually I did. But after only two chapters – and an enticing read it was – I had to, once more, push it to one side as the work piled up and spare time became more limited.
I kept believing that I would get back to it and indeed contacted Donal to apologise for the delay and pledging that I would finish it.
And now, a few days after the launch of the book "Confessions of a Gaelic Footballer', I'm apologising again because I didn't manage to put the time in to complete his request or his book.
Thankfully, there were others a lot more reliable than I was to proof read it and now it's in the public arena following the launch in Donegal Town on Friday night (due to the afore mentioned birthday party, I wasn't able to attend).
As anyone who knows him (just about most of the county and many others besides), Donal is an entertaining character, hot on the heels of being one of our better footballers, but had his struggles to bear during a lifetime that wasn't primarily devoted to Gaelic games.
I've been an avid reader – and, yes, I do always finish it – of his weekly column in the 'Donegal Democrat' which provides many a laugh and many an insight. I've also admired him for his public declarations of his faith which he carries about with him proudly and is never afraid to share those beliefs.
It's a book that should leap off the shelves and I will certainly be investing in it. And this time reading right through to the last chapter.
And with all proceeds from the sale of the book going to the Pieta House charity, it's an investment well worth the cover price.
EAMONN FOR THE GREEN!
He turned PRO a couple of years ago – that's public relations officer for Letterkenny Golf Club – and just over a week ago, turned sixty.
And got the surprise of his life last Saturday night. My old colleague, Eamonn Davis, believed he was going out for a quiet family meal in the plush surroundings of the Bishop's Gate Hotel in Derry but little did he know of what was to lie ahead (bit like one of his golf shots!).
Family, friends, sporting connections and former work colleagues assembled in the function room to greet him in time honoured fashion with a rousing rendition of 'Happy Birthday' followed by a night to remember.
"I'm more shocked than when I came off the golf course today, declared Eamonn (60).
And not alone a sea of faces confronting him but a display stand of images from his past – many of them taken in the days long before your average smart phones could record such occasions.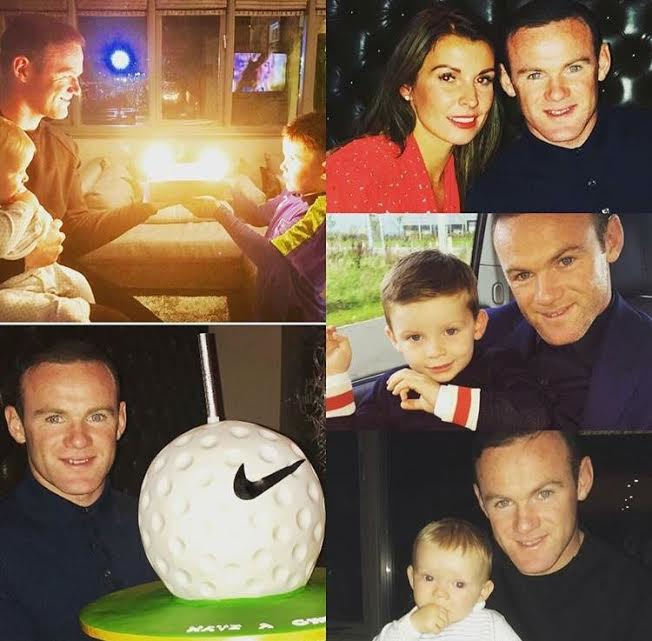 Who's that with Alex Ferguson? The boy Davis, no less. And a glittering gallery of other photographs too numerous to mention here.
Among the party-goers were Joe and Mary Duffy from Ramelton with the former being his usual quiet self and rarely leaving his seat to chat football to anyone!
For Eamonn there was a tour around the tables to chat with all and sundry and remonstrate with them for not giving the game away!
And then a speech delivered like a true stand-up comic with anecdotes from the past – at least the ones he was able to spill the beans on – including the golf outing that featured one player's ball landing in a cow pat at Narin/Portnoo.
The faecal (sic!) expression on Artie Duffy's face told us everything we needed to know though Eamonn slid in his name anyway just in case.
No birthday party complete without a cake and the one that marked this particular outing featured a giant golf ball on top complete with iced glove and surrounded by small cup cakes bearing a flag and the message '60'.
Not the only Manchester United legend to have such a cake this week – Wayne Rooney also celebrating his birthday with a golfing themed one to go with his tee.
Didn't stay around long enough to sample Eamonn's cake but the food in the hotel was as tasty as you could. And my and my better half's thanks to Sally of the Divers for the invitation to her hubby's big bash.
Back to the picture gallery and specifically the one featuring a shot of Mr Davis on the golf course with the accompanying few lines:
Grip of Seve Ballesteros
Stance of G Mac
Haircut of John Daly
Shoe size like Rory McElroy
Backside of Nora Batty.
GLENSWILLY TO GO UP IN DOWN
Down champions, Kilcoo are, apparently, raging hot favourites when they come up against their Donegal counterparts, Glenswilly, in Newry this Sunday.
Paddy Power Sports have the home team at odds of 2/5 to advance in the Ulster Championship while the men from the Glen are pitted at 12/5.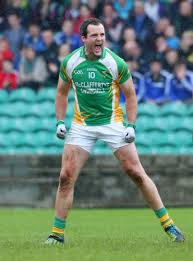 And you can get odds of 15/2 for a draw.
I'm not a betting man and I'm not sure what the odds were in Kilcar claiming the Donegal county title but I might just hazard a wager on Michael Canning's team to take another prized scalp.
Certainly a repeat of that stirring performance against Kilcar would be a giant
step towards achieving it.
RAINEY DAY IN LETTERKENNY
It never Raineys but it pours……no less than three fifteens from the Magharefelt club took to the pitches at Dave Gallaher Park on Saturday where the hosts, Letterkenny, could only come out on top in one of them.
The under-18's were unfortunate not to come away with something from their game – losing 20-17 after an impressive performance that, in the end, just fell short.
Gordon Curley's side had led on a couple of occasions but some bizarre refereeing decisions in the opening half helped Rainey back into it and the three point gap at the finish was cruel.
So cruel that a couple of the Letterkenny lads became embroiled in an angry exchange of words after the final whistle – frustration boiling over after wrong options had deprived them of a positive result.
But still an encouraging performance overall against a side that had gone into the game as the firmest of favourites.
Earlier, I had watched the future of Letterkenny R.F.C. when the under-14's held out to defeat their Rainey counterparts 12-10.
The visitors had just about camped themselves on the home line for the closing stages but sturdy defensive work ensured the young Letterkenny boys were triumphant.
Not so solid a display for the under-16's who had good reason to come out on the wrong end of a heavy scoreline – they began, and ended, the game with just twelve players but nevertheless fought hard to stem the inevitable Rainey tide.
Meanwhile, I didn't make it along later in the afternoon for the Letterkenny 1st XV who ran out 28-3 winners over neighbours, Strabane.
But a solid performance by all accounts.
COUNTY WONDERS
The St. Eunan's under-16 girls were hugely convincing winners of the county title against Milford last Wednesday evening in the splendid
surrounds of St Mary's in Convoy.
Milford did put it up to them in a tight opening half but Greg Harkin's team dominated the second half to claim the trophy and head back to Letterkenny in celebratory form.
Great performance and, I have to say, an excellent venue to stage it in.
The facilities there are more impressive than those at the nearby Centre of Excellence.
MASTERS OF THEIR CRAFT
Interesting piece in the sports section of Saturday's 'Irish Times' on the G.A.A. Masters football which has been, despite the opposition to it from the game's authorities here in Ireland, been attracting attention and supporters.
It's described by reporter, Paul Fitzpatrick, as the game where Gaelic football's great and good go when the glory days have passed them by.
Made up of players on the north side of 40 years – some even hitting the fifty mark – it is frowned upon by Croke Park who, apparently, may be concerned with the insurance aspect of it.
In any case, the 'Times' reported on last Wednesday night's international rules Masters match against Australia staged in Galway which Ireland won quite comfortably after going in at the end of the opening quarter 33-0 up.
"…when Donegal man David McShane sends over a point from long range, we even detect a fist pump," Fitzpatrick notes.
Kilcar native, McShane is one of four Donegal players in the Irish squad – the others including Charlie Gallagher (Four Masters), Daniel Branley (Bundoran) and Charlie Doherty(Naomh Mhuire).
The Gaelic Masters Association treasurer, James Breslin, repeats a saying from the organisation's chairman, John Pat Sheridan who points out: "We don't pack up football because we get old, we get old because we pack up football."
The Masters would thoroughly agree.
JOBBY STILL FINDING THE NET!
But if you think the G.A.A. Masters are edging (ageing?) it when it comes to veterans continuing to ply their sporting trades, you should pop into the Templemore Sports Complex in Derry on any of three nights during a given week.
Well known in these parts for his soccer coaching camps, Sean Davis (brother of Eamonn) was telling me that he and a selection of others play a game of indoor football with the players involved operating around the 60 age mark (which now qualifies his brother!).
Former Finn Harps full-back, Harry Sharkey, who was also in attendance at Eamonn's party, is a regular participant but what about the oldest exponent taking part?
None other than former Northern Ireland international, Jobby Crossan, who togs out at the ripe young age of 78 years!
His former clubs, Manchester City and Sunderland, both currently struggling, have been alerted….
Tags: