Staff at Kelly's American Diner in Letterkenny bid a fond farewell to Rose Black as she completed her last ever shift and began her retirement.
The surprise party this afternoon saw Rose being presented with flowers, gifts and champagne from Mairtin, Angie and all the staff.
Rose has worked in the Mountain Top for many years and has worked for 4 different owners. She has enjoyed a career in the industry for the past 43 years and will be leaving at the top of her game. She will be missed by many loyal customers and staff who she trained over the years.
It was an emotional party today as staff raised a toast to Rose.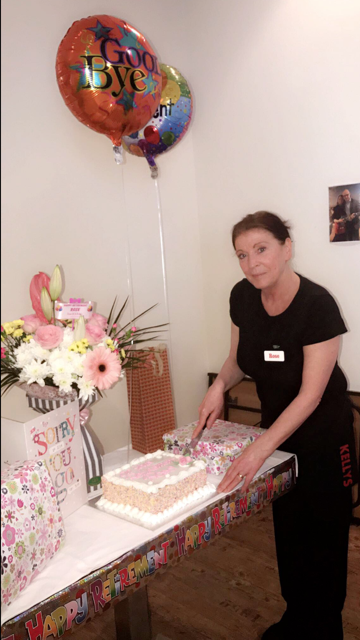 Mairtin said some kind words about Rose at the party: "Rose joined Kelly's when it belonged to her nephew Jason Black many years ago. I'm sure you will all agree the wonderful, pleasant impact and contribution Rose has made to our team here at Kelly's.
"We are indeed very fortunate to have had the privilege of sharing Rose's expertise, work ethic and commitment. Rose over the last few years in particular has achieved countless goals and received many awards.
"Rose you have left a remarkable legacy behind and one that will remain with us for years to come. You are leaving Kelly's a much better place than when you found it and that in itself will remain a lasting tribute to your professionalism.
"We will all miss you Rose – our colleague, a confidant, a friend, a counsellor, a shoulder to lean on, a leader, a visionary and indeed a true lady.
"Remember us fondly Rose and may the years that lie ahead be filled with laughter, happiness and many more dreams achieved. This is our wish for you as we say "so long" but not farewell."
Tags: