Illistrin National School are the first Donegal school to share their fantastic achievement for the  'Relay for Life Donegal' Schools 1for1@1 Challenge.
Staff and pupils completed a 1K walk for 1 Euro at 1pm on Tuesday, May 2nd.
Alana and Danny Ryan, from the famously active Ryan clan of Ireland's Fittest Family, led the walk with a symbolic giant euro.
The school community was full of energy during the challenge as they kicked off Active Week at Illistrin.
Well done to all involved and thank you for sharing this video with Donegal Daily.
We at Donegal Daily have joined forces with the Relay for Life Donegal committee to promote the Schools Challenge for this most worthy of causes.
From now until Friday, May 19th, we are asking schools to pick one challenge and on their chosen day to carry it out at one-o-clock. We are asking schools to do a one minute video of your challenge and send it to relayforlifedonegal@gmail.com.
Relay for Life Donegal are doing this fun challenge in association with Donegal Daily to raise vital funds for cancer survivors.
Every student takes one euro into the school (hence the name 1for1@1) Every single euro raised for Relay for Life this year goes directly to the extensive research programme for cancer survivors presently ongoing at Letterkenny University Hospital.
Unfortunately, cancer does affect every family and we are asking 'ALL SCHOOLS' to please consider taking part as every euro is so important to us.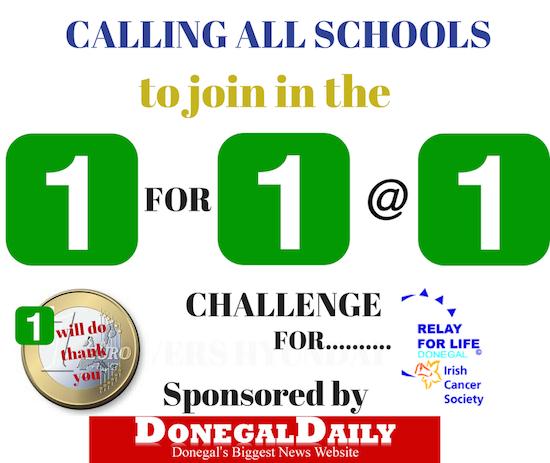 As of today, 26 schools have signed up to take part in the challenge,  but there's still time to get your school on the list!
As you can appreciate, it would be impossible for us to show all videos sent in but we will put up a selection of them over the next two weeks. If you can also send a photo of the students taking part in their challenge to the same address we will put that photograph up for viewing.
Remember that on the weekend of Relay for  Life Donegal  27th/28thMay at Letterkenny LYIT, all of the videos sent in will be shown on the 'Big Screen'. So keep in touch with Donegal Daily and with the Relay for Life Donegal facebook page during the challenge!
If your school has any queries you can phone Robert O'Connor on (087)2716344 or Seamus Mc Bride on (087) 2289477 or you can register your school to take part by sending us an e mail to relayforlifedonegal@gmail.com
Tags: