Raphoe Royal & Prior School had a lively afternoon of jiving to raise money for Relay for Life Donegal as part of the 1for1@1 challenge. 
The staff and pupils took over the school to step out with plenty of impressive moves and costumes to the tune of 'Let's Go to Vegas'.
The secondary school community then took time out to freeze completely in a classic mannequin challenge, which you can also watch below.
From all at the Relay for Life Donegal team and Donegal Daily, we say thanks to each and every one of you – we so appreciate your efforts.
The Schools 1for1@1 challenge has been a great success this month to get young and old out to support the Relay for Life Donegal.
What's 1for1@1?
Schools across Donegal picked one challenge and on a chosen day to carry it out at one-o-clock. Relay for Life Donegal are doing this fun challenge in association with Donegal Daily to raise vital funds for cancer survivors.
Every student takes one euro into the school (hence the name 1for1@1) Every single euro raised for Relay for Life this year goes directly to the extensive research programme for cancer survivors presently ongoing at Letterkenny University Hospital.
Donegal Daily
The team at Donegal Daily have joined forces with the Relay for Life Donegal committee to promote the Schools Challenge for this most worthy of causes.
We are asking schools to do a one minute video of your challenge and send it to relayforlifedonegal@gmail.com.
As you can appreciate, it would be impossible for us to show all videos sent in but we will put up a selection of them over the next two weeks. If you can also send a photo of the students taking part in their challenge to the same address we will put that photograph up for viewing.
Remember that on the weekend of Relay for  Life Donegal  27th/28th May at Letterkenny LYIT, all of the videos sent in will be shown on the 'Big Screen'. So keep in touch with Donegal Daily and with the Relay for Life Donegal facebook page during the challenge!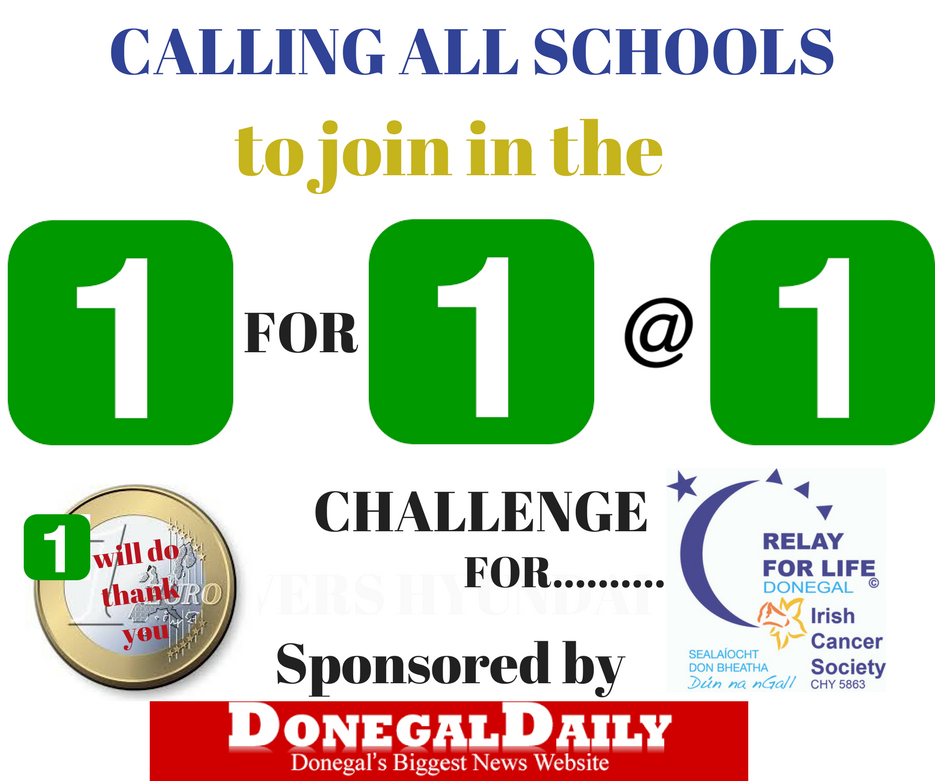 Tags: