This week Charlie Collins says he will be shocked if Derry beat Tyrone and urges fans to get along and support Finn Harps as they battle to stay in the Premiership.
No surprise surprise in Championship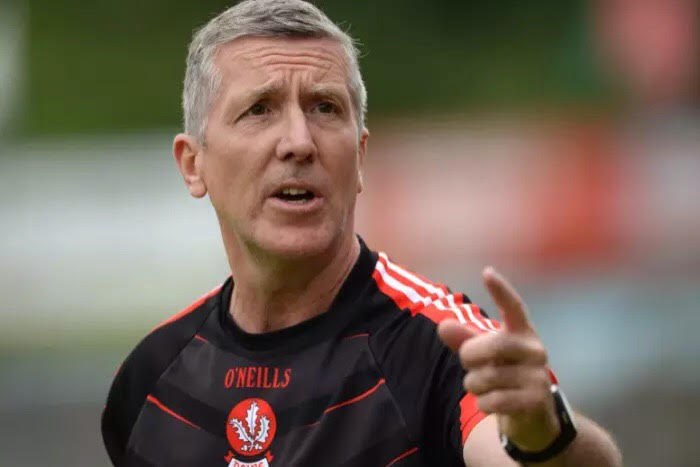 If we accept that Carlow beating Wexford wasn't really that big of a surprise then it was very much a case of things going to plan in last Sunday's football Championship games. Donegal, Monaghan, Mayo , Laois and Louth all advanced as had been expected, with the Cork hurlers defeat of All Ireland champions Tipperary being the most noteworthy performance of the week.  The other games followed a similar pattern, with the underdogs all giving a good account of themselves in the opening half before, with the exception of Wicklow against Louth, who were somewhat overrun in the second period.
In Ulster both Monaghan and Donegal took a while to get going against Fermanagh and Antrim respectively but improved as the game progressed to run out easy winners. Nonetheless both were left with plenty to think about before more testing challenges in the next round few weeks.  Donegal's debutantes all did well and the strength coming off the bench was also encouraging. Rory Gallagher's men now await the winners of Sunday's clash between Derry and Tyrone at Celtic Park. Anything other than a comfortable Tyrone victory will be a surprise given how poor Derry were when getting relegated to Division Three of the League, but of course this is the Championship and strange things sometimes happen and Derry manager Damian Barton will be hoping this will be one of those occasions, but a Derry win would be a shock rather than a surprise.
GET TO FINN PARK ON FRIDAY NIGHT.
I couldn't get to Finn Park on Monday night and unfortunately it seems neither could a lot of others as the attendance was a worryingly sparse 380. Okay, Harps have been on a poor run and the last couple of home games had been disappointing but the current run of games are vital in the overall context of the season and Ollie and the lads need our support. After the heartbreak of that late late defeat in Galway it seems that Monday night's performance was good, and it was also great to see Danny Morrissey back amongst the goals, a similar show will be needed against Limerick on Friday night. Things are so tight in the bottom half of the table that any win is so vital, especially when your playing a team which is also in the bottom regions. As things stand just six points separate the bottom seven teams and only two points the bottom six, so another win would do Harps the world of good. So if you can, get along to Finn Park on Friday night and get behind the lads.
IT'S A CRUEL GAME.
Earlier this week David Moyes resigned as manager of relegated Sunderland.  In announcing the news club chairman Ellis Short confirmed that Moyes was not seeking compensation for his leaving and described that as ' a testament to his character '.  This latest event in the managerial career of Moyes continues the downward spiral he has encountered since he signed what,  at the time looked like a dream six year contract with Man United back in July  2013.
Earlier that year I had interviewed David in Ballyliffen. He was over for some golf and relaxation and not for the first time in Inishowen. I found him to be a very nice guy, no airs or graces and very easy to talk to. Rumors had already been circulating that he would be replacing the soon to retire Sir Alec Ferguson at Old Trafford and before we began the interview I asked him if it would be appropriate to raise the matter in our discussion which would be audible to those present. His response was that he would prefer if I didn't because he would only be able to give a bland reply and didn't like doing that but circumstances meant that he was very restricted in what he could say.
The David Moyes we saw and heard that day in Ballyliffen was a relaxed, down to earth guy who had served his apprenticeship over 750 games at Preston North End and of course Everton with an average 45% win ratio between the two and who looked and was ready to take the next big step in his upwardly managerial career.
However, having spent over 15 years at his first two clubs the next 4 years would see his dreams become a nightmare, as he lasted less than a year at United, about a year in Spain with Real Sociedad and now again less than a year at Sunderland.  That he got a raw deal at Man United is beyond dispute, for some reason his face didn't fit with the players who allegedly were put out by his training tactics and style of play. His win ratio was 53%, his successor Louis van Gaal's was 52.4% from twice the number of games in charge, while current boss Jose Mourinho has a 57% win ratio having been in charge for twelve more games than Moyes (63 v 51.)
If the United board had shown the same amount of patience with David Moyes as they did with the arrogant and past his sell by date Van Gaal or have now with the irritated and everyone else is to blame Mourinho maybe Moyes could have proved his worth. But they didn't, and neither he nor they have had much luck since, taking on both Sociedad and Sunderland were mistakes on Moyes part while finishing fifth last season and sixth this time round, 24 points behind Champions Chelsea and 10 points away from a place in the Champions League is far from what should be expected at United.
Victory in the Europa Cup Final to add to their win in the EFL Cup will salvage something for the ' special One ' and his team but would it have been enough if David Moyes had spent the money Mourinho has and got the same results, somehow I doubt it.
Back in Ballyliffen just before I left,  I went over to say both goodbye and thanks to David Moyes for his time and courtesy, he responded by thanking me for not pushing the ' United thing ' and hoping everything would work out. Unfortunately it didn't and has to this point proven to have been a career changing moment for Moyes.
He is still talented enough and young enough to bounce back and prove the doubters wrong, I hope he does but sometimes the good guys don't win. It is indeed a cruel game!
Tags: