Kernans Diners in Donegal are proud to introduce the Viper Burger for a limited time only.
It's a 100% Irish beef burger from our in-house butchery, crisp lettuce, onion ring, bacon, cheese, tomato, viper sauce skinny fries and a drink.
To celebrate Kernans' sponsorship of the Donegal Derry Vipers Irish American Football Team and their upcoming game in Coláiste Ailigh Letterkenny on the 16th of July, kick-off 2pm, against the Craigavon Cowboys we have launched the Viper Burger.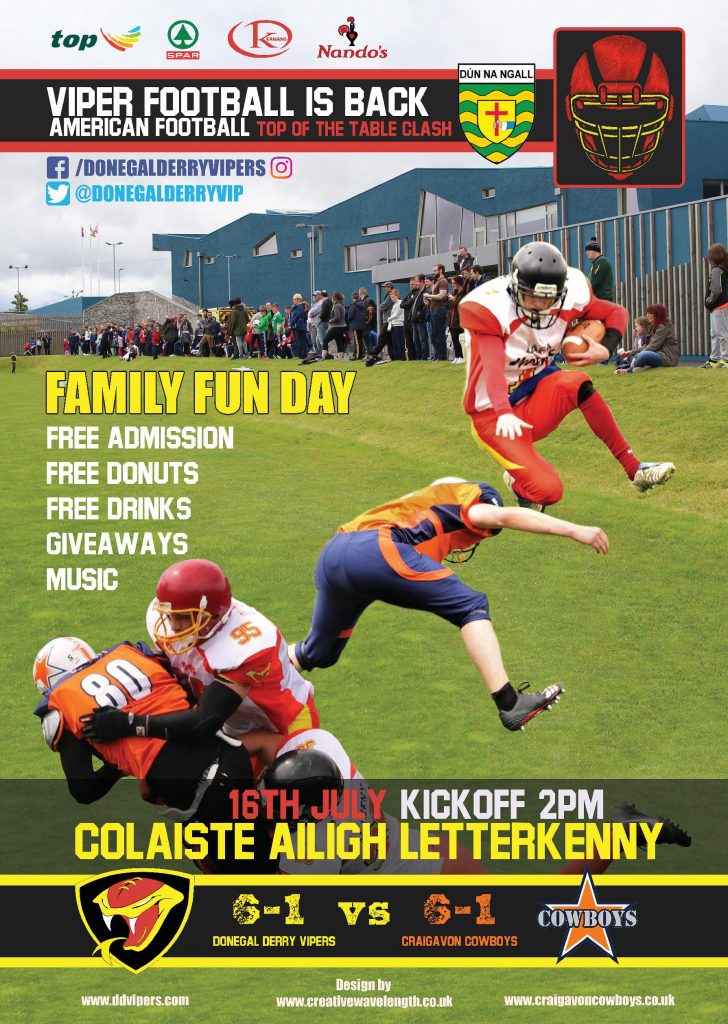 Game Day is Sponsored by Kernans Retail and Dining Group, Top Oil Ireland, Spar Ireland, Nando's and Country singer David James. Free Admission.
As well as the footballing action, there will be a bouncy castle, free donuts, drinks, a half time draw, face painting and live game commentary and music from Overtime Ireland.
Check out Mr Ted from Top Oil below trying out for the Vipers at Kernans Diner Newtowncunningham.
This game is the big one for the Vipers to finish out the regular season. It's a race for home field advantage, a race to the top of the IAFL1 and a race that the Vipers hope to win. The Craigavon Cowboys, the league's best offence sit only one point behind the Vipers, the leauge's best defence in what is sure to be a gladiatorial display of epic proportions.
Head to head points are all that matter in this league so both teams have it all on the line with the winner securing the top spot in the league. The Vipers tails are up and they're just within striking distance of the shamrock bowl football next season (Irelands elite American Football League). Join us on Game Day, the 16th of July, for what is sure to be a great event.
Visit www.kernans.online for store locations and more news!
Tags: