A brave couple who walked a 1,000km Wild Atlantic Relay from Mizen to Malin Head have successfully completed their journey. 
Paul and Karen McGovern reached Ireland's most northerly point yesterday, Thursday, after an intensive two months of walking up the Wild Atlantic Way.
Paul and Karen led the walk to raise funds and awareness of Multiple Sclerosis in Ireland. Paul, aged 37, has secondary progressive MS, which made this all the more challenging.
They set off from Mizen Head in Cork on June 4th with a huge goal of covering an average of 20 miles a day to make up 990km (615 miles).
Paul and his wife Karen had a tough week doing a succession of long walks in Donegal as they took on 28 mile stretches before reaching Malin. In four days, with rest days in between, they trekked 120miles to their end goal.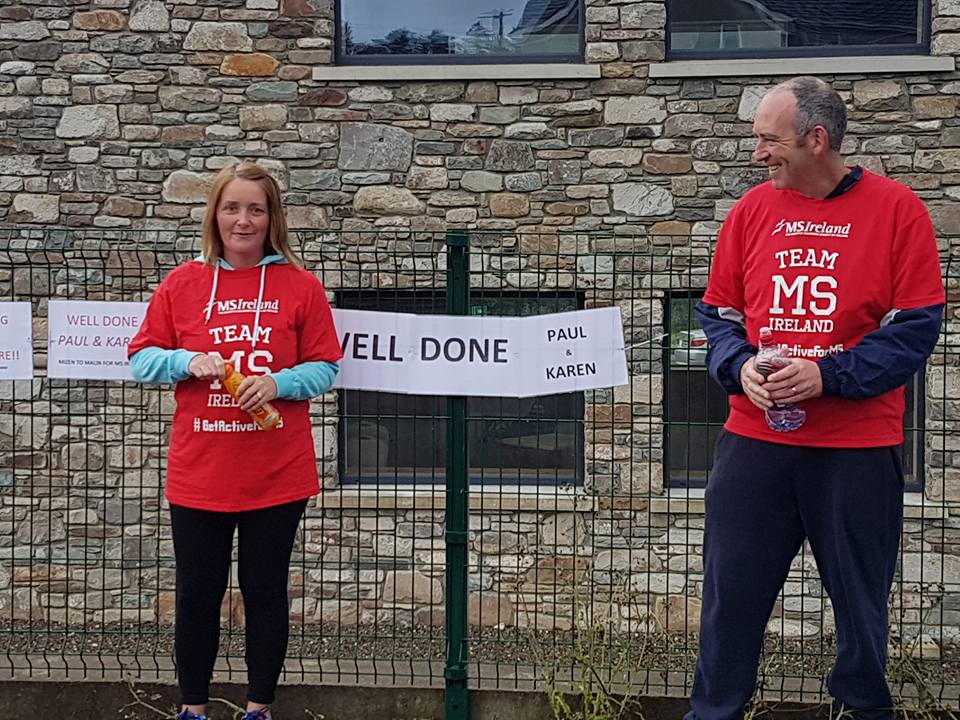 They have planned a well-earned day off today to celebrate the remarkable achievement which has inspired many communities to donate and hold fundraisers for MS Ireland.
Sadly, it is believed that this may be Paul's last adventure.
Paul is from Dunleer County Louth and was diagnosed with an aggressive form of MS eight years ago. He and Karen walked from Ireland's west to east coast in 10 days two years ago. As Paul's condition progresses his physical health will become more limited.
Paul and Karen's walk is supported by Centra and they made many pit stops at Centra stores all along the Wild Atlantic Way. They have been warmly welcomed by communities across the west coast who have been hosting fundraising days for MS Ireland.
The team have collected approx €30,000 in donations along the way. They had originally set a €100,000 target, but have changed their goal to €50,000 in the hope of gathering more funding for MS services nationwide.
Donations can be left into local participating Centra shops and donations can also be made on-line here: give.everydayhero.com/ie/team-paul-karen-nanook-walk-4-ms-ireland-2017
Follow Paul and Karen on Facebook:www.facebook.com/Paul-Karens-Walk-MS-Ireland-2017-361519374209481/
Tags: