Nineteen of Ireland's hottest new acts are among the line-up of the returning Carnstock festival in Inishowen this summer.
On the 18th & 19th August 2017 Carndonagh will host an array of music, discussion, poetry and lots of family fun events, all in aid of LifeLine Inishowen.
The line-up includes the exquisite Great White Lies, Patata, whose recent song shot into the iTunes top 50, and Velvet Alibi, as well as lots of other local acts taking to the stage, including Don't Fear The Natives, the Inishowen Gospel Choir and Foreign Owl.
Among the other events are poetry performances, and musical performances of a different kind, with everything from ukuleles to synthesizers, bouncy castles and face painting, to more serious discussions on positive social change with a wealth of speakers and campaigners from Donegal and further afield.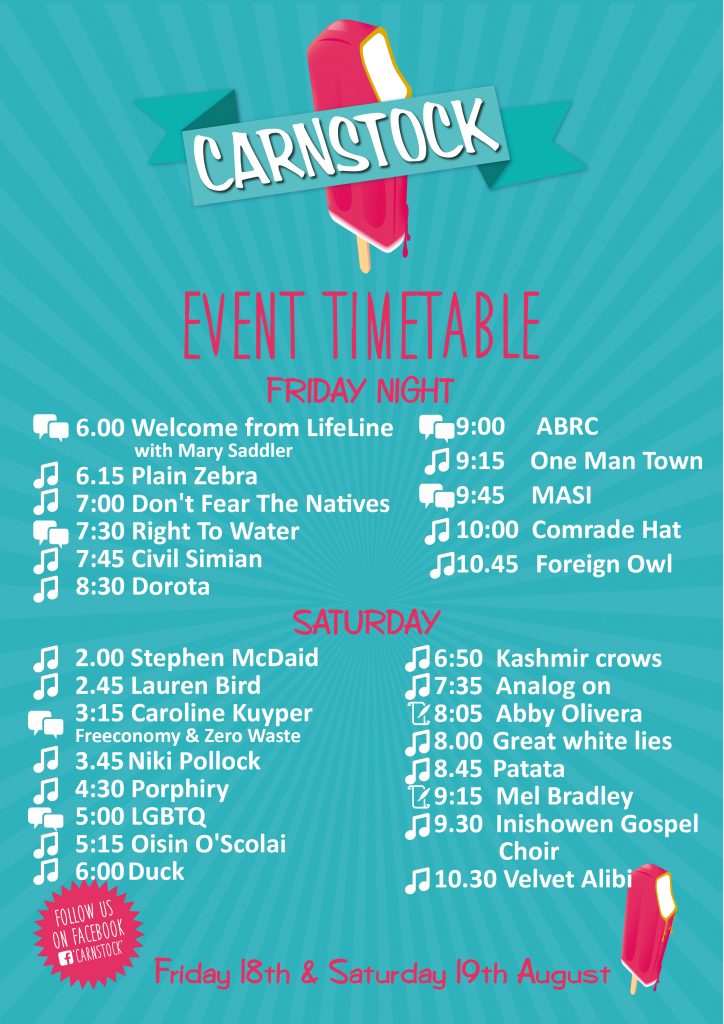 Speaking before the upcoming event, local organisers Siobhan Shiels and Adrian McGuinness, who last year resurrected the event after a ten-year absence, are hoping that the event returns to its former glory.
"We initially ran the Carnstock event for local charities way back as far as 2006, but more recently, we are seeing great musical acts performing at the likes of the Swell Festival and Stendahl, and we just knew that we could provide Inishowen with the same calibre of music on show at other, more recognised festivals."
"Unlike the other festivals, Carnstock gets no funding, and local charities are the main beneficiaries. This year, all proceeds go to LifeLine Inishowen. We are also really excited about adding the discussion element to proceedings this year, and positive social change is an issue close to our hearts, and something we can all contribute to."
"Throughout the day there's plenty for everyone including art workshops from 2-4pm, the children's pavement chalk art  competition is back from 4 – 6pm, and there'll be food, drinks & stalls to feed your souls as well as your appetite. But at the end of the day, the plan is to get the community together, to enjoy a weekend of fantastic entertainment, some of the best music acts, and maybe learn something along the way!" concluded Siobhan.
You can find the full program of events at www.inishowenbreaks.com/carnstock or follow Carnstock on Facebook. For more information, telephone Siobhan on 086 3580502.
Tags: