That her rugby career began just ten years ago when she went with work colleagues to play tag rugby in the evenings is a pointer in itself to the talent of Nora Stapleton.
Stapleton retired from international rugby this week after winning 50 Irish caps and making a decade of memories in the green.
The Fahan woman was working with Bank of Ireland in Dublin in 2007 when a group of friends invited her to play tag rugby 'for a bit of craic'.
Picture caption: Ireland's Nora Stapleton leads the team out on her 50th cap against Wales on Saturday. Picture by INPHO/Billy Stickland
It wasn't too long before Old Belvedere invited her along. Soon, Leinster called on her services and, before she knew it, she was standing to attention for Amhrán na bhFiann.
Performances with club and province became impossible to ignore and she made her Irish debut in the 2010 Six Nations against Italy.
"When I first went to Leinster, I was nearly in tears going to training," Stapleton says now after hanging up the international jersey for the last time, following a disappointing 27-17 loss to Wales on Saturday in a seventh place play-off at the 2017 Women's Rugby World Cup in Belfast.
"My first game for Old Belvedere was in '07. It was a massive challenge to learn the rules and learn the game and, playing in the backs, it's all about moves. It was tough, but it wasn't something that I was going to walk away from.
"Strength-wise, over the years I had to put on a lot more muscle. In my position, as a ten, there is a lot of traffic in my channel. The basic skills weren't an issue: I could catch a hugh ball, I had a bit of a side step, some pace, good handling and kicking skills. The basic fundamentals were there, which was a huge help.
Hard to say goodbye but Saturday's game wasn't just my 50th cap but also my final cap. Thanks for the incredible support over the years. 🍀💚 pic.twitter.com/smfTkCIJlZ

— Nora Stapleton (@NoraStapleton) August 29, 2017
"I played GAA at a good level and that always stood to me but, at the same time, I had no rugby."
Fahan is a far cry from rugby country. Stapleton remembers, in her teenage years, watching her friend, Ciaran O'Gorman, head off to play rugby when 'girls weren't allowed to play'.
And, yet, 50 caps beckoned for a woman who'd become Ireland's out-half.
"I never thought I'd get to ten caps," she says having led Ireland out on Saturday for the Welsh game.
"As a kid, I knew about rugby. It was after college when I began to try it out. I was working in Dublin, just back from a year of traveling. I wanted to try something new. We were in the off season with the GAA and rugby always interested me. At one time, it just didn't seem something for girls to play but, thankfully, that has changed now.
"I was asked along to a tag tournament and, when Old Belvedere invited me to train, that was just what I needed to take the leap."
Stapleton now works with the IRFU as the Women's Development Manager, charged with increasing participation, rolling out schools programmes and the like across the country.
"Every day is a rugby day," says Stapleton, who confirmed that she'll still play with Old Belvedere, but remains undecided about Leinster just yet.
The end arrived in disappointing circumstances. Ireland, as World Cup hosts – in Stapleton's third World Cup after appearances in 2010 and 2014 – began well with a win over Australia, but the graph took a nosedive and Ireland crashed out, frog-marched out of their own party and left to peer through the curtains.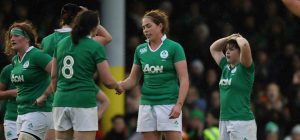 "Sometimes sport is cruel and that happens," says Stapleton.
"There was a different feeling to this World Cup. There wasn't the meet at the airport, the travel and all of that, but it was still another five matches that we had to win. It didn't happen for us. Sometimes one unforced error turned an attack into defending on our own try-line.
"I was happy enough with my own contribution. No player is ever happy about being taken off, though. My position is about putting the team in the right areas of the pitch, playing in the right phases and making the right calls so, from that point of view, I'd be reasonably happy. But it was so disappointing for us as a team."
After the World Cup in 2010, Stapleton – then with the Na Fianna club in Dublin – returned briefly to the GAA and played as Donegal beat Waterford that autumn in an All-Ireland Intermediate final at Croke Park.
"A few of the senior players and the manager contacted me and asked me to come back in," she says.
"I gave it up the year before, but when the players contacted me…well, you do anything for team-mates. Sometimes, coaches don't have the team in mind as much. So, I went back for the girls.
"They're separate seasons to a point, but I knew I had to pick and prioritise. It was a no brainer as I had the chance to represent my country and go to a World Cup again."
Stapleton played in a famous Irish win at the 2014 World Cup, when they defeated New Zealand 17-14 in Marcoussis – the Black Ferns' first World Cup loss in 13 years!
But the highlight of Stapleton's Irish career was the previous year when Ireland won the Grand Slam.
"In terms of importance to the female game, 2013 was the highlight," she says.
"We had never beaten England, but we did it, we beat France too. We'd never even won a Six Nations title, but to win in that kind of style put women's rugby on the map in Ireland. That was the start of the new era."
Larissa Muldoon from Ballybofey has been a regular half-back partner in recent years, Katie Norris from Moville has been involved in the squad while another Ballybofey woman, Laura Feely, is knocking on the door.
For Stapleton, though, the international journey is over.
"I'd been thinking about it and it was a case of seeing how the World Cup pans out," she says.
"I always take it one match at a time. That has always been my mantra. You never know when a game could be your last.
"I was never a cap counter as such. It wasn't until recently that I sat down and lined out all the game because it came up so often. Someone did a bit of maths and said if we went to the World Cup final I'd make 50 caps. I played 50, but not the route maybe I'd have hoped to at the World Cup.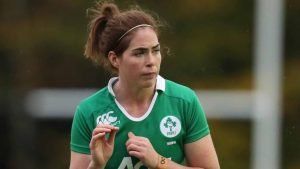 "I've played a lot for Ireland. I maybe didn't realise how experienced I was in the squad.
"I always wanted to improve because you're never  a finished athlete. If I had another two or three years, I'd love to see how much better I could get or where I could take my game to.
"Sometimes, other things in life have to take priority. It's hard training every morning, doing extra sessions, skill sessions that aren't around the squad. It's hard with every weekend being a rugby weekend.
"It might be nice now to say: 'Yeah, I will go out with you on Saturday night'. I haven't been able to do that in so long."
Tags: