Irish National Teachers' Organisation President John Boyle has called for targeted supports for island, rural and Gaeltacht primary schools while speaking at the Peadar O Donnell Weekend in Arranmore.
Following in the footsteps of former INTO President Peadar O Donnell, a century on Mr Boyle is asking for the same demands regarding pay equality and investment in education.
There are thirty inhabited islands off the coast of Ireland, with ten of these homing twelve primary schools off the shore of Donegal, Mayo, Galway, and Cork – serving approximately 200 pupils.
Nine of the island primary schools are currently classified as DEIS Rural schools.
Eight of the island schools are located in the Gaeltacht. Mr Boyle says that the schools that are located in the Gaeltacht, in accordance with the 1998 Education Act, have particular responsibility for helping to keep Irish as the main language of the community.
All of the island schools currently have a teaching staff of two or less; The principals in all of the island schools are teaching principals.
"Ireland's coastal islands form a rich part of the country's cultural heritage. All of the islands are geographically isolated, face Atlantic waters and have ferry access to the mainland.
"The INTO firmly believes that island populations deserve high quality, fully-resourced primary education available within their communities.
As of September 2017, where a school is the only primary school on an island, it can appoint a second teacher, regardless of pupil numbers. This is a welcome concession, says John.
Both Arranmore schools have two mainstream teachers since the start of term last week. Additional teachers have also been appointed on Tory Island and Inishturk.
"The INTO has previously raised concerns that one-teacher schools can leave teachers professionally and socially isolated. Having one teacher as the sole adult in a school also raises health and safety and child welfare concerns."
In 1964, the Government introduced an island allowance as an incentive to teachers to take up teaching positions on islands. This allowance was abolished for all new appointees from 1 February 2012.
Eight of the island primary schools are also Gaeltacht schools. The additional allowance available to teachers in Gaeltacht schools was also abolished for new appointees from 2012. The INTO condemned these cuts and called for the immediate restoration of these allowances.
"These allowances were an important incentive in recruiting teachers to island and Gaeltacht schools. Taking up a teaching post on an island often involves either a significant upheaval in moving to the island or incurring a huge burden in travel time and cost in going to school."
Mr Boyle says that special consideration should be given to teachers who are reassigned to island schools.
"Teachers being redeployed from the main panel must accept a formal offer of a job within 45km of their original school. The redeployment process, however, makes no distinction between distance travelled by road and that travelled by sea.
"Tory Island, for example, is 11km from the mainland but the ferry journey to the island takes approximately an hour and varies with changes in weather conditions. A teacher redeployed up to 45km to or from the island would have a considerably longer commute than a teacher travelling up to 45km by road only."
A capitation grant is provided to each school to cover day-to-day running costs. In mainstream schools, the capitation grant is currently €170 per pupil per year. This payment of less than one euro per child per day is insufficient and unacceptable for any primary school.
There are basic running costs such as heating and cleaning that exist regardless of school enrollment and many small schools struggle to meet these costs.
"This difficulty is exacerbated on islands where costs are higher. The limited capitation grant means many primary schools throughout the country are forced to hold fundraisers to meet operational costs, but fundraising possibilities are limited for island schools by lower populations in the communities they serve."
Boyle explained that figures from the Central Statistics Office indicate that in the five years between 2011 and 2016 the overall population of Ireland's islands dropped by 3%.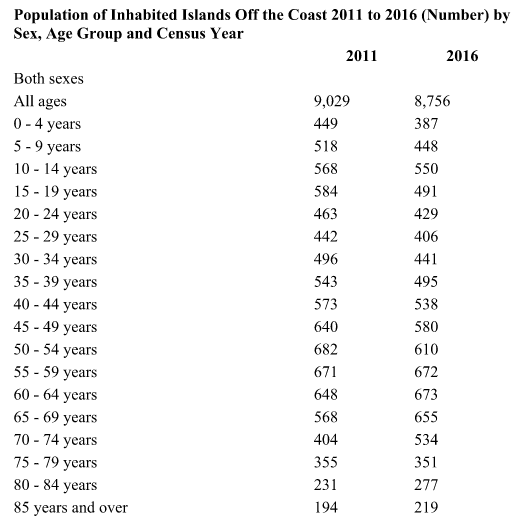 "The population change has varied across different age ranges. There was a general increase in the number of island inhabitants over 55 years old and a decrease in population numbers across every age range below that.
"The population of children less than 14 years old decreased by nearly 10% in the five-year period. The enrollment numbers in island primary schools have fluctuated in the same period. Seven of the island schools had an increase in enrolments, four saw enrollment numbers drop and one school had the same enrollment in in 2016 as it had in 2011."
"When Peadar called for free education for children up to the age of 15 years, supported by a household charge, I doubt if he would have countenanced that 100 years later a type of educational apartheid would exist in the Irish Education System.
"We have the ridiculous situation that primary schools are provided with only 93 cent per pupil per day to meet basic running costs while secondary schools receive nearly twice this.
"I condemn this disparity and call for a massive increase in the capitation grant for primary school pupils in next month's budget."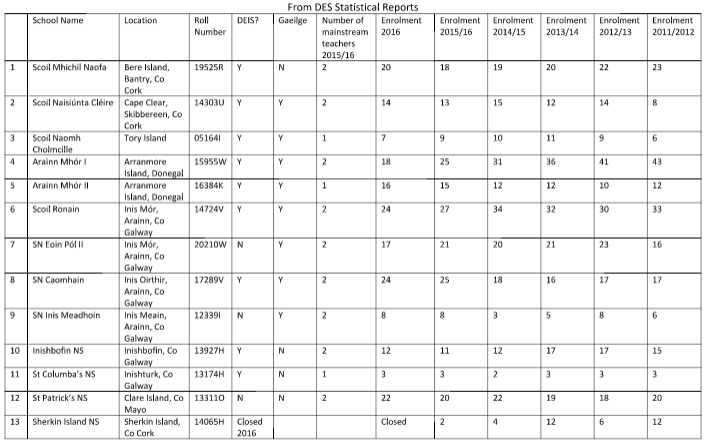 Tags: