Declan Bonner was asked once why he chose to be a manager and came to the conclusion that he was 'half mad'.
His clenched fist salute to the Hogan Stand in the closing moments of the All-Ireland final in 1992 remains one of Donegal's iconic football images and now Bonner is set to be the man to lead the county into a new era.
Bonner swung the insurance score in the '92 final and the then flame-haired attacker's reaction caught the moment perfectly.
This evening, Bonner will be appointed to a seat he previously filled between 1997 and 2000 with the clubs of the county set to give the Na Rossa man their blessing as the successor to Rory Gallagher.
Bonner returned to inter-county football, 'by accident' as he says himself, one night in 2011 he went to help Paddy Hegarty oversee a south Donegal development squad.
Bonner won the Buncrana Cup (Ulster Under-16) and the Jim McGuigan Cup (Ulster Under-17) before taking Donegal's minors to Ulster glory and onto the county's first-ever All-Ireland minor final in 2014.
He recalled his first trial game being 'disjointed' in the winter of 2011, but Bonner always believed that Donegal could succeed. It is perhaps one of the main reasons he has put his head above the parapet and seek the senior role for a second time.
His involvement, from an early stage, always appeared destined to be a long-term one, even if the final step still needed lengthy discussion with family and employer.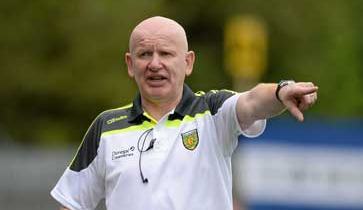 During his recent involvement Bonner steadfastly refused to accept that Donegal couldn't compete.
"If you keep putting excuses in the way then you won't have success," he said in 2014.
"All I was listening to was excuses. People were coming up saying 'the colleges in Donegal aren't good enough', 'Derry and Tyrone are so far ahead of us', 'we just don't have the resources'.
"In the past, Donegal minor teams were beaten before they went out. When we came in and started to win at under-16 level the players saw and realised that they weren't far away."
It was a trait he took from Brian McEniff and a golden era during which he starred in the Donegal full-forward line.
Bonner made his League debut for Donegal in 1983, when he was just 18, but he would have to wait until 1987 for his Senior Championship debut in a game against Armagh.
In '92, he scored 0-19 in the Championship, including four points in the final as Donegal finally got their hands on Sam.
After that famous point, Bonner was sprawled out on the floor when referee Tommy Sugrue called for the ball and was quickly swarmed by the delirious masses.
"We were given no hope, but the word 'defeat' was never mentioned in our group," he says.
"The consensus was that all Dublin had to do was turn up. We never entertained the possibility that we might lose. Brian (McEniff) never let any negative vibes creep under our door. When we won, it was what we expected."
September 20th 1992 was his father's birthday and, even now, Dan Bonner's legacy lives long in the Rosses.
Declan was one five brothers – alongside Sean, Michael, Donal and Aidan – to play for Na Rossa.
Declan won an under-12, two under-14 and two under-16 titles with Rosses Rovers. At 16, he helped Na Rossa to a Junior Championship crown in 1982.
He cut his teeth as a manager in 1989 when he was player-manager on the Na Rossa team that won the Intermediate Championship.
It was a year that saw him feel the sharp disciplinary edge of Tom Conaghan.
"I went to Boston in 1988 and over-stayed my welcome," he recalled.
"I had been playing with the Donegal senior team. I came back a month late from Boston. Myself, Matt Gallagher and Manus Boyle were out of the Ulster final in '89.  I was at a loose end when I came back and the club asked me if I'd manage the senior team so I did.
"We won the Intermediate Championship and I went back to Donegal when Brian McEniff went back in 1990 and we won Ulster.
"I was disappointed with how it finished with Tom because I had played all the Championship games under him up to then. I think I played every competitive match for him for the couple of years previous. I missed out in late '88 and '89. Tom was a real no-nonsense manager."
On the day of his 32nd birthday, on August 11, 1997, a flu-ridden Declan Bonner sat nervously in Jackson's Hotel, Ballybofey.
A special sitting of the Donegal county committee had been called to appoint a new manager.
Anthony Molloy, Tom Connaghan and Pauric McShea all withdrew from the race and Pat Conaghan, the then County Chairman, informed Bonner at 9.29pm that he was the new Donegal manager.
"I learned a huge amount in that time with the seniors," he said later.
There are times when he still curses Joe Brolly for that goal in the Ulster final of 1998, depriving Bonner of a perfect opening campaign.
He says:  "We were unlucky in 1998. We played some great football that year. We lost the League semi-final against Offaly, a very good Offaly team actually. We were beaten by a last-minute goal against Derry in the Ulster final. This is all part and parcel of it and we rolled on."
Bonner took a lot of learning from the managers he played under.
None more so than McEniff, who remains a close mentor of the Lettermacaward man.
The personal touch was always important to McEniff.
It was the summer of 1990 when Declan and his wife, Catherine, were on honeymoon in Austria.
Bonner had played against Cavan in a 0-13 to 0-9 win and McEniff was getting ready for a joust with Eamon Coleman and Derry.
Bonner remembered: "Brian was on the phone constantly, even ringing the hotel to make sure I was doing a spot of training. I came back fitter than I ever was – I was out running every day. A good friend of mine got married on the same day, Joe McFadden from Gweedore. he was in the same hotel for the two weeks. When he came back he reckoned he was never as fit.
"In the days long before mobiles, Brian was always on the phone. He was always ringing the house to make sure this was done or that was done. He always had the personal touch."
Some 7,348 days since he was last given Donegal's seal of approval, Bonner – in the hotel, the Villa Rose, next door – is poised to be handed the keys to the kingdom again this evening.
The winds of change have blown across Donegal in recent years with the likes of Karl Lacey, Colm McFadden, Christy Toye, Neil Gallagher, Rory Kavanagh, Paul Durcan and Eamon McGee among the retirees.
Bonner has guided many of Donegal's young guns through the underage ranks, but will be well aware that success then doesn't automatically mean silverware will await at senior level.
His experience has taught him that he'll need his dressing room to be behind him.
In 2014, he said: "You can talk about management structures and methods until you're blue in the face, but what you need above everything else is a squad of players willing to buy into what you're doing.
"Anytime I go to take on a job, if I don't get that then I don't hang around. You have to demand that. There's no point in me giving it 120 per cent and some man landing to only put in 90 per cent. It doesn't work. When I go in, it's all or nothing."
'Half mad' was just one reason he had on why he delved into management.
Another, he mentioned was: "It's just there and it's in the damn blood."
Tags: