There were huge crowds at the Lyme Disease Awareness Rally outside the Dáil on Wednesday.
A number of the Donegal Lyme Disease Support Group attended to show their support alongside Tick Talk Ireland.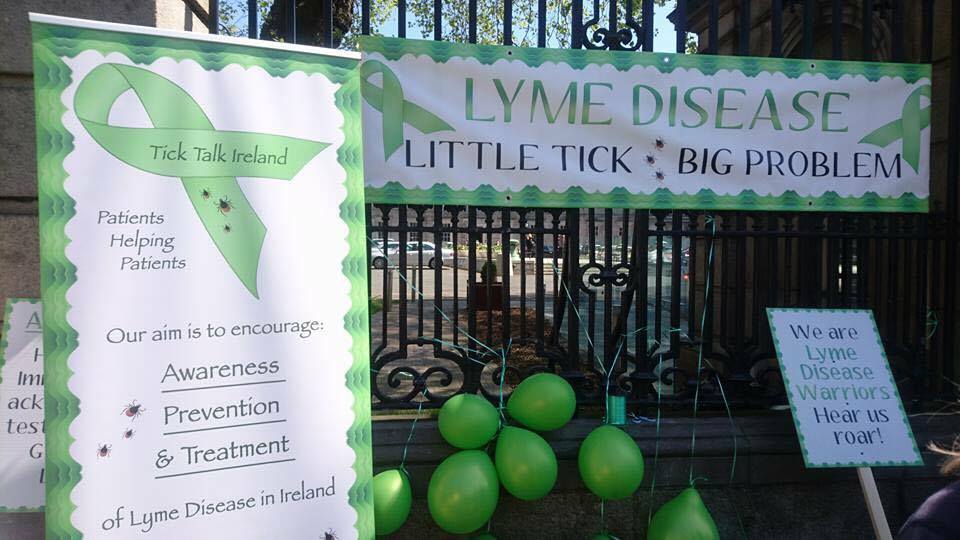 Donegal TDs Charlie McConalogue, Pat the Cope Gallagher, and Senator Padraig MacLochlainn also expressed their support for the cause, joining in on the rally.
Donegal woman Roisin McGeever told Donegal Daily that the day was a huge success, and will hopefully raise awareness of the disease.
"There was a great turnout even though the weather wasn't the best, and people attended even though they weren't in the best of form.
"A large crowd of TDs made their attendance and stayed until the end of the rally. I was personally speaking to the Gallagher TD, McConalogue TD, and Senator MacLochlainn, and they said they were fully behind the people of Donegal. They came outside to show their support and to talk to members of the Donegal group. They then attended the presentation made inside the Dáil.
"All of their support is needed with this issue because there are high numbers affected with Lyme Disease in Donegal.
"Small steps – but making progress in the right direction.
"The main thing now is to keep the awareness going."
They would also like to thank George Hook too, for backing Tick Talk Ireland and raising awareness around the affects the disease has on thousands of people's lives. This has been Hook's first appearance since losing his talkshow on Newstalk.
Representatives of Lyme Disease support groups met with Health Minister Simon Harris to discuss increasing awareness amongst GPs and the general public of the debilitating disease.
Donegal Daily have contacted the Department of Health for a statement regarding future plans of raising awareness, and are awaiting a response.
Lyme Disease
Lyme Disease is a bacterial infection contracted through bites from infected ticks. Although more commonly contracted during the warmer months, ticks can be found at all times of the year.
The most common symptom of Lyme disease is a red skin rash that looks similar to a bull's eye on a dartboard, but if left untreated the patient may develop a high temperature, muscle pain, joint pain, and neurological symptoms such as the temporary paralysis of the facial muscles.
According to the HSE, if diagnosed in the early stages between 4-6 weeks after contraction it can be treated with a short course of antibiotics, with most people recovering in a matter of days. Even if more serious symptoms develop, antibiotics can still help, although it may take slightly longer.
For GPs, a Lyme Disease Expert Day will take place on Saturday the 28th of October between 9am and 12:30pm at the Catherine McAuley Education Centre, Nelson Street, Dublin 7.
To find out more about the affects of the disease, you can read Roisin's story by following this link:
http://www.donegalwoman.ie/2017/09/26/lyme-disease-told-psychological-know-body/
Tags: