There is much excitement this season at Eclipse Cinemas Lifford/Strabane as three magical events take place in the coming weeks.
Families will be spellbound by a wonderful Harry Potter day this weekend, as a classic installment of the franchise returns to the big screen.
This Sunday, 15th October, fans can relive the first movie – Harry Potter and the Philosopher's Stone – and the event is so enchanting that Eclipse have added extra showings. 3pm is now SOLD OUT, and extra shows are added at 4pm, 6pm and 8pm.
Prebooking is strongly advised to catch this blockbuster. Plus, any Customer that buys a ticket will be entered into draw for a Harry Potter Hamper.
Visit eclipsecinemas.com to book your tickets now and step back into the wonderful world of Hogwarts' early years.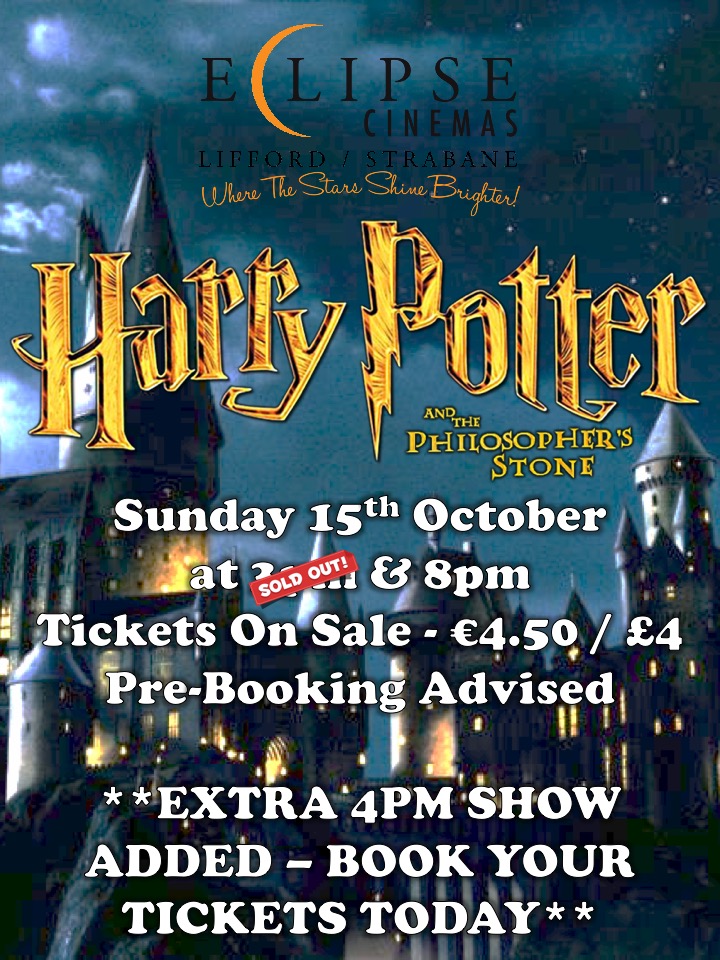 And that's not the only magical adventure for kids this weekend at Eclipse…
The exciting Barbie: Dolphin Magic is out this Saturday and Sunday, bringing a special underwater story to young Barbie fans for two days only.
Barbie and her sisters visit a beautiful and exotic coral reef, where they meet a real mermaid!
Tickets are on sale now for this fantastic animation, click here to book now for 14th and 15th October viewings: Barbie: Dolphin Magic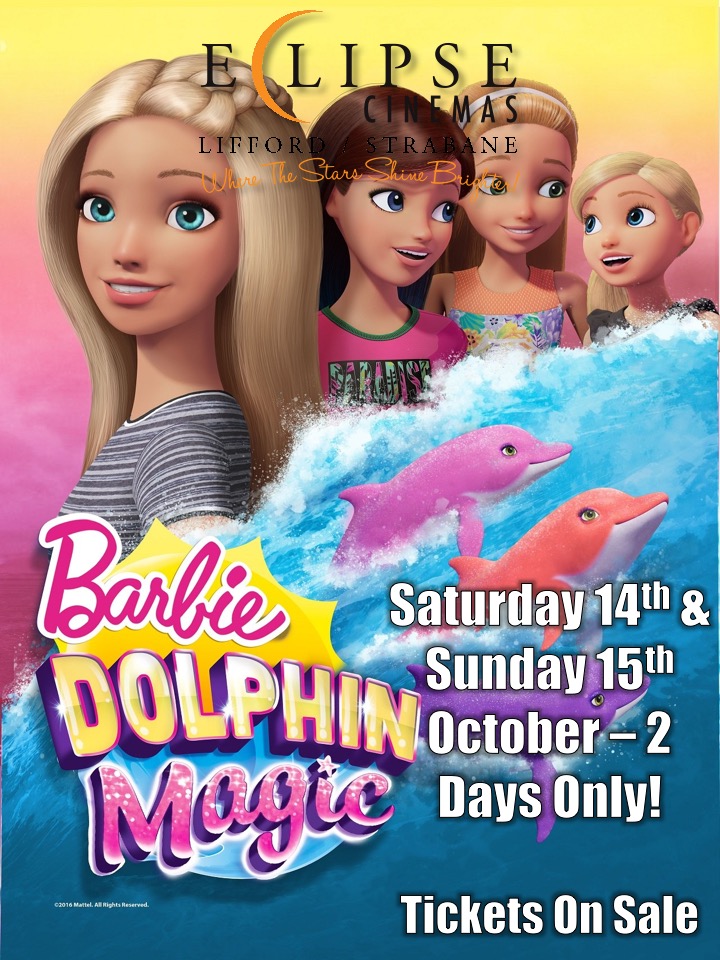 How about a spellbinding Halloween event?
The Sanderson Sisters of Hocus Pocus are three of the most iconic Halloween witches – and this month you can be one of them! On Saturday 29th October, you can dress up as a witch, ghost, or any other character and watch the classic movie.
There's plenty of time to begin planning your costume, but booking is strongly advised for this event: Click here to book Hocus Pocus.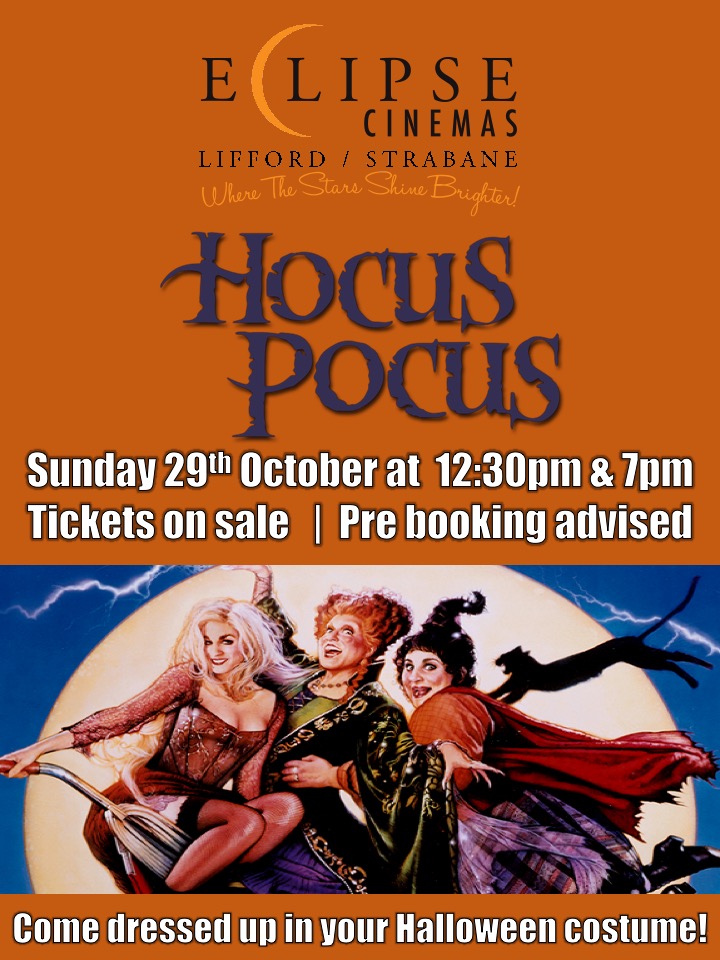 It's all happening at Eclipse Lifford/Strabane, as well as all the best movies of the month! Find out what's new and coming soon to the top-class venue with this list of trailers. To find times and booking info, check out eclipsecinemas.com.
6th October
Blade Runner 2049
Thirty years after the events of the first film, a new blade runner, LAPD Officer K (Ryan Gosling), unearths a long-buried secret that has the potential to plunge what's left of society into chaos. K's discovery leads him on a quest to find Rick Deckard (Harrison Ford), a former LAPD blade runner who has been missing for 30 years
The Mountain Between Us
Stranded after a tragic plane crash, two strangers must forge a connection to survive the extreme elements of a remote snow covered mountain. When they realize help is not coming, they embark on a perilous journey across hundreds of miles of wilderness, pushing one another to endure and discovering strength they never knew possible.
13th October
The Ritual
A group of college friends reunite for a trip to the forest, but encounter a menacing presence in the woods that's stalking them.
Barbie
"In this fun, underwater adventure, Barbie and her sisters visit Ken at his summer internship where he works at a coral reef researching dolphins. While diving and exploring the reef, the sisters discover rare, rainbow-colored dolphins who only visit once a year. This amazing find encourages them to learn more about preserving the coral and all the sea life that lives there. That's when they meet Isla, a mysterious new friend who's also on a mission to save the coral. What seems like a simple task turns out to be quite the adventure when it's revealed Isla is really a mermaid. But there's no time to celebrate having a mermaid for a friend, because Isla needs the help of Barbie and her sisters, and the gemstone dolphins to save the day."
The Snowman
When an elite crime squad's lead detective investigates the disappearance of a victim on the first snow of winter, he fears an elusive serial killer may be active again. With the help of a brilliant recruit, the cop must connect decades-old cold cases to the brutal new one if he hopes to outwit this unthinkable evil before the next snowfall.
Lego Ninjago Movie
Six young ninjas Lloyd, Jay, Kai, Cole, Zane and Nya are tasked with defending their island home, called Ninjago. By night, they're gifted warriors, using their skills and awesome fleet of vehicles to fight villains and monsters. By day, they're ordinary teens struggling against their greatest enemy: high school. 
20th October
My Little Pony
A dark force threatens Ponyville, and the Mane 6 – Twilight Sparkle, Applejack, Rainbow Dash, Pinkie Pie, Fluttershy, and Rarity – embark on an unforgettable journey beyond Equestria where they meet new friends and exciting challenges on a quest to use the magic of friendship to save their home.
Happy Death Day
A teenage girl, trying to enjoy her birthday, soon realizes that this is her final one. That is, if she can figure out who her killer is. She must relive that day, over and over again, dying in a different way each time. Can she solve her own murder?
27th October
Thor:Ragnarok
Thor is imprisoned on the other side of the universe and finds himself in a race against time to get back to Asgard to stop Ragnarok, the destruction of his homeworld and the end of Asgardian civilization, at the hands of an all-powerful new threat, the ruthless Hela.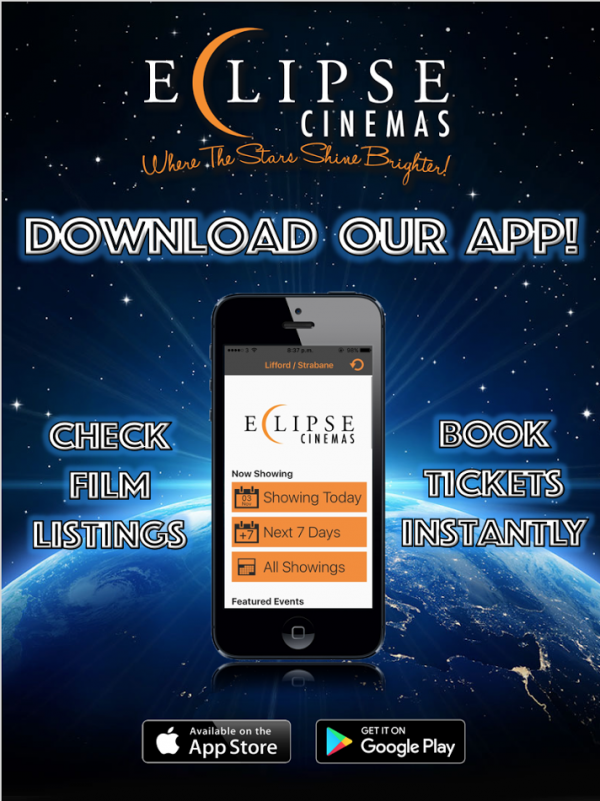 Tags: