Eclipse Cinemas Lifford/Strabane are hosting a wonderful witchy event this Sunday to celebrate Halloween.
The Hocus Pocus dress-up day at Eclipse has cast a spell on lovers of the classic film – and now everyone wants a ticket! Demand is so high for the screening that they have added extra showings for 12.30pm, 4pm, 7pm and 9pm.
The Sanderson Sisters of Hocus Pocus are three of the most iconic Halloween witches – and this weekend you can be one of them. On Sunday 29th October, cinema goers are encouraged to dress up as witches, ghosts, or any other characters and watch Hocus Pocus.
Get your costume ready and book now to avoid disappointment: Click here to book Hocus Pocus.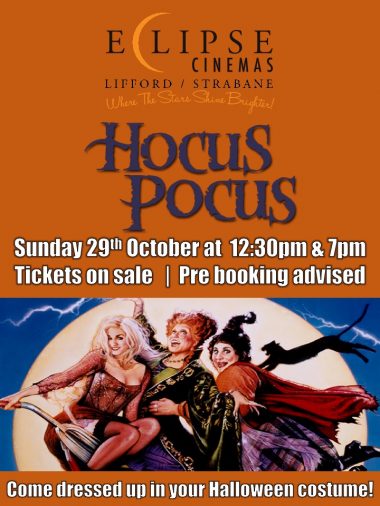 It's all happening at Eclipse Lifford/Strabane, as well as all the best movies of the month! Find out what's new and coming soon to the top-class venue with this list of trailers. To find times and booking info, check out eclipsecinemas.com.
1st November
A Bad Moms Christmas
A Bad Moms Christmas follows our three under-appreciated and over- burdened women as they rebel against the challenges and expectations of the Super Bowl for moms: Christmas.
2nd  November
Conor McGregor: Notorious
CONOR McGREGOR: NOTORIOUS, filmed over the course of 4 years, is a gripping access-all- areas account of McGregor's personal and professional journey from claiming benefits and living in his mum's spare room with his girlfriend to claiming multiple championship belts and 9-figure pay packets. Featuring exclusive interviews, unprecedented access and fight footage, this is the ultimate behind-the- scenes look at a sporting icon and his meteoric rise.
3rd November
Irish Big Screen Premiere! 
Tractor Ted Down on the Farm, Cheese-Making

Approx. 40 minutes
Join everyone's favourite little green tractor, Tractor Ted, as we present the Irish Big Screen premiere of "Tractor Ted Down on the Farm, Cheese-Making"!
Tractor Ted, the farming superhero for children aged 2-6 years (and parents and grandparents too) is all about real life fun on the farm! This gorgeous new film introduces us to life on a Somerset dairy farm and shows us how cheese is made.
We go behind the scenes on the farm and meet the clever cows who even know when it's milking time! We see lots of machines at work on the farm too from the milk tanker and the loader to the feed wagon feeding the young cows in the barn.
There is plenty of real life farm footage and plenty of real life farm fun to be had – the perfect treat for a November weekend!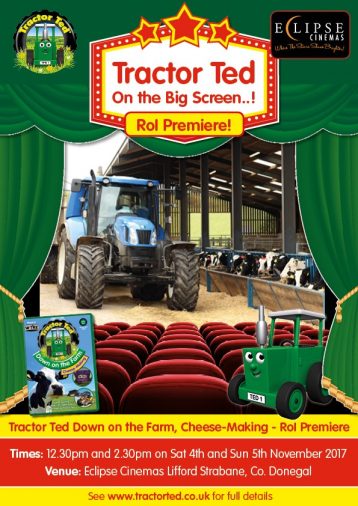 Pre booking advised at: https://liffordcp.admitone.eu/index.php?s=LIFFORDCP&p=details&eventCode=34785
Our Friends @ Tinney's Toys will be on site for the two days with lots of Tractor Ted merchandise
Murder on The Orient Express
A lavish train ride unfolds into a stylish and suspenseful mystery. From the novel by Agatha Christie, Murder on the Orient Express tells of thirteen stranded strangers and one man's race to solve the puzzle before the murderer strikes again.
10th November
Paddington 2
Paddington, now happily settled with the Brown family and a popular member of the local community, picks up a series of odd jobs to buy the perfect present for his Aunt Lucy's 100th birthday, only for the gift to be stolen.
The Quiet Man (1952)
Catch this classic on the Big Screen for 1 night only – Sunday 11th November @ 8.30pm
Book your tickets today to avoid disappointment:
https://liffordcp.admit-one.eu/index.php?s=LIFFORDCP&p=details&eventCode=12266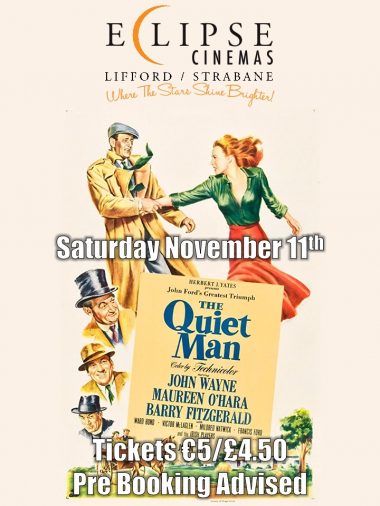 17th November
John Hume in America
Documentary that tells the compelling story of Nobel Laureate John Hume's successful pursuit of peace in Northern Ireland through his co-operation with senior politicians in the United States.
Star Wars: The Last Jedi 2D & 3D – December 2017
Tickets are on sale for the New Star Wars film and also for Double Bill. Watch The Force Awakens @ 9.30 and then The Last Jedi @12.05am . Get Showtimes and Book your Tickets @ http://liffordcp.admit-one.eu/LIFFORDCP/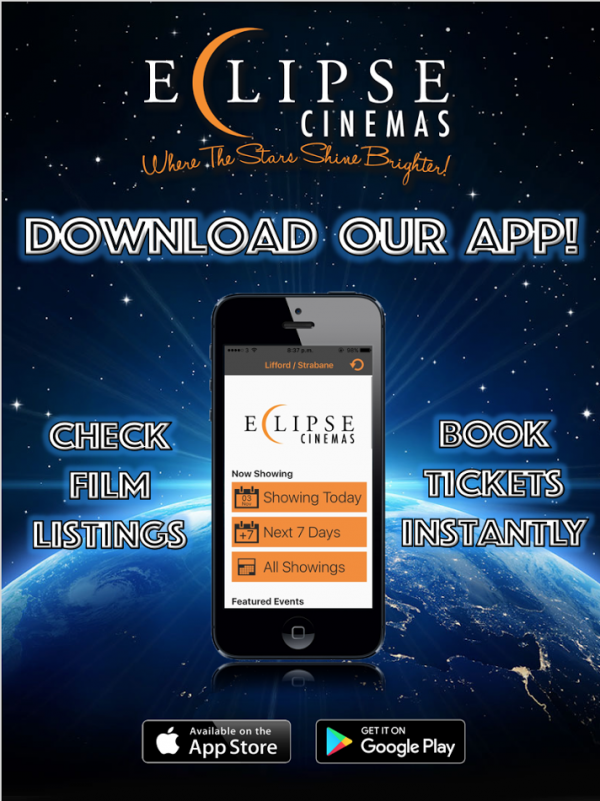 Tags: