Tracey Mc Bride is a busy woman who plays an integral part in the community of Portsalon, Co. Donegal.
She is the director of the local Little Rascals playschool, where she is putting plans in place for their Christmas Santa experience.
Tracey also volunteers on the committee of the Rossnakill Community Centre.
She leads the way in encouraging young female GAA and soccer players as the girls soccer coach for Mulroy Soccer Academy and a Gaelic coach for girls U12, U13 and U14 with Gaeil Fhanada.
Above all, she is the proud mum of Stephen (10) and Jessica (12).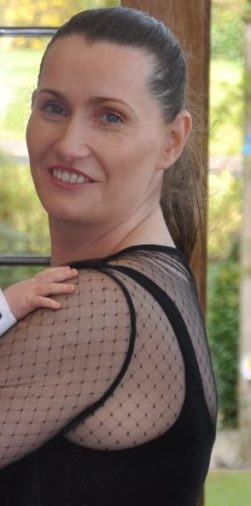 This is Tracey's My Donegal…
(1) Where is your favourite place in Donegal and why?
Portsalon Pier I grew up swimming in Portsalon and now my 2 kids are water babies as well. We go pier jumping every evening in the summer.  Total Heaven.
(2 ) If you could change one thing about Donegal what would it be?
I would love if the wee Mary Boyle case could be solved.
(3) Who is the one person in Donegal that you look up to and why?
Honestly, my sister Shauna used to love Daniel O Donnell personally he didn't float my boat lol but he was a really down to earth lad. I never paid attention to his weddings or anything else like that.
The night Majella O Donnell sat on the Late Late Show and had her head shaved made me sit up and say jez you are one hell of a brave lady and ever since I think she is a total scream especially on their B&B Road Trips. She's arriving at all these doors and all they want to see is Daniel but it doesn't take a fissle out of her she is just so full of fun. I say they are the best grandparents ever.
(4) Daniel O'Donnell or Packie Bonner?
Packie Bonner as I only recently met him at the Mulroy Soccer Academy presentation night in the Rossnakill hall. First thoughts was I couldn't believe how tall he was. A massive day in our house was his penalty save in Italia 90 my dad jumped off the sofa and broke the light on the roof we still laugh about it now.  Packie spoke so kind to the kids and had no problem standing for family photos. He really is a true gentleman.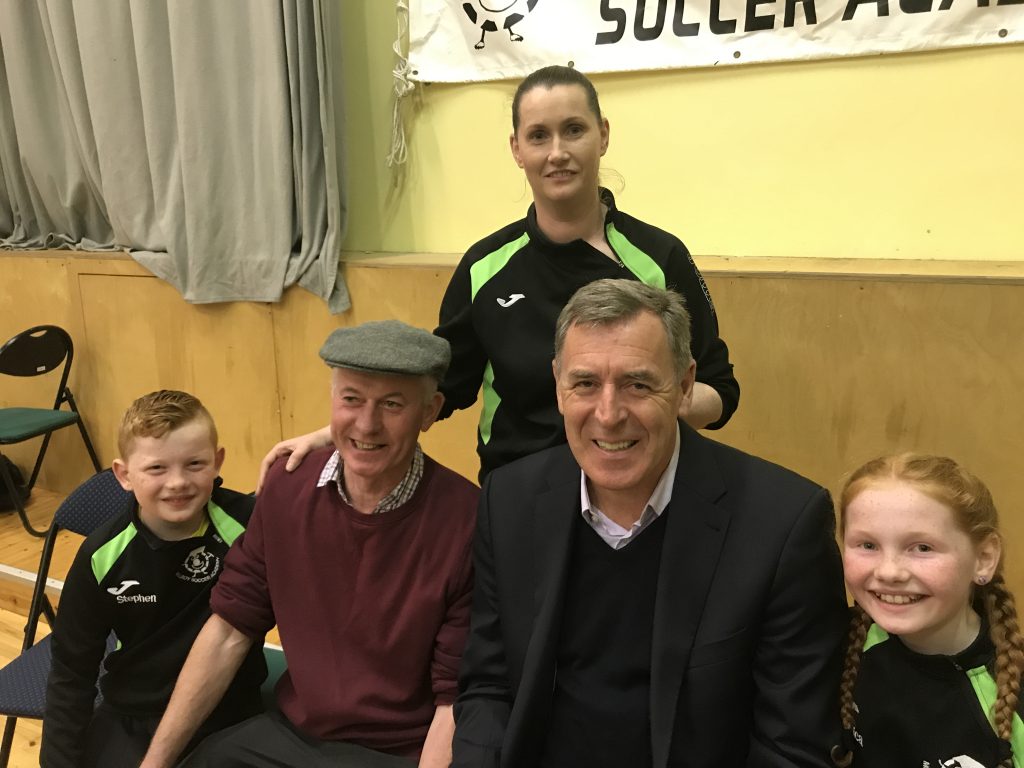 (5) What has been Donegal's proudest moment in recent years?
When Manus Kelly & Donall Barrett won the Joule International Rally in 2016. It was a mighty achievement and even better for 2 local lads. We meet them in Portsalon with my dad & my 2 children. We will never forget that day. Manus had just won the rally, yet he took time to stop and say hello to the kids. A real legend
(6) What is your favourite Donegal-made product?
Wisteria is the name of the business based in Letterkenny. Donna makes her own hats and head pieces they are totally amazing.
(7) Who is Donegal's greatest ambassador around the world and why?
Gary O Hanlon is a celebrity chef from Ramelton he works in Longford and recently appeared on Operation Transformation. He has been involved in Donegal Food Festival now for many year.
He will promote anything from Donegal or Ireland that he thinks is top quality. He always speaks about his mum and where he started his career this is a true sign of a celebrity.
(8) Who is Donegal's most successful businessperson in your opinion?
Ciaran Blaney – Silver Tassie Hotel and Spa
The key to his success is his food and service is always exceptional. If I have a nice meal in his establishment today when I go back in next month the same standard will be available. Ciaran and Rose have a family run business and this is a winning combination.
(9) Who is your favourite Donegal sportsperson of all time?
Packie Bonner it was just amazing for a lad from Donegal to represent his Country.
(10) What is your favourite Donegal restaurant?
Bridge Bar Restaurant in Ramelton
(11) Donegal's golden eagles or basking sharks?
That kinda stuff doesn't interest me but I say Golden Eagle.
(12) What is your favourite Donegal saying or expression?
Houl your tongue
(13) What is the biggest challenge facing the people of Donegal today?
The biggest challenge is making people realise cars and machinery are lethal. Stuff like doing donuts and driving like lunatics on the run is really not fun especially in the middle of the night.  Elderly people get scared, children are wakened & families suffer. There are specially designed areas to drive mental all they want.
(14) What is your favourite Donegal food?
Dill's Dexter Beef
(15) Is there anything that really annoys you about Donegal or its people?
They can never be on time.
(16) Do you have a favourite local band?
There is a young lad called Shane Mc Ginley from Kerrykeel he is an unreal singer.
(17) If you had a million euro to improve something in Donegal what would it be?
I would give it to volunteer groups, clubs & childcare settings to help with every day running costs.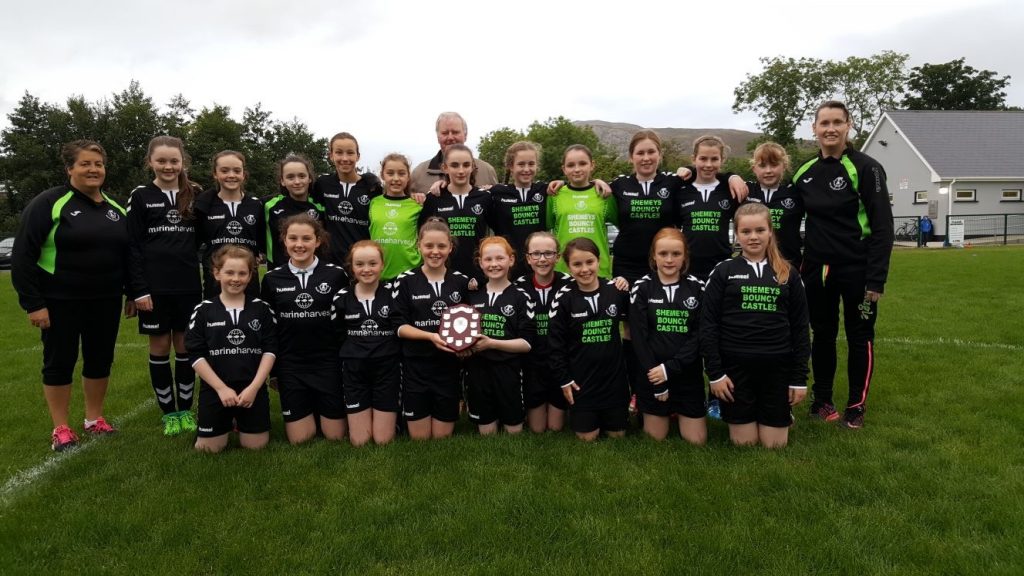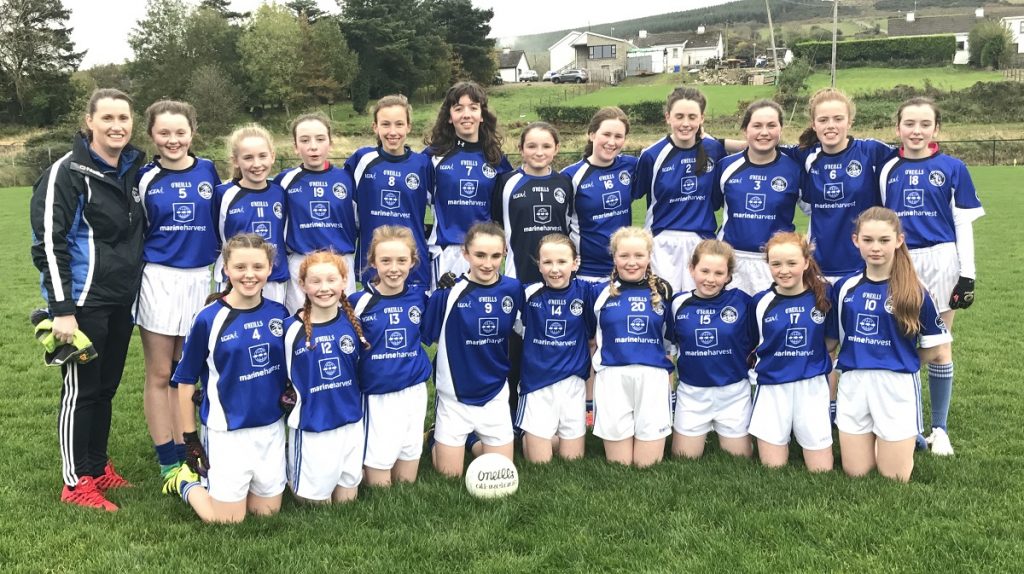 (18) What has been the most rewarding part of your career so far?
I organise the IWS Portsalon Swimming Lessons every year in August for the last 14 years so many kids have learned to swim over the  years which is fab. Also some have gone onto become swimmimg instructor and Lifeguards. It feels good to have played a small part in that. Every child should know how to swim.
(19) Is there anything about Donegal that you are very proud of?
I am very proud that my community had  the foresight & drive to bulid a superb building like the Rossnakill Hall. It is a unreal facility and is a great benefit to whole community young and old.
Would you like to take part in the My Donegal interview? Email us at info@donegaldaily.com 

Tags: