The team at Castle Grove Country House outside Letterkenny, Co. Donegal tell us why there is no place like the hotel during this season: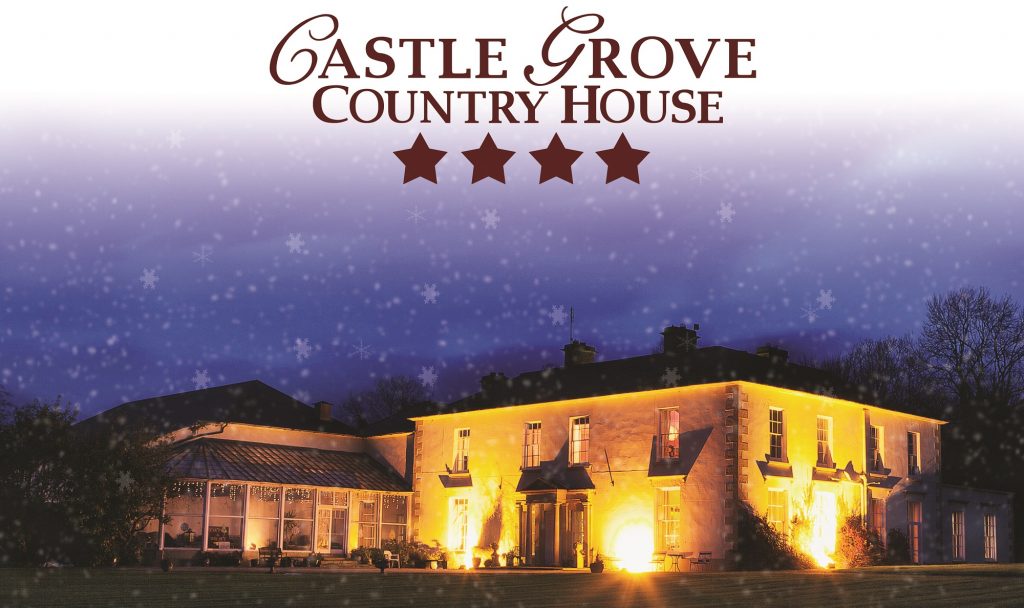 Silver Bells & Roaring Fires
Christmas is our favourite time of year at Castle Grove and we make sure it shows. From the warm inviting entrance hall through to the drawing rooms and into the elegant dining room, the house is finely decorated with all the sparkle and colour of the season.
Take a glass of something bubbly, find a cosy corner in our yellow drawing room and let the magic and romance of the season envelop you – Castle Grove at Christmas, there really is nowhere quite like it.
Afternoon Sparkle
Discover for yourself in December! Take a break from the stress of Christmas Shopping and meet a friend for Afternoon Tea served every day from 12pm to 4pm.
Keep it innocent with a cup of tea for €18 or make it fizz with champagne for only €24. As all Castle Grove Afternoon Teas are freshly prepared to order, please do book in advance.
Catch up with Friends
Or maybe you want to warm up with some hot food? Our Christmas lunch menu is available every day in December and would be the perfect option for that last minute girls catch up or impromptu office afternoon out.
A Sunday Lunch Rest from the Shops
Finally, don't forget our wonderful Sunday lunch experience has been given a festive reboot – Christmas Sunday lunch is available on each Sunday for €25 per person from 12:30 pm until 5 pm. Who says you should wait until the 25th for Christmas lunch?!
Tis the Season to See you There!
The magic of Castle Grove awaits you – a Christmas wonderland in the heart of Letterkenny. Call us today on (074) 915 1118 to plan your visit, or follow us on Facebook for more exciting updates: www.facebook.com/castlegrove1695
Tags: