The Station House Hotel have been awarded Wedding Venue of the Year for 2018 at the Irish Wedding Awards which was held at the lavish Crowne Plaza Hotel in Dublin on Sunday evening.
In celebration of the big win, the Station House Hotel are offering an incredible prize for one lucky couple!
Our lucky winner will win a sumptuous four course Valentine's meal for 2 and a glass of prosecco.
All you have to do is like, share and tag two friends on this post on Facebook!
We'll be picking our lucky winner on Friday, 9th February!
This recognition is a testament to their dedication and a reflection of the extremely high levels of quality and service the hotel and its staff provides to ensure that all wedding couples achieve their dream wedding day.
Commenting on the award are the Station House Hotel owners Brian and Christine Gallagher, said: "Words cannot express how thrilled and honoured we are to accept this amazing award.
"We are delighted to have been nominated among other amazing and deserving venues, so to take home this award is a dream come true".
Shiloe Gormley the Station House Hotel's Wedding Coordinator has a wealth of experience when it comes to planning your special day.
In her vast experience she has had the pleasure of being involved with over 800 wonderful weddings varying from the elaborate and lavish to intimate family gatherings and has successfully fulfilled the dreams and exceeded the expectations of each and every couple that she has had the pleasure of dealing with and for that reason Shiloe was awarded a finalist in the Countries Wedding Coordinator of the Year category.
Shiloe said: "The win is overwhelming and absolutely amazing. There is a lot of planning involved and there are so many elements that come together as part of a wedding and to be a success you really have to put yourself into the couple's shoes and truly love what you do and in all honesty I absolutely do, it's my calling for sure!
"There is just something very exciting and rewarding about being part of a couple's most special day and being able to create stylishly designed experiences during which life's most special moments can unfold, and all the charming details, the joyful connections, and the kind-hearted memories that the perfectly planned event can provide".
See what their Brides and Grooms had to say www.stationhouseletterkenny.com then click wedding/testimonials.
The Station House Hotel have also been awarded a TripAdvisor Travellers Choice Award for 2018!
To date the hotel has received 4 TripAdvisor Travellers Choice Awards and 7 TripAdvisor Certificate of Excellence Awards.
On behalf of the Hotel owners Brian and Christine Gallagher and the Management and Staff of the Station House Hotel we would like to say a huge thank you to all of our wonderful guests who have made this possible.
The Hotel owners would also like to say a huge thank you to their incredible team for their hard work and dedication to providing exceptional customer service and highly rated by their guests.
Wedding Show Around: The Station House Hotel would love to have the opportunity to meet with you and your fiancé to talk about your wedding plans and to answer any questions you may have: Contact shiloe@stationhouseletterkenny.com or call: 00353(0)749123100.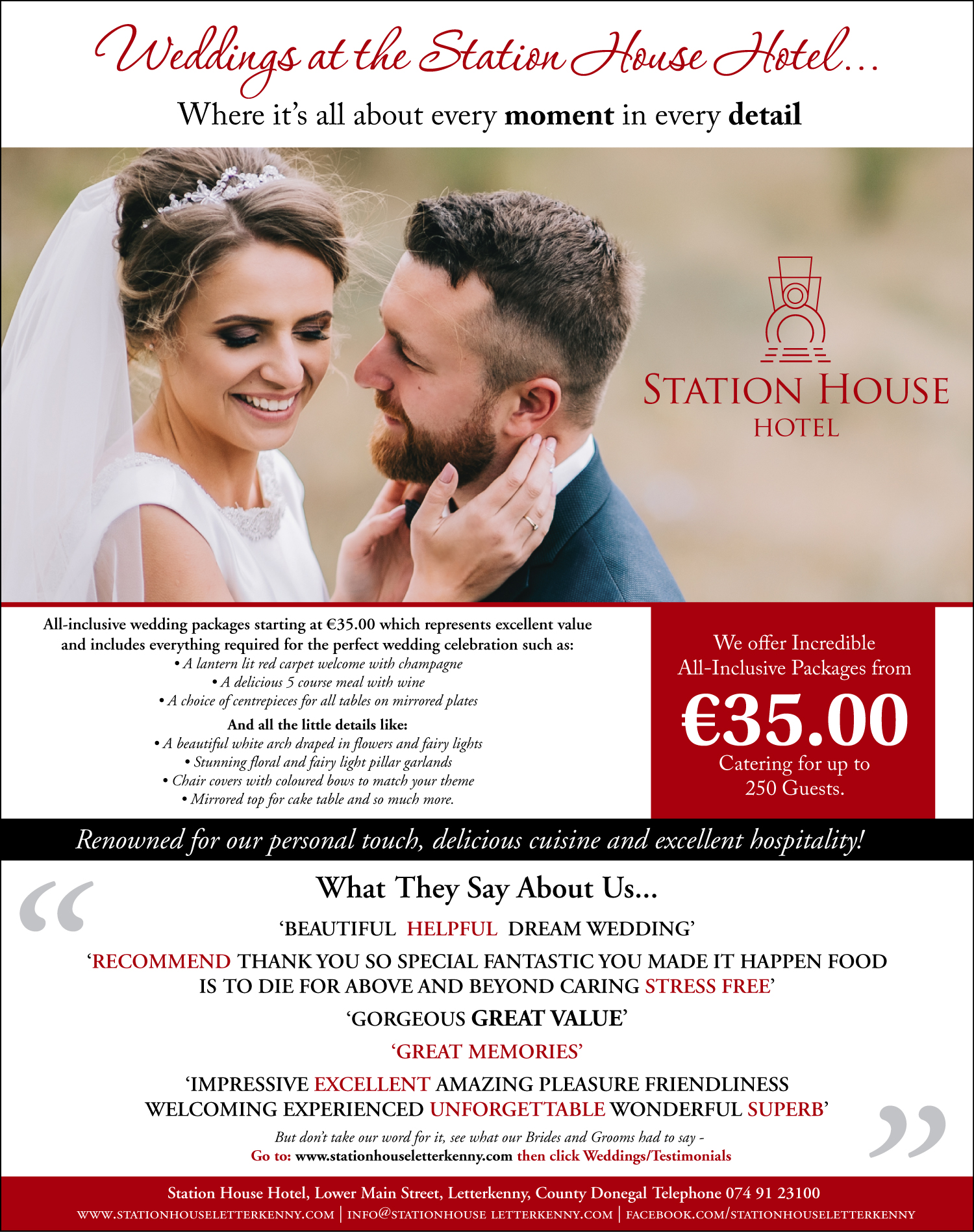 Featured image caption: Hotel owners Brian and Christine Gallagher with Wedding Coordinator Shiloe Gormley
Tags: