Narin & Portnoo Golf Club could re-open next week if members agree to a proposal from American-based businessman Liam McDevitt this weekend.
The club has been closed since Thursday after members were informed that there was 'no alternative'.
Mr McDevitt, who is Ballyshannon-born but now resides in Connecticut, last year purchased the loan book from US investment firm Cerebus.
During negotiations between Mr McDevitt and leading club members, issues arose over land the club leases from a third party and Mr McDevitt became concerned that the council and some trustees were working against him.
Last week, members were advised that the third party had not given consent and had 'sought to try and agree new terms'. This obstacle in allowing Knather Acquisitions, owned by Mr McDevitt, take over the club meant 'the club has now run out of money'.
Mr McDevitt has since written to the Narin & Portnoo Golf Club captain, John Callaghan, outline his disappointment, but said he could not sit back and see the club closed 'without one last pitch to the membership to keep it open'.
A proposal from Mr McDevitt will be discussed at an Emergency General Meeting of the club on Saturday afternoon in the Nesbitt Arms Hotel, Ardara.
"I have made every effort on my end to bring this across the line but the process being adopted to provide me with consent of assignment from the landlord and the deed of rectification gives me no confidence that this is going to happen within an acceptable timeframe," Mr McDevitt wrote in a letter seen by Donegal Daily/Donegal Sport Hub.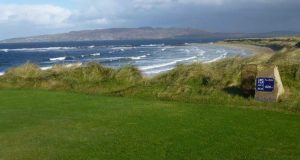 "The courts will dictate the outcome but, in the meantime, I can't sit back and watch the Club remain closed without one last pitch to the membership to keep it open."
Mr McDevitt has proposed that all existing trustees and committee members resign and that a new interim management committee be formed to run the affairs during the year.
Mr McDevitt calls for the existing constitution to be abandoned and a new 'more inclusive' constitution be drawn up, and that a new governance handbook be developed.
"Its purpose is to dictate how committee members are to conduct themselves on behave of the members and devoid themselves from all conflicts of interest," Mr McDevitt said.
A food/beverage levy of €75 is to be implemented and all club assets are to be transferred to Knather Acquisitions.
Mr McDevitt added: "Hopefully some common sense will prevail here and we all can get back to playing golf and the impact to the local and neighbouring business communities will be minimised."
Tags: