LORETO MILFORD    2      V    0  St. EUNANS.                                                      The Milford lads deservedly took this Ulster title against their old rivals St. Eunans as the pretty much controlled the game for long periods.  Playing against the strong cold wind in the opening half their back-four was excellent and restricted the Letterkenny lads to only a few chances, mostly from corners or free-kicks.         It was the 23rd minute before Eunans threatened, after Jack Murphy had won a corner, Jordan Nugent shot just over as the Loreto defence stood off the ball in the box.                                                                                                                       Nine minutes later Nugent's dangerous free-kick caused some problems and only some excellent blocking by the Loreto defenders kept the ball out, keeper John Matthews also got a vital hand to a goalbound header in the scramble.             Milford's best chance of the first-half came in the 38th minute when Ross Cullen chased down a through ball, headed it forward and then shot just wide.      After the break Jack Murphy did well with a strong run and his pass almost put Finnian O Donnell in but Matthews was out quickly to smother the ball.               In the 55th minute Loreto full-back Eoin O Conner tested Thomas Keys from 25 yards, the keeper took no chances as he pushed it around the post.                        
As the pressure from Loreto  Milford increased the game's opening goal finally arrived in the 62nd minute and was worth waiting for.                                     Conor Mc Fadden's throw-in found Ronan Gallagher and he produced a super piece of skill to take two defenders out of the equation with a Brillant flick before drilling the ball to the net.                                                                                                     Two minutes later it should have been 2-0, Peter Carr burst through and did brillantly to remain on his feet as a defender made contact in the box, but the contact appeared to unbalance the winger and he blasted over the bar from ten yards out.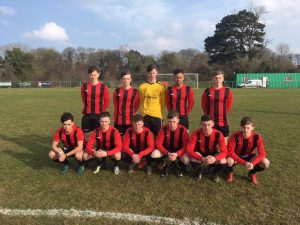 St. Eunans kept trying but that back-four of Loreto was excellent and in the 74th minute the Milford lads wrapped it up when Ronan Gallagher's blocked free-kick came back into the path of Matthew Mc Laughlin and the midfielder blasted a powerful 25 yard shot into the bottom corner giving keeper Thomas Keys no chance.                                                                                                                                            LORETO  MILFORD; John Matthews, Eoin O Conner Conor Mc Fadden, Stephen Black, Ronan Boyce, Matthew Mc Laughlin, Peter Carr, Ronan Gallagher, Ross Cullen  ( Rory Pyper 79mins ), Evan Hewitt  ( Dylan Dorrian 86mins ), Conor Black.                                                                                                                                   ST. EUNANS ; Thomas Keys , Oran Brogan  ( Oran Winstone 80mins ) , Joel Gorman, Kieran Tobin, Dylan O Brien, Eoin Dowling, Jordan Nugent , Charlie White, Finnian O Donnell, Jack Murphy, Keelan Collier.                                              REFEREE; Mr. Vincent Mc Laughlin.