Donegal man Liam Gill was awarded with an Autism Heroes Award on Monday at the Irish Autism headquarters in Mullingar for his tireless work in the community to improve the world for people with autism and their families.
The Autism Heroes Awards is a unique opportunity for the Irish public to honour those who have made a real difference in the autism community, whether as unsung heroes or household names.
Liam  was honoured for excellence in a variety of fundraising efforts, including an extensive amount of advocacy work and also youth work.
This work directly relates to his involvement with i.C.A.R.E, Inishowen Children's Autism Related Education, an Autism specific charity based in Buncrana, but covering the Inishowen area of Donegal.
Since 2005, Liam has been a conscious campaigner and promoter of the Autism Community in Inishowen. During this time, he has constantly worked towards promoting the overall aims of the charity. i.C.A.R.E. is a support group who provide vital respite to more than 100 families who have children with autism.
His tireless efforts are celebrated and known by many. Over the years he held numerous voluntary positions within the charity; administratively he set up initial policies and procedures for the Day, Respite and Activity Centre facility in Buncrana, which started in 2007.
He also experienced the roles of Public Relations Officer and Events Organiser. In these roles Liam networked and facilitated a publicity campaign using a variety of media sources, to raise awareness of the work of the charity, and increase contributions.
He also organised a number of successful events: Inishowen's renowned Fashion Show, Gala Balls, the annual Duck Derby, many Quizzes and Discos. This shows immense commitment, time and dedication.
Contributions from the public during Liam's time at i.C.A.R.E have surpassed €170,000! What an amazing achievement for the families of young people with autism in Donegal.
Moreover, in 2012 Liam set up a very successful youth club for young people with autism, the Sonas Youth Club of Inishowen. Liam realised that facilitates and support for the youth with autism were lacking in Donegal, in particular, for young people with Aspergers and high functioning autism.
To address this, he set about creating an inspiring club for children from the age of 11 and upwards. The youth club continues to develop and increase in number and capacity since it began. This can be attributed to the excellent team of dedicated volunteers, managed by Liam. The youth club offers the young people so many opportunities; a safe haven to socialize, opportunities to develop interpersonal skills, recreational activities, fitness classes, arts and culture, welfare, mental health and well-being, stress management and important life skills.
The club continues to offer services outside of school term time, including excursions to Fermanagh, Portrush, Belfast, and other parts of Ireland. Most importantly, the club gives the young people a social outlet to foster and nurture important friendships that they would not otherwise make. The club have taken part in many Summer residentials, which gives the person with autism a few days away from their home life and also gives the family a much needed break.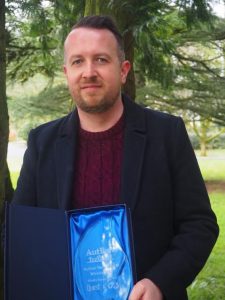 In October 2016, 5 of our young people graduated from Galway University after successfully passing Foroige's Leadership for Life modules 1,2 & 3 in which they studied through Sonas Youth Club and this was facilitated by Liam. Now he is currently working with 7 young people who should also graduate this year through Foroige's Leadership for Life. Liam has a can do attitude and doesn't like sitting talking about doing things, he would rather get up and do it, get the job done.
Last Summer Liam graduated from Ulster University with a first class honours degree in Youth and Community work to coinside with his current work at iCARE as Centre Manager.
Club member Dylan Clarke said: "Not all the young people who Liam works with know just how much he does or the difference he makes to young people's lives who have autism but that doesn't matter because I know the sacrifices he makes and the effort he puts in.
"He has helped us become confident young citizens who can make a positive impact on the world. I speak for all my fellow club members past and present when I say he is a listening ear, a shoulder to cry on, someone to turn to, a teacher, a motivator, a friend and the best volunteer ever!"
Liam said "I was honoured to be given a national award for the work we have done so far, I would like to thank my wife Arlene, daughter Caoimhe, sons Ryan and Lachlan, and all the hard working team at iCARE and Sonas Youth Club, the directors, committee and more importantly all the people with autism, who in my eyes are the real heroes.
"The work that iCARE does is fantastic for the families, however it should not be up to parents to provide respite, education, support, youth work – a specialised service for children.
"In my opinion, it's the state who have let down the families of children with autism and the children."
"Autism is known as a spectrum disorder because there is wide variation in the type and severity of symptoms people experience.
"There are a lot of families who have sons/daughters with severe autism and I have a lot of empathy for them, as some of them wouldn't be able to attend Sonas or iCARE and that's the difficult part.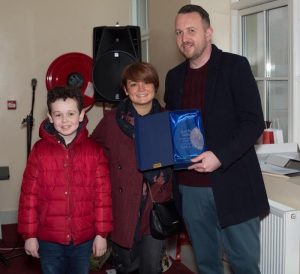 "I got involved in iCARE as my oldest son Ryan was diagnosed when he was 1 and half years old. I had never heard of autism before this. I have to commend the hard, endless work that any parents have put into iCARE over the years.
"It has been non-stop. Also the community who have always supported us and without their help we couldn't function.
"For the future I would like iCARE to have a building, instead of prefabs, but again in my opinion, this should be state funded and run. I also would like over 18s to have the same opportunities as their peers, through courses, further education and life skills training. There are still huge gaps and a lot more to be done."
Tags: