Needing a point against title rivals Cranford FC to clinch the Donegal League Divison Two Championship, Drumkeen United did just enough to get that at a windy Cranford Park. The home side needed a win to take the title race to its final series of games for these two sides in two weeks time but were unable to get a vital winning goal in the later stages having failed to take advantage of the elements in the opening half.                                                                                          CRANFORD FC    1    V     1      DRUMKEEN UNITED.                                                    The strong wind was always going to make things difficult for both sides and so it proved as both struggled to put together much constructive football with time on the ball at a premium.                                                                                                     Cranford had first use of it but made very little impression on a solid Drumkeen defence.  Kevin Doherty had a shot deflected for a corner in the 14th minute and Chris Carr just failed to make contact at the far post when Seamus Carr swung over the corner. David O Donnell fired over from 20 yards in the 26th minute while two minutes later Drumkeen went close when Liam Mc Gill's cross found Lee Guthrie but his flicked effort was straight at keeper Enda Mc Hugh.                    On 32mins Mc Hugh made a fine save to deny Benny Bonner's 25yd free-kick, diving to his left to touch it round the post.                                                                             On 37mins Cranford almost grabbed the lead, a corner from the right fell into the path of Padraig Mc Ginty who's first effort was block saved by Paul Mc Cauley and then his follow up flew just wide.                                                                 Charlie Collins was at Cranford Park.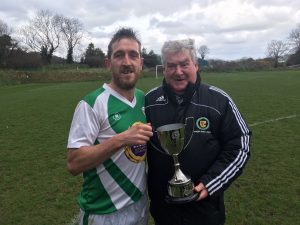 Terry Leyden of the Donegal League presents Drumkeen United Captain Philip Whytewith the Division Two League Trophy after his team's draw against Cranford FC.                                                                                                                           We didn't have to wait long for Drumkeen Utd to take advantage of the elements when the teams turned around after half-time.  Forty seconds in Eoghan Kennedy slid a pass to Lee Guthrie , he took the ball past full-back Shane Mc Teague into the penalty area and then smashed a super rising shot past Mc Hugh into the top corner to give his team a huge title boost.                                     Kennedy himself won two strong tackles six minutes later and forced another good stop by the keeper and then Benny Bonner fired another 25yd free-kick over the bar.  However any notion that Drumkeen might run away with the game were soon dispelled in the 63rd minute when Referee Seimi Ferry adjudged that Drumkeen defender had impeded Keelin Mc Groddy in the box and the striker confidently drove the resulting penalty past keeper Mc Cauley to make it 1-1.               Three minutes later it should have been 2-1 to the home side. Mc Groddy did well inside the box and pulled the pass back for Kevin Doherty who was ten yards out with the goal at his mercy.                                                                                
After taking a second to steady himself the midfielder decided to pass the ball to the net instead of blasting it which looked the best option and Chris Kyle made a vital goal line clearance to deny Doherty, it's doubtful that the Drumkeen defender will ever make a more important intervention for his team.                     Cranford FC had slightly the better of it for a period of the game after that but Drumkeen regrouped and indeed created the better of the game's late chances when Sub Kevin Bonner shot just wide shortly after coming on and Lee Guthrie did likewise in injury time.                                                                                                         So it finished 1-1, both teams are promoted with Benny Bonner's  Drumkeen Utd as champions and Cranford can look forward to the Ulster Shield final against Inishowen League opponents Rasheney FC next weekend.                                        CRANFORD FC ; Enda Mc Hugh  , Martin Mc Bride , Shane Mc Teague , Chris Duffy , Chris Carr , Seamus Carr , Padraig Mc Ginty , Kevin Doherty , Keelin Mc Groddy , David O Donnell , Lorcan Conner.                                                                      DRUMKEEN UTD. ; Paul Mc Cauley , Kevin Boyle , Benny Bonner , Chris Kyle , Jerome Duffy ,  Philip Whyte , Eoghan Kennedy , Eunan Doherty ( Benny Kyle 90mins ) , Lee Guthrie , Michael Guthrie , Liam Mc Gill. ( Kevin Bonner 75mins ). Referee ;  Mr. Seimi Ferry.