Pinehill Studios at Mountain Top Letterkenny have an amazing schedule for Summer 2018. From fun Summer Camps to Dance Intensives with celebrity dancers, there is something for kids of all ages. 
Here, Sarah-Marie McDevitt shares a look ahead to all the thrilling events coming to Pinehill Studios from 2nd July to 3rd August. Places are in high demand, so book now by calling  0867900554 or visit: pinehillstudios.ie
Summer Camp at Pinehill Studios
Make this summer go by in a whirl of fun and activity – find a great camp for your child at Pinehill Studios.
It's hard to believe, but that time of year is almost upon us again: in a matter of weeks, the children will be off school. With eight weeks to fill, many parents will be looking for some way to entertain their energetic tiny humans which doesn't involve breaking the bank or indeed breaking a sweat as the constant refrain of 'I'm bored' threatens to reach saturation.
To help alleviate parental stress and childish boredom, we have a variety of action-packed summer camps that are sure to entertain, amuse and tire out your little darlings over the upcoming holidays starting from 2nd of July until 03rd of August.
Incorporating singing, hip-hop dance, acting, fun, games, self-esteem and confidence-building in a non-competitive, fun-filled and safe environment, Pinehill Studios camps are suitable for both boys and girls aged between 4 to 12. No experience is required and often it is the shy child who finds their inner diva whilst hitting stage for the first time.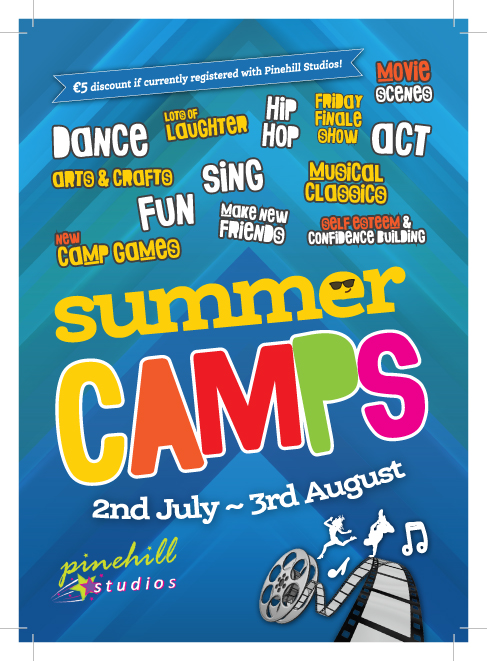 Camps dates & details
9th – 13th July CLOWNING AROUND
This was our most popular camp last year…
Pinehill Studios brings you CIRCUS SCHOOL
Kids will learn clowning and circus tricks and techniques.  This camp will include multiple activities to challenge your child's fitness and personality.  Who wants to run away with the circus?
16th – 20th July Step Up Dance Camp
Shake up the summer with our Step Up Dance Camp.  A variety of Dance styles including fusion, hip hop, jiving, beginners breaking and more, will keep the kids on their toes.
23rd 27th July Pinehill's Got Talent
Based on this year's amazing "Ireland's Got Talent", we will spend the week preparing and practising our talents or lack of talent to showcase at our end of week show.  EVERYONE at Pinehill Studios goes home a WINNER!
Each Camp will run from 10am-3pm each day.  2 groups 4-6yrs & 7-12yrs. (groups will be divided by age and ability)
Children should bring a packed lunch and plenty to drink. They should wear comfortable clothing such as leggings or tracksuit, and soft shoes or runners.
The week-long courses cost €85.  BOOK ONLINE NOW www.pinehillstudios.ie
Children currently registered with Pinehill Studios receive a €5 discount.  Sibling discounts also available. T & C's apply *one discount per family.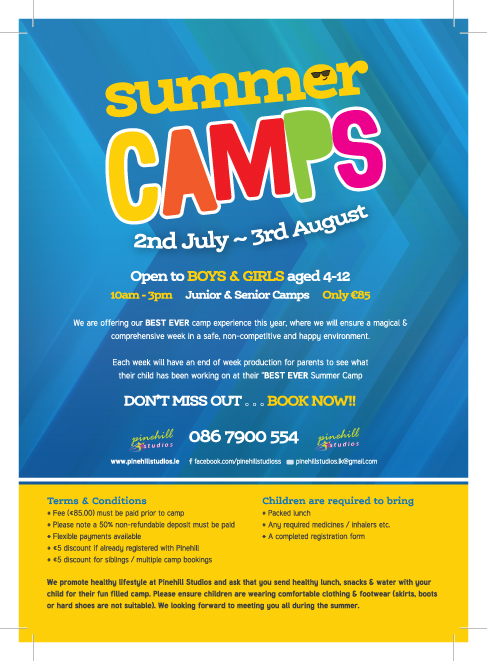 ---
Dance Intensives at Pinehill Studios
July 2nd – July 6th  10am – 3pm
July 30th – 3rd of August 10am – 3pm
2 groups 7-12yrs & 13+ (groups will be divided by age and ability)
We have arranged an exciting week of dance at Pinehill Studios.  Our intensive dance camp will introduce you to many new and familiar styles of dance.  Styles included in this week long dance intensive are, House by Frankie J, international dance instructor visiting from the UK, Breaking & Popping by Leon Dwyer, dance instructor at Fly Dance Studio, Dublin, Contemporary by Carie Logue Houston from Create Dance Derry, Lyrical with Amy Kate Callaghan, former Donegal Rose of Tralee, Yoga for Dancers with Jacqueline Toner, Hip Hop with Jordon from FKFT, as soon on Irelands Got Talent, Gymnastics with Fiona Murphy, Disco Freestyle with Michaela Allen School of Dance to name but a few.
This Summer Intensive will improve your dance skills and promise to be a great learning and fun experience for everyone.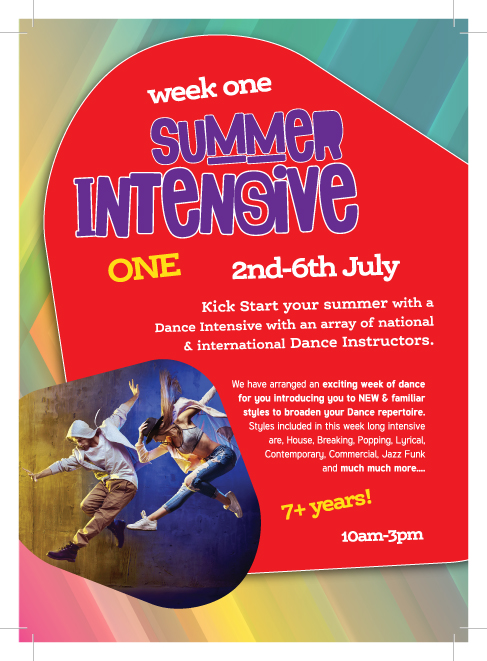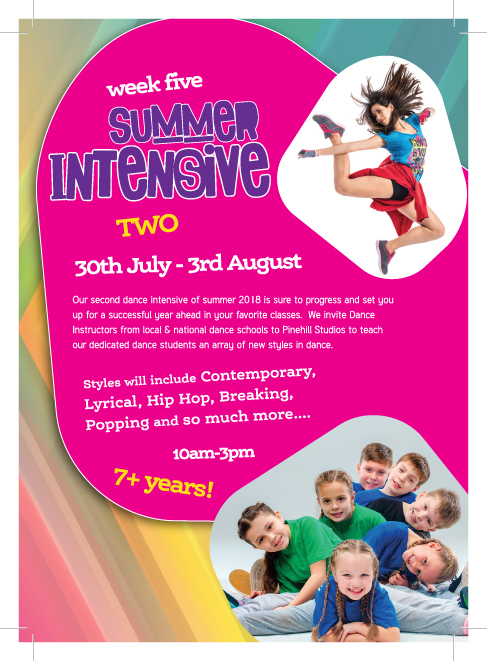 Dance Experience an advantage but not necessary.
Book online at http://pinehillstudios.ie/camps/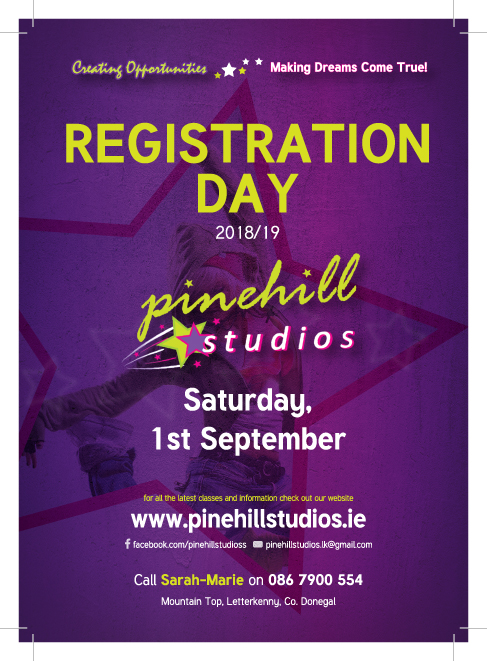 ---
Sponsored Post
Tags: