The wait is over for fans of soft rock legends Smokie as they are set to appear at Jackson's Hotel, Ballybofey on Saturday 19th May 2018.
To still be one of Europe's top live bands, 40 years after their inception is truly fantastic, but to still be enthusiastic, fresh, totally committed and in love with the music is a positive miracle.
With many many changes to the band over the years, Smokie, have remained positive and continued to do what they do best: churn out some of the best rock music the industry has ever heard.
Their most famous hit singles to date include the following, "If You Think You Know How to Love Me", "Don't Play Your Rock 'n' Roll to Me", and, "Lay Back in the Arms of Someone". But their most popular hit single ever is, "Living Next Door to Alice".
The single peaked at No. 5 on the UK Singles Chart in 1976 and, in March 1977, reached No. 25 on the Billboard Hot 100.
In 1995, Smokie re-released, "Living Next Door To Alice", featuring controversial Comedian Roy Chubby Brown and again it reached success yet bettered itself reaching No. 3 in the UK Singles Chart and sold in excess of 200,000 copies bringing another new dimension into the band's history.
Over the next 15 years the band only went from strength to strength releasing album after album.
In 1998, Smokie released their album, "Wild Horses – The Nashville Album", in Nashville, Tennessee. In 2001, Smokie released another two albums, "Uncovered", and "Uncovered Too", which consisted entirely of cover versions. In 2004, Smokie recorded a studio album, "On the Wire", with eleven of the 14 songs written by the band themselves and in 2006; the band released the album, "From the Heart".
Then came a 6 year album break until 2010 seen them gain new chart success with a CD of brand new material entitled, "Take a Minute". Released initially in Denmark in August of that year, it peaked at No. 3 on the Danish albums chart.
Releases in the remainder of Scandinavia and Germany took place during October, with the single, "Sally's Song" — a continuation of the story of the other character in "Living Next Door to Alice" — also released.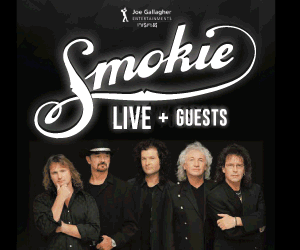 So, this May on Saturday 19th is your chance to reminisce the Legend Smokie's greatest hits and more. A night most definitely not to be missed.
Smokie tickets are now on sale online at www.ticketmaster.ie or Jacksons Hotel, Ballybofey 00353 749131021
---
Sponsored Feature
Tags: