As the Crana College community comes to the end of another school year, fond memories have been recalled of a former principal, the late Danny O'Brien.
Mr O'Brien of Clonbeg, Buncrana, passed away in January 2018. He served as Principal of Crana College for two decades and was a well-known Inishowen GAA stalwart.
Members of staff who worked alongside Mr O'Brien have taken the opportunity to remember their dear colleague and his impact on the lives of many students and staff.
Mr Danny O'Brien was a very warm and dedicated principal who was fully involved in Crana College and the Buncrana community.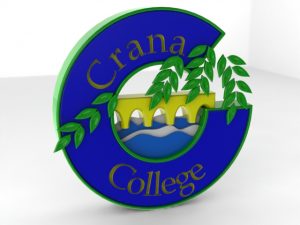 Rory O'Neill recalled how the late Mr O'Brien was principal of Buncrana Vocational school,as it was known then, from 1977 to 1997.
Mr O'Neill said: The school was situated in the "Old Tech" with modest numbers but eventually as numbers grew other classrooms were found in various locations around the town.
A site was located for the new school and over a 10 year period Danny oversaw the completion of the new school. He actively fundraised for the extension to the gym. He was also great at getting things and equipment for the school.
As years passed so did the numbers attending Buncrana Vocational School. He took a personal and passionate interest in the lives of every single one of the students and was ever present supervising the corridors and GP areas. He knew every student by name.
Danny loved all sports and GAA in particular. He promoted Gaelic Games within the school and many students enrolled because of Danny's involvement in the Buncrana GAA club.
Many past pupils were inspired by Danny to become teachers and indeed many of our present staff were former pupils when Danny was principal. He was generous and gracious to staff who worked with him, treating them as colleagues. Danny cared greatly about the welfare of students and staff. Danny had an infectious enthusiasm for the job and his warm and charming personality made him most popular with pupils, parents, staff and all who came to know him.
Mary Harkin:
Danny was an inspirational Principal who led by example and was deeply committed to promoting excellence in the many aspects of school life.
He had a great interest in each and every student, encouraging them to reach their full potential both inside and outside of the classroom. During his time the school grew from strength to strength and he was the driving force behind the building of the large extension in 1988 which doubled the size of the school.
Danny looked after the welfare of staff and students alike and he was very much a father figure for many of us in the school. Most of all he was a true gentleman and a great friend.
Sue Gallagher:
I came to Crana College in 1981 and was very warmly welcomed by Danny. I had spent two months teaching in Raphoe, but I was keen to get to Buncrana and after speaking to Danny it happened. Isobel also made myself and all staff welcome, hosting a "get together" in their home at the start of the school year providing food and home-baking.
Danny was a caring and supportive Principal. There was always a warm and welcoming atmosphere in the school. His firm and fair approach ensured everyone was treated equally and well looked after. He seemed to sense what suited individual students and encouraged them to follow the most suitable path for them.
Under his management the school made great strides and had achievements in many areas especially sport. He was held in high respect by both students and staff.
He remained in close contact with the school after his retirement and attended the school Prize Giving Ceremony every year.
Principal Kevin Cooley:
Danny invested 20 years of his life and career to Buncrana Vocational School and in that time he led staff and students through a period of significant change in the education system in Ireland. He managed these changes so successfully that demand for places in the school increased and Danny oversaw the expansion of Buncrana Vocational School to relocate to a larger site where we are currently.
Danny cared for every single student in his school as an individual. He was a warm and approachable Principal and his personal interest in sports heavily influenced the success the school experienced on the sporting field.
Danny O'Brien is remembered fondly to this day by colleagues he worked with in Donegal VEC and is a Principal with the qualities and skills that I as the current Principal of Crana College aspire to be remembered for when my time in the school is over.
Tags: