AILEACH FC made it two Cup wins so far this season with the chance of a third next week with this narrow but  much deserved victory over rivals Glengad United, writes Charlie Collins.  
Aileach FC 1-0 Glengad United
Last week it was Glengad clinching the league title with a single goal win at the Lakeside while today it was Darren Mc Monagle's cracker that separated the teams. Next week these sides meet again in the Charlie O Donnell Cup final.
Aileach FC started well and could have and perhaps should have taken a early lead with two good chances. Darren McMonagle did well on the right side nd when Ronan Coyle chested down his cross Thomas McMacken shot over from close to the penalty spot in the fifth minute.
A couple of minutes later McMacken turned provider, sliding a pass through for Dermot Doherty inside the box but his effort was blocked behind. Glengad took time to settle and only a Stephen McLaughlin run and cross troubled Aileach. On 20 minutes they were almost caught out when the Terence Doherty pounced on hesitating and his shot took a deflection but still was only went narrowly wide.
In the 31th minute Ronan Coyle's 20 yarder beat  Kevin Mc Laughlin but crashed off a post but two minutes later McLaughlin was beaten when Darren McMonagle beat his marker blasted a super drive past the keeper from just outside the box, it was no more than Aileach deserved.
It should have been 2-0 in the 41th minute, Glengad lost possession in midfield, Darren McMonagle burst forward and when Kevin McLaughlin could only parry his drive the ball fell into the path of Ronan Coyle but the ace goal-scorer somehow managed to head the ball over an open goal. Who that prove costly later we wondered. ?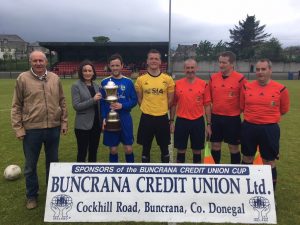 Glengad had an early chance in the second-half but Terence Doherty snatched at the ball and it went harmlessly wide.  Aileach replied quickly and Dermot Doherty lovely weighted pass sent Gareth McGlynn racing through and McLaughlin had to fingertip his attempt round the post.
At the other end  Adam Byrne did well to head a free-kick from the left side  across goal and when it was poorly cleared Terence Doherty just lost his footing at the vital moment.
In the 58th minute Aileach went close again, a good build-up put Dermot Doherty in but his effort was blocked by keeper McLaughlin and Jason Doherty completed the clearance. We were beginning to wonder again  if these missed chances would end up proving costly. On 65 minutes another half-chance for Aileach, McMonagle's cross found McGlynn but he shot straight at McLaughlin.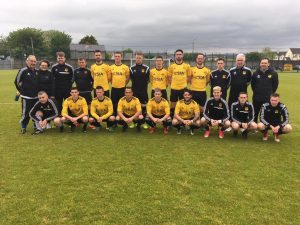 Ronan Coyle had a couple of half chances , and then  after a super long pass from Anthony Doherty he set up Gavin Doherty but he shot over. Despite Glengad's best efforts to get that elusive equaliser the Aileach defence with Thomas Mc Monagle and Cathal Mc Elhinney excellent held out to give their team a deserved victory and the Buncrana Credit Union Cup to the Ulster Junior Cup and a chance of a treble when these teams meet again in the Charlie O Donnell Cup final next Sunday, again at Maginn Park.
Aileach FC: Peter Devlin , Mark McElhinney , Darren Gallagher , Cathal McElhinney , Thomas McMonagle , Thomas McMacken , Gavin Doherty ( Killian O Rourke 85mins )  , Darren McMonagle , Dermot Doherty  ( Anthony Doherty 78mins ) ,  Gareth McGlynn , Ronan Coyle ( Caoimghan Mc Feely 88mins ).
Glengad United : Kevin McLaughlin ,  James McKinney , Jason Doherty , John Gerard McLaughlin , Matthew Byrne ,   Adam Byrne , Stephen McLaughlin , Shane Canning  ( Cathal McDaid 75mins ) , Terence Doherty , Michael Byrne ,  Seamus Doherty ( Paddy Mc Dermott 75mins ).
Referee: Terence Moyne ,  Assistants ; Eamonn Doherty and George McLaughlin.
Tags: