Letterkenny Rovers striker Steve Okakpu-Emeka doesn't do tap-ins when it comes to scoring vital goals in big games.
With five minutes of this potential title decider left and Cockhill Celtic hanging on for the point they needed to clinch the title the big striker struck.
The Rovers man had come off the bench fifteen minutes earlier and was just inside the Cockhill penalty area as a headed clearance from Garbhan Grant's free-kick presented itself for hitting.
And with a rasping drive, Stevie hit the roof of the net before keeper Lee Mc Colgan could react for a Brillant goal and one fit to decide a game with so much at stake
The first-half was as you would expect somewhat tension filled and clear-cut chances were hard to create. Rovers had the better of it in terms of possession but as always Gerry Gill's dead ball deliverers proved a problem for the home defense.
It was a Chris Flanagan free for Rovers which produced the first moment of concern for Cockhill as it flashed across the six yard line to safety.
The best chance of the half came in the 36th minute when Ryan Lonegan made a great run at the Cockhill defense, laid the ball off to Kevin Mc Grath who had charged up the right side , his cross found Darren Mc Elwaine but after a good first touch the big striker shot over from around the penalty spot.
Four minutes later a super Gill free-kick was brilliantly headed out of danger by the diving Ryan Mc Connell.
At half-time it remained scoreless with Letterkenny Rovers needing a goal and Cockhill with the title within their grasp.
Charlie Collins reports from Leckview Park.
Rovers had the ball in the net in the 53rd minute when following a free-kick Conor Tourish laid the ball off for Ryan Mc Connell who shot was on target but it touched teammate Paul Mc Veigh on its way to the net and the offside flag ruled it out.
In the 63rdminute Chris Flanagan burst forward and when his well struck shot took a big deflection keeper Lee Mc Colgan was happy to see it land on the top of the net as he back-tracked towards his goal. Ryan Kelly's throw-in was flicked on by Mal Mc Dermott in the 66tg minute and Ronan Doherty's touch just went wide of Rory Kelly's post.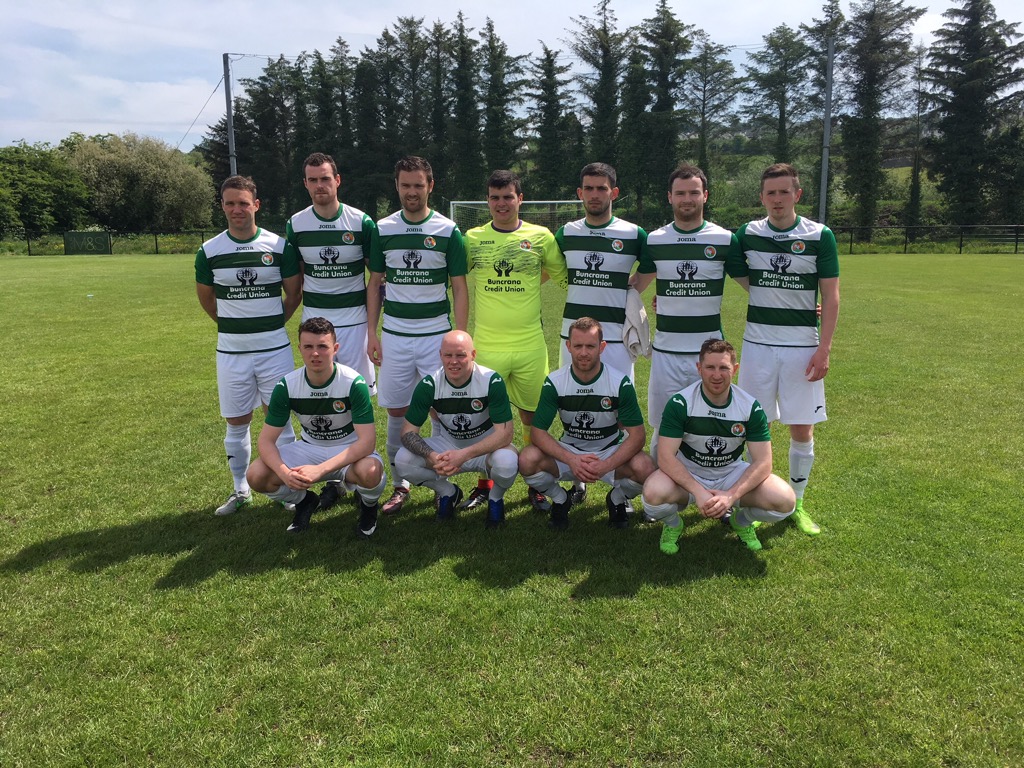 This game remained as it had started, both teams fully committed but defences very much on to and creating any clear-cut chances was a very difficult challenge.                                                                                                 David Shovelin did well in possession and Ryan Lonegan even better under pressure on the edge of the box but his drive was too high when perhaps a ball across the six yard line may have been a better option.
It the 85th minute Rovers grabbed the lead, sub Garbhan Grant's free-kick was headed out to the edge of the box and another sub Steve Akakpu-Emeka hammered it past Mc Colgan into the roof of the net, the title was on the line again.                                                                                                                                   Ronan Doherty blasted over in the 92nd minute as Cockhill threw everything at it but Rovers held on to win and the title will be decided on Wednesday 6th June at the Bonagee Showgrounds.                                                                                               Cockhill Celtic: Lee McCarron, Ryan Kelly ( Jimmy Bradley 86mins ), Jason Breslin , Peter Doherty, Oisin McColgan, Gerard McLaughlin, Mark Moran ( Liam O Donnell 70mins), Malachy McDermott, Gerard Mc Laughlin ( Paul Mc Kinney 75 mins ), Gerry Gill, Ronan Doherty,
Letterkenny Rovers: Rory Kelly, , Kevin McGrath, Chris Flanagan , Conor Tourish , Ryan McConnell, Ryan Lonergan, Paul McVeigh ( Luke Nelis 60mins ), David Shovelin , Darren Mc Elwaine ( Steve Okakpu-Emeka 70mins )Christy Conaghan Declan Sharkey ( Garbhan Grant 75 mins ).                                                          Referee ; Michael Connelly, Assistants Marty mc Garrigle and Marty Quinn.