With the excellent summer weather to assist, it is now time to get the Donegal active on their bike for National Bike Week, which takes place from next Saturday 9th June to Sunday 17th June.
This national cycling festival provides a host of cycling events all across the county encouraging and motivating the whole population.
Bike Week is a fun-filled family event, and caters for all cycling enthusiasts. There is quite literally something for all ages and abilities, from open club days to free bike checks, fun cycles, lunchtime rides, school cycling, bikes festivals and much more.
Cycling is an increasingly popular sporting activity in Donegal with visible evidence especially on public roads across the county, great credit is due to the cycling clubs, schools, workplaces and community groups who encourage and motivate the population to get involved.
Cyclists are encouraged to be aware especially if they are cycling on public roads to fully observe the rules of the road and to keep safety as a priority. Here are a number of important guides to make your cycle a safe cycle.
Always wear a fitted cycling helmet

Always look and signal to show other road users what you plan to do, and make eye contact where possible so that you have been seen

Always stop at red lights, and obey the rules of the road

Avoid cycling on the inside of vehicles such as trucks, vans or buses.

Always use lights on your bike when visibility is poor, and in the evening and at night

Wear reflective or light coloured clothing when cycling during the day to increase your visibility
For further information on cycle safety, please link to http://www.rsa.ie/en/RSA/Pedestrians-and-Cyclists/Cycling-safety/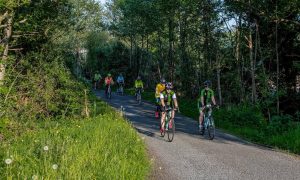 At this year's launch, supporting Bike Week 2018 in Donegal are Donegal Mayor Cllr Gerry Mc Monagle from Letterkenny and his colleague Cllr Jimmy Kavanagh who is the Letterkenny Municipal Mayor. Both are keen outdoor enthusiasts and recognise the importance a healthy lifestyle in maintaining a balance in life, cycling can play a huge part in this.
Bike Week not only promotes the leisure and fun aspects of cycling, it also highlights why it is important to choose cycling as a means to commute to work, to do the crèche or school run or to run errands.  
Bike Week is coordinated at a national level by the Department of Transport, Tourism and Sport and locally in Donegal by Donegal Sports Partnership with the support of Donegal County Council.
For more information, please visit www.bikeweek.ie, follow Bike Week on Twitter @BikeWeekie or on Instagram @BikeWeekie or like Bike Week on Facebook www.facebook.com/bikeweekie.
Tags: