Five out of every six students at Letterkenny Institute of Technology rated their experience as good or excellent this year, and Law graduate Chris Yin Wai Chan is one such student who looks back on his education with great memories.
Chris Chan, a native of Hong Kong who moved to Letterkenny as a child, progressed in his career after graduation to become an Analyst at Facebook Dublin in 2017.
His journey began at LYIT in 2012, where he counts his education and extracurricular activities as key stepping stones to success.
Chris obtained a Bachelor degree in Law with Criminal Justice at Level 7 and at Honours Level 8. He graduated in 2016 with the necessary skills to continue with academic and professional development.
"Overall the course was good," Chris said. "The course itself was very informative and our lecturers were really helpful in every aspect. Apart from traditional lectures, we were provided with additional tutorial classes where we are able to engage in more in depth discussion in a classroom setting."
Chris gained valuable experience outside his course by being an active member of various societies. There are 35 Clubs and Societies at LYIT which add extra vibrance and opportunities to student life.
Chris said: "I enjoyed studying with LYIT and because of the positive experience, I was involved with the Student Union in Clubs and Societies. I chaired a political society in 2nd year, and the Law Society in 3rd year. These involvements provided me with opportunities to organise events and visits for students."
After graduating from LYIT, Chris obtained a Professional Diploma in Financial Advice with the Institute of Banking. He went on to study for an Advanced Diploma in Immigration and Asylum Law with the Honorable Society of King's Inns for specialised skills in the field and to sit the Barrister-at-Law entrance exams with King's Inns.
LYIT has a proud track record of graduate employability. Almost 9 out of 10 graduates in 2018 either returned to further study or gained employment within four months of graduating.
Chris has worked with GlobeTech, a subsidiary company with Apple in Cork, before being employed by CPL Solutions, a recruitment firm who specialise in employing professional staffers for Facebook, where he currently works as a Community Operations Analyst.
As the CAO Change of Mind deadline approaches on 1st July, Chris said he would recommend LYIT as a unique college in comparison to other third level institutions.
He said: "When filling in our CAO form, we commonly focus on the overall reputations and rankings of colleges, but omit potential capabilities of the college to provide positive experiences.
"I had great experience in LYIT, staff are helpful and friendly, lecturers are informative and well knowledged in their fields, we have access to the library and online database for research and studies. The overall environment made me want to learn more and mostly importantly, assist me to figure out who I truly want to become in life."
Chris' words of advice to prospective students are: "Don't doubt your capabilities and don't limit yourself" and "It's never too late to learn."
If you wish to apply for the Bachelor of Arts in Law degrees at LYIT visit https://www.lyit.ie/Study-at-LYIT/Find-a-course/?dis=4 for further information.
You can also get in touch with Siobhan Cullen, Head of Department Law and Humanities by emailing siobhan.Cullen@lyit.ie
LYIT offers a wealth of choice to learners, where 51 programmes are open to CAO applicants for 2018. Discover all the courses at lyit.ie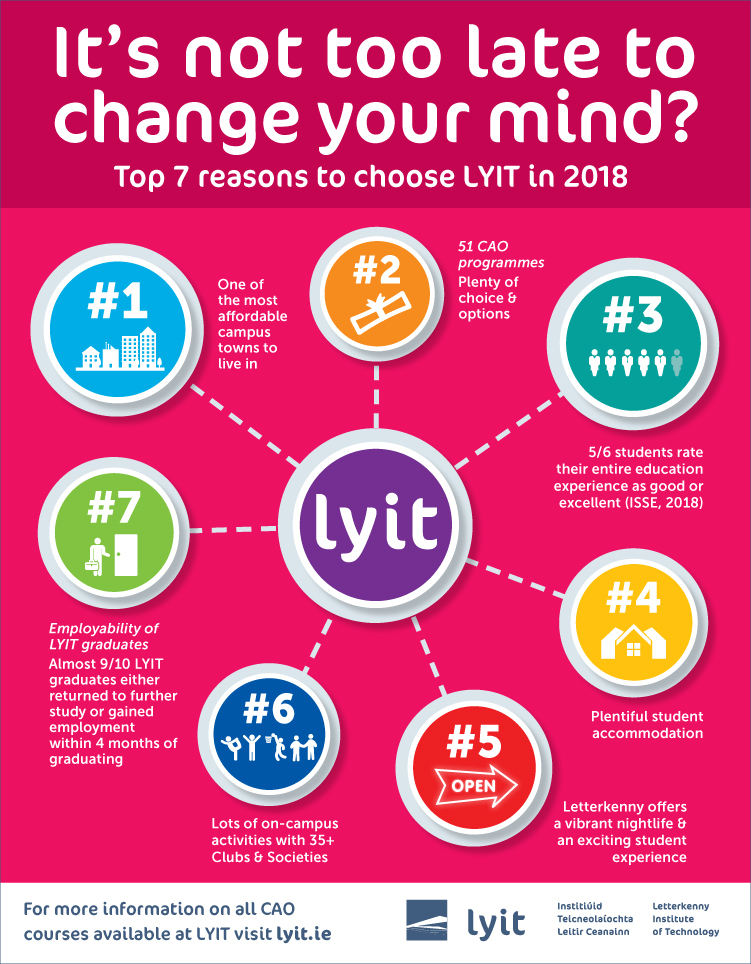 Tags: