The North West's leading home furnishing and décor store has taken a major leap into the future.
Foy & Company, of Port Rd Letterkenny and Main St, Ballybofey this weekend officially launches its fully revamped 15,000sq.ft Décor & Interiors Superstore, in Letterkenny. June 29th-30th will be filled with something for everyone with amazing prizes be won, face painting for kids, a free BBQ and more!
In partnership with Dulux Paints and other key décor suppliers, the iconic Foy & Company retail business has produced a true destination store. From paint, fabrics, wallpapers, soft furnishings to lighting and furniture Foy & Company provide a truly inspiring 'one stop shop' home solution.
Foy & Company have strived to deliver a quality package of choice, service and value to customers in the world of décor and design over the past 20 years in Letterkenny, and for almost 40 years in Ballybofey. This ethos continues in this new state of the art store and is a principle that all of the 20+ expert staff and management are proud of.
Proprietors Liam & Ann Foy have given a lifetime to this business and are both delighted with the outcome of this significant investment in Store of the Future.
David Foy, their youngest son, is also strategically involved in this transition for the business and is taking the lead on developing a next generation online and e-commerce experience for customers to replicate the in-store experience. Liam says "we have come through some difficult times in the past 10 years, like many of our peers in retail, but I must say looking at the store now, we are more excited and motivated about the next 10 years. I am very grateful to our manager Mary Teresa Nelis and her team for getting us to where we are today with the Foy and Company offering".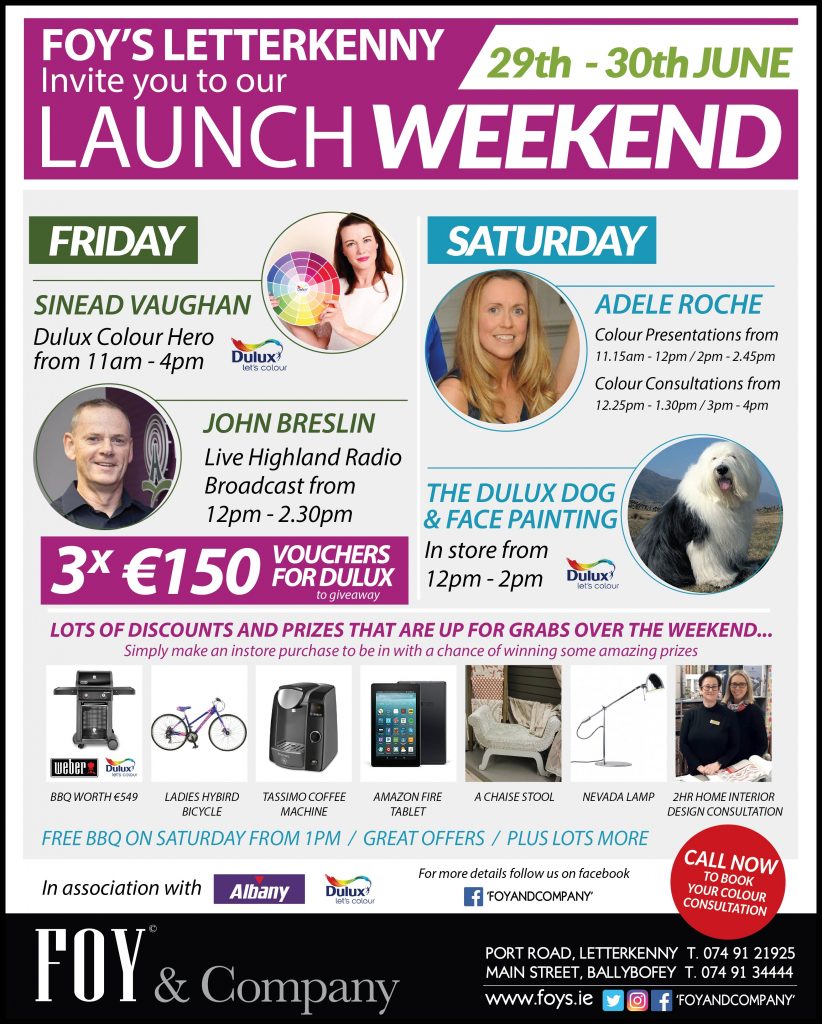 Store of the Future
Creating a 'Store of the Future' concept department in paints, wallpaper and décor accessories, Foy and Company have advanced the model of colour consultation and display to a totally new standard within the store.
At the forefront of this store of the future concept is a series of Dulux customised colour walls and samples. This is complemented by an innovative paint tinting centre and customer service area to enhance the experience of choosing colour and engaging with the process of colour tinting.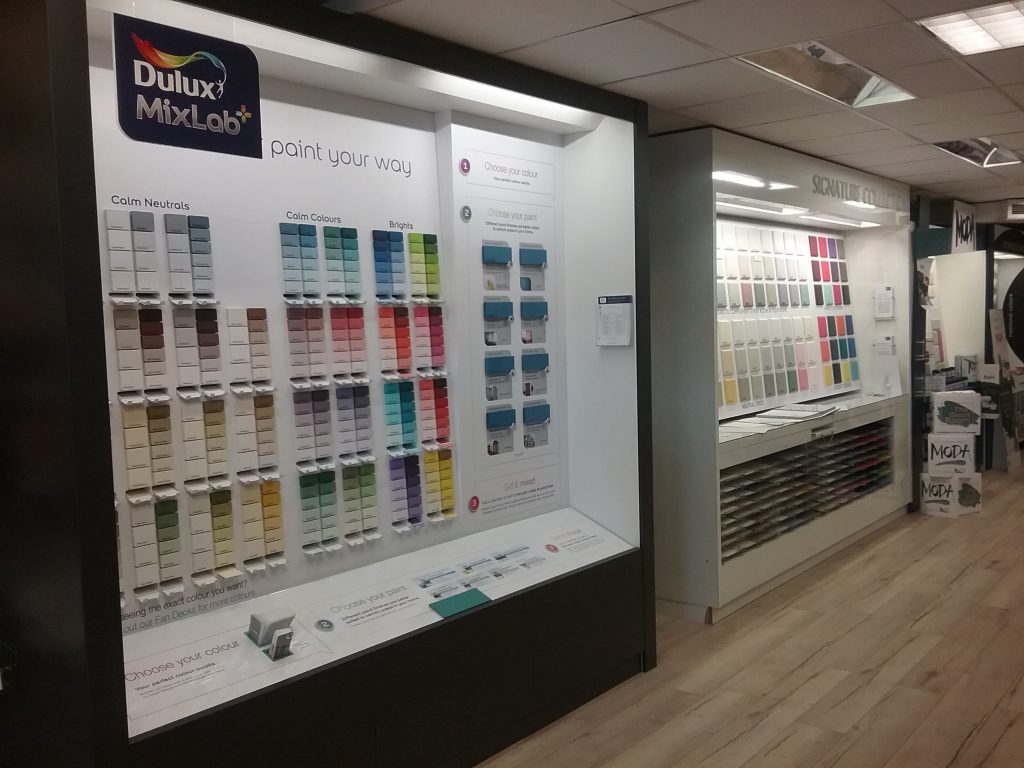 A wide range of other state of the art colour display systems is also integrated with the Dulux led innovations including, Fleetwood, Colourtrend, Little Greene and Albany Paints providing one of the widest colour ranges on the market in Ireland today. Foy's store of the future allows its customers into a space where they can receive expert colour advice, brilliant experiences and ultimately walk out with the right colour and finish for their home.
Soft Furnishings & Accessories
The 4,000sq.ft Interiors & Soft Furnishings department including customised curtains, blinds, cushions, throws, and other textile accessories has been completely refurbished into a designer display and consultation area with new and exclusive ranges from Voyage, Harlequin, Clarke & Clarke, Sandersons, Scatter Box and many other classic and newer brands. This area is now a unique setting for customers to browse the extensive samples and stock but also for interior designers to bring their clients to.
Big & Bright
On the upper floor the large open plan furniture department is carefully arranged with various room settings as a backdrop to their classic, contemporary and bold and funky designs in furniture. Again many of the products and designs are exclusive to Foy's with many customisable options for sofas, chairs and other occasional furniture to blend with the overall interior design scheme.
This furniture showroom is set off with one of Ireland's finest and most extensive lighting stock and display emporiums with exclusive ranges from Dar Lighting, Paul Neuhaus, Cork Lighting, Pacific Lifestyle and many more brands. This includes chandeliers, ceiling lamps, wall lamps, pendant lamps, spots, lanterns, in every style from Art Deco, industrial, retro, modern to traditional styles. It is a must see lighting showroom.
Foy & Company are one of the leading members of the Albany Home Décor Group, Ireland's only independent décor buying and marketing groups. They share the specialist ethos with their colleagues in the Albany group with a strong focus on service, expertise and offering the customer exciting and exclusive brands but always underpinning this with a value for money promise.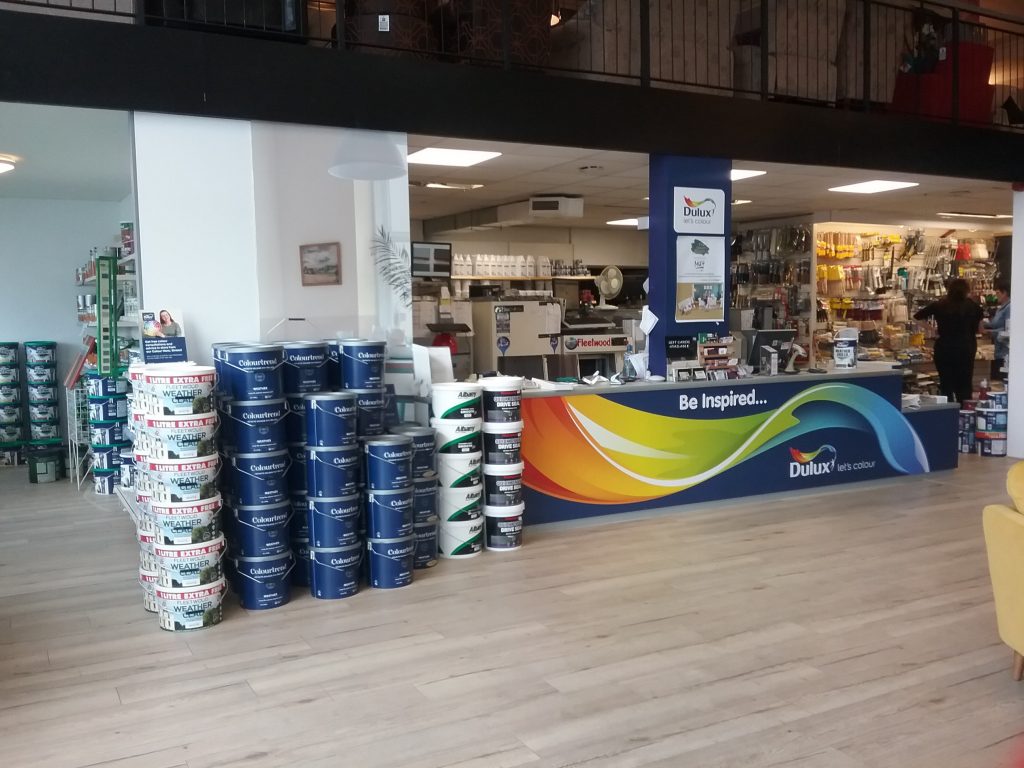 The newly refurbished store on Port Rd, Letterkenny will certainly raise the profile and standard of décor and furnishings retailing and service with customers from DIYers, interior designers, décor enthusiasts and the decorating profession.
And expert help is always at hand at Foy & Company with their in-house interior design team and all staff are fully trained in colour consultancy and other specialist areas of project planning and specification.
They have a very exciting line up for the weekend full of prizes, giveaways, promotions, food, entertainment and of course loads of décor indulgence with colour presentations and personal colour clinics from the top professionals in the business. Please check out Foy & Company on Facebook to get the full list of events and timings.
---
Sponsored Post
Tags: