Glenties man Ian Molloy is supporting The Alzheimer Society of Ireland's call on the Government to invest €12 million towards community services for people with dementia. 
Molloy, who is the chairperson of the Donegal South West Ógra, has backed the society's Pre-Budget Submission 2019 which aims to influence and lobby the Government before the Dáil rises for the summer.
Mr Molloy, who has lost two grandparents to Dementia, says that state funding is essential to raise the standard of supports in Donegal.
He said: "This is an investment that is badly needed and something that I will be lobbing for in the run up to the budget. There's approximately 1389 people in Donegal with Dementia living at home. Having looked over the figures Donegal has 16 services available currently.  56 is the number for minimum standards which leaves us under the standard by a big margin."
In Donegal, the Alzheimer Society of Ireland say that €154,000 is required to reach the minimum standard of service. Forty-four additional services are needed, including five carer programmes, one social club and six counselling services.  There are 4,167 carers in Co. Donegal currently in need of community service.
Mr Molloy said: "I have seen firsthand as someone who has lost two grandparents to the illness the relief these support networks and services gave to my own family it just can't be quantified. We must improve the services for people who are dealing with Dementia and supports the families, carers and medical professionals at the front line."
The National Dementia Strategy's mid-term review acknowledges that people with dementia and their families are "still dealing with inadequate services and supports".
It states that additional funding is required and access to community dementia-specific services across Ireland is not equal.
"The level of service varies depending on where you live but no county in Ireland has an acceptable level of dementia support. The time to provide funding is now," said Molloy.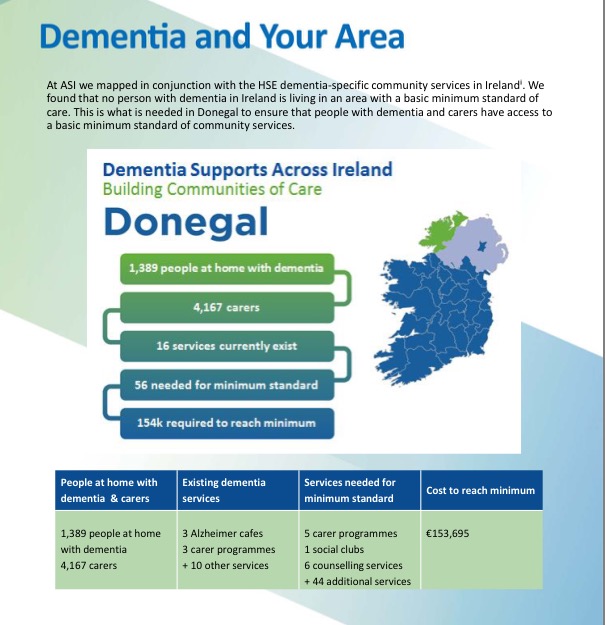 Tags: