Ramelton has been buzzing with festivities for the past week – and the exciting events are about to kick off in earnest this weekend.
The riverside town will host its 49th festival from Friday 6th to Monday 9th July. The forecast is looking fantastic for the packed programme of music, competitions and family events.
The recent pre-festival events have set the tone for a brilliant few days. Check out the line-up and a preview of the highlights below:
Ramelton's very own celebrity chef Gary O Hanlon will officially open the Lennon Festival on Friday 6th of July. The ceremony will be followed by one of the many big musical acts 'The Red Hot Roosters' kicking off the festival weekend in style.
The entrants for the Queen of the Lennon competition will be revealed of Friday too, before the big final on Sunday at 6.30pm at the Town Hall.
On Saturday 7th July, the annual Carnival Parade will start at 2pm and there will be some amazing spot prizes on the day. After the parade there will be multiple events taking place over in Gamble's Square to entertain all the family.
Johnny Gallagher & The Boxtie band take to the Festival stage on Saturday night at 8.30pm for a great night of music, dance and craic.
Sunday the 8th of July is set to be another fun-filled day with the usual festival favourites of the Bonny Baby competition, the high-performance car display, wheel changing competition and Fling on the Bing games all taking place between 2pm and 6pm. The Strabane Brass Band will also be taking to the main stage in Gamble's Square on Sunday at 2.30pm.
The fantastic Lisa McHugh is headlining Sunday night's gig at Gamble Square. This promises to be another lively evening for everyone.
The fun continues on Monday the 9th July with children's events at Gambles Square from 12noon. An adults adventure trail begins at 6.45pm.
The closing concert will feature Paul McCahill and The Ryan Turner Band at 8pm before a spectacular fireworks display to celebrate the big weekend of the year.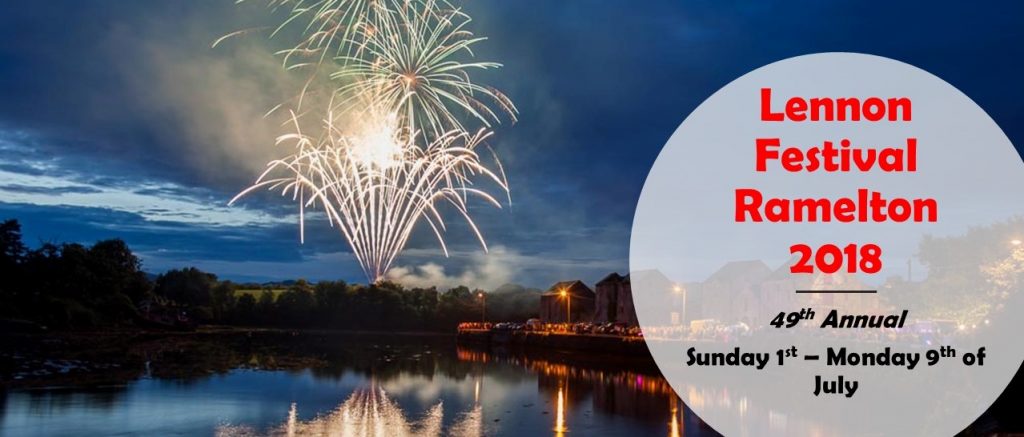 For more updates and events, check out the Lennon Festival Facebook page at: https://www.facebook.com/Lennon-Festival-Ramelton-174696513229966/
Tags: