Dylan Browne Mc Monagle notched up his first century of winners at the weekend in Shanahoe Co Laois.
On Saturday in Ramelton the Letterkenny jockey rode a four-timer aboard Four Stone Of Lead, Five Stone Of Lead, Let Him Go and Athea Jade bringing his tally to 98 wins in his three year career.
The Letterkenny teenager headed east to Co Laois for Sundays meeting in the midlands and made it 99 on Waratah in the 148cm pony race. He reached his first mile stone of 100 winners aboard the prolific Omega in the one mile open and then made it a treble on Half Price in the ten furlong open.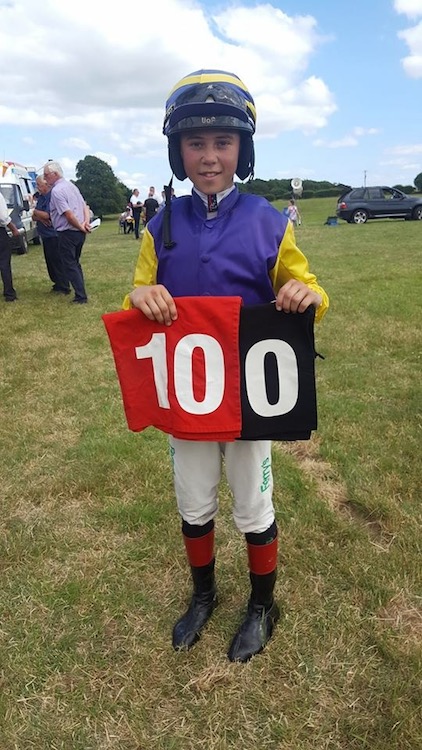 His fine weekend of eight winners was completed in the concluding race when steering Mr Grey to victory in what was the most exciting race of the weekend.
The next meeting run by the NW Racing Board is in Garvagh on Sunday 22nd July at 2.30pm
Ramelton Results Saturday 7th July
2 Mile Open
1st Jimmy Mac D Gilligan
2nd Let's Go Now D B Mc Monagle
3rd Mr Magic D Mc Gill
153cm 1 Mile
1st 4 Stone Of Lead D B Mc Monagle
2nd Sky's The Limit N Simpson
3rd In The Dip D Mc Gill
1 1/2 Mile Open
1st Let Him Go D B Mc Monagle
2nd Donegal Dan M Mc Guane
3rd Movina's Boy D King
148cm 1 Mile
1st 5 Stone Of Lead D B Mc Monagle
2nd My Friend George J Kelly
3rd Little Mix L Turner
1 1/4 Mile Open
1st Athea Jade D B Mc Monagle
2nd Tinkerbell N Simpson
3rd Remix L Turner
1 Mile Open
1st Aideens Dream M Mc Guane
2nd Derry's Pride D B Mc Monagle
3rd Mr Mac D Gilligan
Non-Winners 1 Mile
1st Angel Eyes D Gilligan
2nd Let Us Know D B Mc Monagle
3rd The General M Mc Guane
Tags: