Legends of Irish music and song The Fureys will perform in Jackson's Hotel, Ballybofey on Friday 20th July 2018 – and we have tickets and a VIP Experience to give away!
This will be an unmissable gig in the 40th anniversary year of The Fureys, who are renowned for their hit songs 'When you were Sweet 16', 'The Green Fields of France', 'Red Rose Café' and many more.
You can be in with the chance of winning a VIP Experience with pre-show Dinner in Jackson's Garden Restaurant, together with tickets for two by entering our Facebook competition here:  www.facebook.com/donegaldaily
Winner will be drawn on Friday July 13th!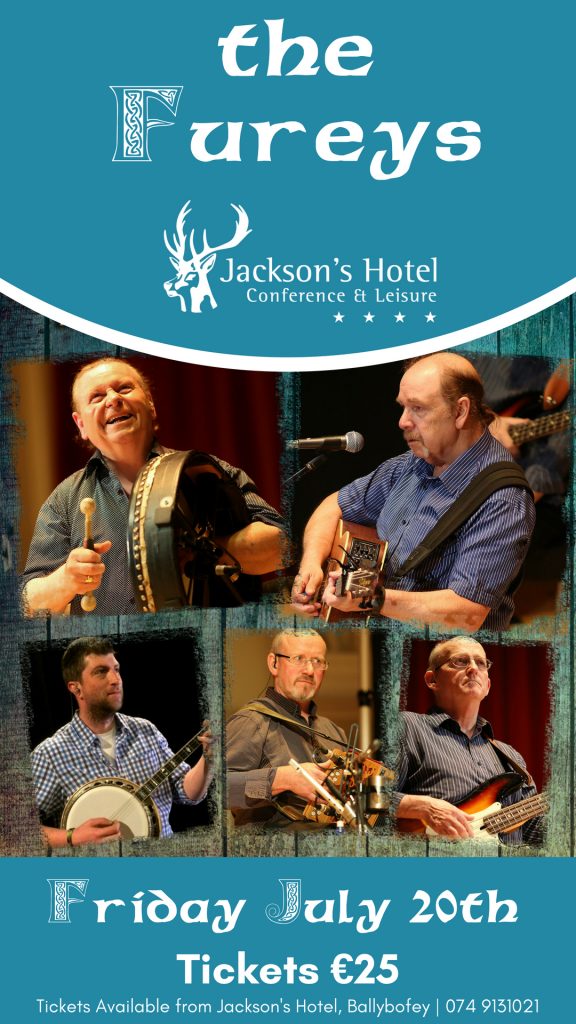 The Fureys, who have been entertaining audiences worldwide for 40 years formed in 1978 literally by accident. George, Paul and Davey were playing in Denmark with their own band called the Buskers and Eddie and Finbar, while touring in Germany were involved in a road accident. When George and Paul got news of the accident they immediately travelled to Germany to be with their brothers. They then decided that they should all be playing together and this was the start of the Fureys.
Their emotive songs stir many emotions….tears and laughter, sadness and joy. This concert is one surely not to be missed as a Furey's concert is always a night to remember.
Tickets can be purchased over the phone by calling Jackson's Hotel on 074-9131021.
Find out more on www.thefureys.com
For overnight offers at Jackson's Hotel, visit: www.jacksonshotel.ie/event/8579/The-Fureys
More Upcoming Events at Jackson's Hotel: The High Kings, July 29th | 80's & 90's Tech Social, August 5th  www.jacksonshotel.ie/plan-events-jacksons-hotel-ballybofey/events

Tags: