Donegal ETB's Further Education and Training (FET) Service is now enrolling for part-time courses starting in September 2018. If you are interested in learning new skills, enhancing your CV or branching into a new career, this is the time to sign up.
Donegal ETB provides a wide range of course options across Donegal from Levels 1-5 on a part-time basis, both during the day and as evening classes.
In order to find out how part-time courses can help people embark on new career paths, Donegal Daily spoke to three former part-time learners to hear about their experiences in health, beauty and education skills programmes:
'I wouldn't be able to do this without the ETB' – Lisa Devine
Four months of training at Donegal ETB was all it took for Letterkenny woman Lisa Devine to set up her own business.
Lisa runs her own nail and beauty salon called Devine Beauty, using her skills from Donegal ETB's comprehensive beauty courses.
As a mum of two, Lisa found the evening classes suited her schedule perfectly. Her youngest baby was just six months old, but she wanted to build her skills and was able to train at night after her husband returned from college.
Lisa gained ITEC Certificates in Manicure/Pedicure, Nail Technology and Make-Up through Donegal ETB's evening courses.
An extra hour of business training each week came along with the Nail Technology course, which gave Lisa the knowledge to launch her own salon – Devine Beauty.
"I wouldn't be able to do this without the ETB. The evening courses are great for working mothers because we have class just one day a week and you do a lot of work at home. I was able to easily work it around my family life," Lisa said.
Lisa enjoyed her training, learning to perfect acrylic and gel nail art, french manicures, extensions and pedicures. Some of her clients were so impressed, she said, that they registered with the ETB themselves.
'The best door I ever opened in my life' – Catherine McLaughlin
Catherine McLaughlin from Buncrana has been attending part-time ETB courses for the past five years.
Catherine left school at the age of 15 and had no formal qualifications before deciding to study for a Level 5 Business and Administration course.
With the help of ETB tutors, Catherine came to realise that she had dyslexia and switched to the Learning for Living programme to build up her reading and writing skills, working her way up from Level 1 to 3.
Catherine now has Junior Certificate qualifications in English, Maths and CSPE (Citizenship).
"I would say the Learning for Living was the best door I ever opened in my life. The tutors have patience, kindness and understanding," said Catherine.
Last year Catherine was nominated by the National Adult Literacy Agency (NALA) to represent Donegal at a reception in Áras an Uachtaráin for adult learners and their tutors for Literacy Awareness Week which led her to meet President Michael D Higgins.
Catherine is looking forward to going back in September to see what courses she can do next. She said: "I enjoy maths, communications and computers. I have taken a passion for writing too. It was as if a bulb switched on and I found what I loved doing. Who knows what will be next?"
'You come out with a really good skill set' – Catriona Gallagher
Catriona Gallagher from St Johnston said she wouldn't have been able to begin her journey into healthcare without Donegal ETB.
Catriona had worked in the Irish Defence Forces for 10 years before leaving to start a family. She took on a Health Service Skills QQI Level 5 course in Castlefinn in 2016 through the ETB's Back to Education Initiative (BTEI) with a goal of learning how to be a carer.
"It was hard work studying with four kids in the house and my husband serving in the army overseas, but it definitely paid off," Catriona said.
"Donegal ETB makes the course doable. I wouldn't have been able to do it if it wasn't part-time. You are in classes one day a week, and you do your assignments in your own time."
"If anyone is thinking about starting into healthcare this is a brilliant course. It is broken down module by module. We learned first aid and occupational first aid, manual handling and patient handling."
Catriona also found great value in the 150 hours of work experience which is part of the programme.
"I did my experience in Hillcrest Nursing Home in Letterkenny, which is a fabulous place where I learned an awful lot.
"You come out of this course with a really good skill set which means you can work in other fields.
"The tutors are fantastic and the support is always there with the ETB. They have a great career guidance officer who showed us how to set up our CVs. Even now that we are finished, we can still call them to ask for advice," Catriona said.
Catriona now hopes to do an Emergency Medical Technician (EMT) training course, with her qualifications from Donegal ETB providing her with the essential background knowledge she needed to apply to further her education.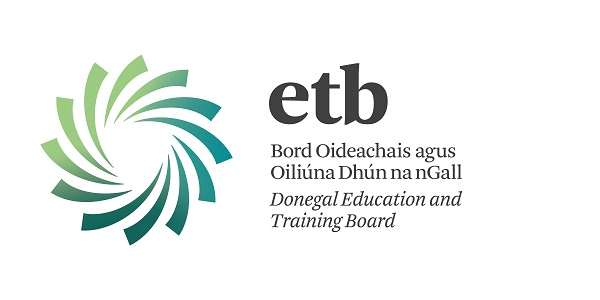 Donegal ETB part-time courses cover a vast range of subject areas including access courses, barbering, bookkeeping, caring, communications, customer care, culture and tourism, ECDL, employment pathways, English, horticulture, maths, internet skills, IT, literacy, manicure/pedicure, occupational first aid, office skills, oil fired appliances servicing, retail skills, special needs assisting, visual communications, welding, word processing, writing and much more.
Many part-time courses are free but charges may apply to some evening courses which will be clarified on enquiry, depending on your circumstances.
Visit www.donegaletb.ie to find a full list of part-time courses starting in September 2018 or email adultguidance@donegaletb.ie with course inquiries.
Many of Donegal ETB's part-time FET courses are co-funded by the Irish Government and the European Social Fund as part of the ESF Programme for Employability, Inclusion and Learning (PEIL) 2014-2020.
Tags: