An American family planning a holiday in Donegal are hoping to connect with two local men after a very unique series of events.
The two men had responded to messages in bottles which washed up from the Atlantic in 1983. Amazingly, the bottles were found six years after being thrown into the sea in 1977.
The messages were written by Tom Leonard for his mother. Now, Tom's sister-in-law Mona has launched a search to hopefully find the Donegal correspondents and meet them next month.
Mona, from Florida, tells Donegal Daily how her family came to develop an unprecedented link with the area:
"My brother-in-law was sailing across the ocean in 1977 and while doing so, he put out two messages in bottles into the ocean.
"In 1983, two people responded to both messages within just a few days of each other.
"They were found at two different places. One was at Carrickfinn Beach by a man on his honeymoon (Joseph O'Donnell – Annagry return address) and by a Thomas Boyle."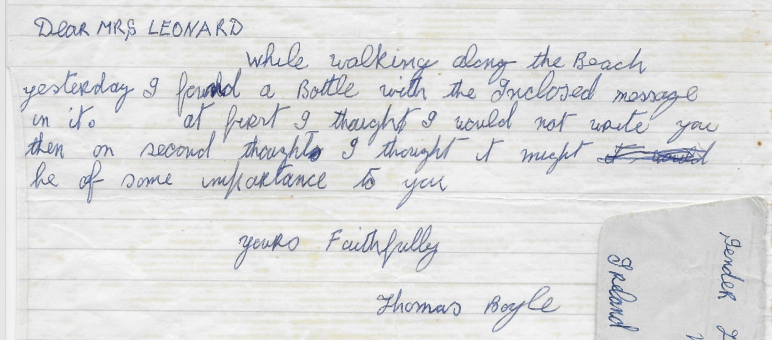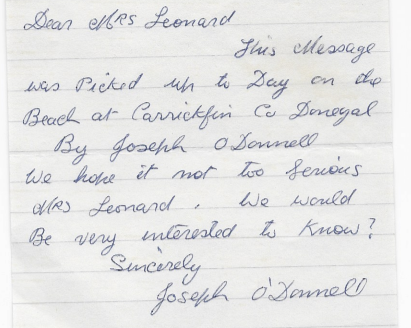 Mona added: "I have attempted to locate either of them or a family member but have had no luck at all.
"We would love to meet these people or their family members and share the actual letters they wrote back to my mother-in-law in 1983."
While the messages say Tom's yacht sunk between the mid-Atlantic Azores Islands and Brooklyn, New York, he is thankfully fine and travelling to Ireland later this month.
Tom and his wife and Mona and her husband are travelling to Donegal on 30th September 2018 and will be spending a three days in Annagry, close to where the bottles were found.
They have asked Donegal Daily to share the appeal in the hope of contacting the men who wrote them all those years ago.
"Tom has always wanted to find the person or family member of the people who found these bottles," said Mona.
If you think you have information that would help, please email Mona at: mhensley1959@hotmail.com