Ireland's last king, Patsy Dan Rodgers was laid to rest on his beloved Tory Island off the Donegal coast today.
Hundreds traveled by road, boat and helicopter to say a final farewell to the man who made the remote island his home for more than 70 years.
Although born in Dublin's Westland Road, Patsy was adopted and brought to Tory Island aged just four.
by Stephen Maguire on Tory Island
Although not a native of the island, he became an ambassador for the local community both locally and around the globe.
Mr Rodgers, who passed away at Dublin's Mater Hospital on Friday last after a long-term illness aged 74, was remembered during his funeral mass as a man of many talents.
A talented button accordion player, he was also a proficient artist having been taught a primitive form of art by the renowned English artist Derek Hill.
He became King of Toraigh in the 1990s when the children of the last King, Padraig Óg Rodgers, asked him to accept the honour of their father and become King.
He campaigned against proposals to relocate islanders to the mainland in the 1970s and 1980s, he fought for better transport links to Toraigh and for further development to promote employment and tourism.
He was a renowned musician and was awarded an honorary Master's degree by the University of Ulster in 1997.
Hundreds of people poured into the tiny St Colmcille's Church overlooking the island's harbour to hear of the life and times of Mr Rodgers.
Among those who made the long journey to the island set almost 15 Kms off the mainland was Minister for Education Joe McHugh, Deputy Pearse Doherty, Cathaoirleach of Donegal County Council Seamus O Domhnaill and chairman of the Donegal Education Training Board, Cllr Martin Harley.
President Michael D Higgins was represented by his Aide de Camp, Colonel Liam Condon.
Mr Rodgers' remains had earlier been brought the short distance from his home in West Town accompanied by the islanders with whom he called his community.
The large procession was led by Mr Rodgers' daughter who carried a large wooden cross which was later placed on her father's grave.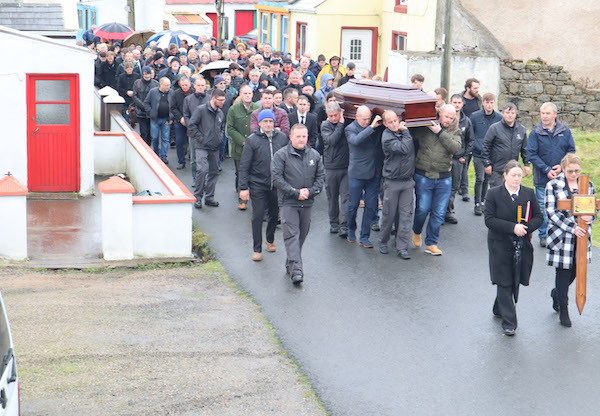 Those who attended the mass, which was conducted in Irish, were welcomed by an array of musicians and singers including Altan's Mairéad Ní Mhaonaigh.
As well as his beloved button accordion and his signature black seafarer's cap, a framed picture of the island's lighthouse painted by Mr Rodgers was brought to the altar.
The mass was concelebrated by parish priest of Gortahork Fr Sean O Gallchoir and Fr Ciaran Creagh.
Fr O Gallchoir described Patsy as a King, a Taoiseach, 'Minister for Foreign & Home Affairs, Minister for Arts and Music but above all of those Minister for Toraigh and one who looked after his island community.
Henry O'Donnell, a close friend of the late Mr Rodgers, recalled how Patsy was "of" Tory and very proud of that fact.
"His heart was in Tory and Tory was in his heart. He was very proud of that," he said.
He also recalled how visitors to the island were often met by the King who welcomed them in Irish as they made their way up the steps of the pier.
Others who travelled for the funeral was Dr Art Hughes who publish a biography of Patsy Dan earlier this year titled Rí Thoraí – From City to Crag and Dublin artist Brian O'Neill.
Following his funeral mass, Mr Rodgers was led to his final resting place in the adjoining cemetery by members of the local Coastguard Service where the rosary was led by local man Jimmy Doohan.
Mr Rodgers is survived by his wife Caitlin and their four children including daughters Breda, Majella, Christina and son Sean, son-in-law Daniel and two grandchildren Dean and Fionn.
Tags: